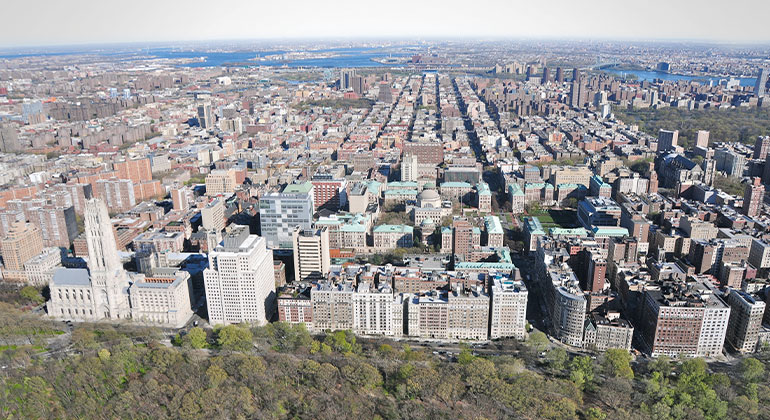 Mount Sinai Doctors-Morningside, Pulmonology
Mount Sinai Doctors-Morningside, Pulmonology provides care and services for all types of lung diseases and sleep disorders. Our physicians offer personalized treatment options for lung conditions including lung nodules, asthma, pneumonia, and lung cancer. Our team combines state-of-the-art technology with exceptional clinical experience for the diagnosis and treatment of a wide variety of lung diseases.
We offer the following services:
Lung nodule diagnosis and management – Lung nodules are small growths on the lung. Our lung specialists evaluate the nodules and offer a treatment plan.
Incidental Lung Nodule Detection Program – The Mount Sinai Morningside Incidental Lung Nodule Program specializes in the evaluation, treatment, and management of lung nodules detected on imaging.
Lung cancer screenings – Early lung cancer detection saves lives. Mount Sinai Morningside uses a variety of imaging scans to detect lung cancer early, when it is most treatable.
Multidisciplinary lung cancer group – Our pulmonary team coordinates with thoracic surgery, radiology, pathology, and more to ensure accurate diagnoses and innovative treatment.
Advanced pulmonary function testing, including cardio pulmonary exercise testing – These noninvasive tests show how well the lungs are functioning and help your physician determine the next course of action.
Electromagnetic navigational bronchoscopy – This minimally invasive medical procedure uses electromagnetic technology to guide bronchoscopy tools through the airways of the lung. Using a 3D map taken with a chest scan, physicians are able to navigate through your lung, take biopsies, and perform other procedures.
Sleep medicine services – A lack of sleep can lead to a variety of health issues. Our sleep medicine team is here to help you get a good night's sleep. Once referred to the Mount Sinai Integrative Sleep Center, you can have a Home Sleep Apnea Test—a disposable, Bluetooth-enabled diagnostic screening tool that you can wear in the comfort of your own home. Or come into the Sleep Center for an overnight polysomnogram. Board-certified sleep physicians interpret all test results and communicate them to you, along with a recommended treatment plan.
Our pulmonologists and sleep medicine specialists are dedicated to providing you with the very best care possible.
Lung Cancer Screening
Lung cancer screening saves lives. When lung cancer is found at an earlier stage, when it is small and has not spread, it is more likely to be treated successfully. Mount Sinai Morningside is using two powerful programs to detect lung cancer before patients have symptoms: Low-Dose CT Screening and Incidental Lung Nodule Detection.
In the United States, lung cancer is the second most common cancer. It is also the leading cause of cancer deaths. That is why Mount Sinai Morningside is making sure we find lung cancers both when we are specifically looking for them, and when we are not, through our Low-Dose CT Screening Program and Incidental Lung Nodule Detection Program.
The U.S. Preventive Services Task Force recommends yearly lung cancer screening for people who meet all of these criteria:
50 to 80 years old
Current smokers or have quit in the past 15 years
Have at least a 20 pack-year smoking history—this is the number of years you smoked multiplied by the number of packs of cigarettes per day. For example, someone who smoked two packs per day for 10 years [2 x 10 = 20] has 20 pack-years of smoking.
The National Comprehensive Cancer Network also recommends screening for various occupational exposures, for example, asbestos, arsenic, and diesel fumes. You should speak with your physician and share your occupational exposure to determine if screening is appropriate for you.
Low-Dose CT Screening
Mount Sinai Morningside offers low-dose CT (LDCT) screening to identify lung abnormalities in patients at high risk for developing lung cancer. This test has been very successful in detecting cancerous nodules in their earliest stages, even before symptoms appear, when the disease is easier to treat. Research has shown that low-dose CT screening saves lives.
Typically, symptoms of lung cancer do not appear until the disease has progressed and is not easily curable. Studies show that by catching nodules early in higher risk people, annual LDCT scans can reduce the risk of dying from lung cancer.
Speak with your primary care physician about whether this test is appropriate for you. Patients with a referral may call 212-523-8672, and press 5 when prompted, to make an appointment. Medicare, Medicaid, and other insurance plans often cover lung screenings for eligible patients. The scan is quick and painless and will be read by a skilled, board certified radiologist at Mount Sinai Morningside.
Incidental Lung Nodule Detection Program
This program is set up to alert our team if a lung nodule—a small, abnormal lesion, or spot—was found incidentally, which means during a scan ordered by a physician who was looking for something else.
All scans at Mount Sinai Morningside are read by specially trained, board certified radiologists. They report on everything that they find—not just what the ordering doctor was looking for specifically. In some cases, the radiologist will find a lung nodule. When that happens, you will be referred to one of our pulmonologists, who are experts in analyzing lung nodules and ruling out or diagnosing lung cancer.
What Happens If a Lung Nodule Is Found
When a lung nodule has been reported from a scan at Mount Sinai Morningside, a specially designed software system will alert the lung nodule team.
A letter is sent to both the provider who ordered the scan and the patient, with instructions on how make an appointment with our team of lung nodule experts. We feel is it very important for you to follow up, and will reach out again if you or your physician do not respond.
A Visit With Our Experts
At your appointment, a lung nodule specialist will review your medical history and determine if there is any reason to suspect that the nodule is cancerous. The team may recommend continued surveillance or more tests, based on evidence-based practices. All recommendations are reported to you and your primary health care provider.
If you are ultimately diagnosed with lung cancer, you may be referred to a thoracic surgeon, who may treat you by removing the cancer with minimally invasive robotic or video-assisted surgery.
Meet Our Team
Our team is dedicated to providing the most comprehensive patient care possible.
Javier J. Zulueta, MD
Pulmonary Specialist
Professor, Pulmonary, Critical Care, and Sleep Medicine
Icahn School of Medicine at Mount Sinai
440 West 114th Street
Suite 610
New York, NY 10025
Phone: 212-523-8672
Emily Martinez
Practice Manager
Monica San Juan
Program Navigator