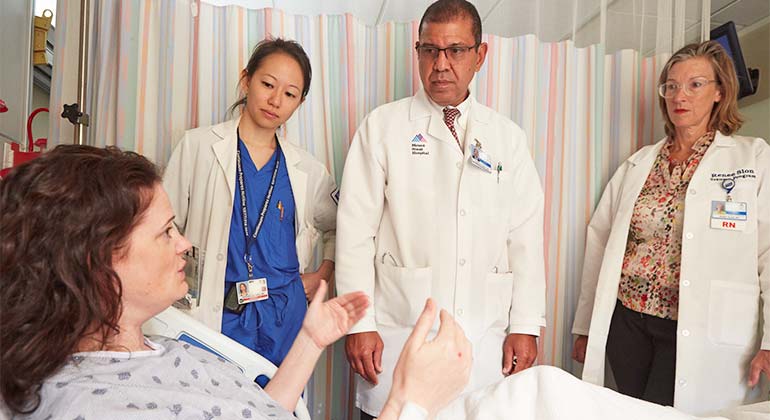 A serious physical trauma—as a result of causes ranging from a motor vehicle crash to work-related injury—can change your life in an instant. At the Mount Sinai Morningside Trauma Program, every new patient who comes through our doors receives not only highly skilled emergency care, but also the understanding and support needed to start on the road to recovery.
As a verified trauma center upholding the standards set by the American College of Surgeons, we have a team ready 24/7 to evaluate, stabilize, and treat severe multi-system injuries, including those involving the chest, abdomen, brain, spine, spinal cord, and bones. In addition to our core trauma team of surgeons, nurses, and a social worker, we bring in the experts required to provide our patients the comprehensive care they need, including specialists in neurosurgery, orthopedic surgery, plastic surgery, and psychiatry.
And our care doesn't end with the stabilization of your injury. We continue to support you through rehabilitation, home health services, and follow-up care, communicating with a range of specialists—including physical and occupational therapists and physiatrists—to help your recovery run as smoothly as possible.
Our Compassionate Approach to Trauma Care
From the surgeons in our operating rooms to the social worker by your bedside, our team understands the overwhelming impact trauma can have on a patient and family. That's why we build a relationship with you and your loved ones in order to learn about your needs and do everything in our power to meet them.
We also take the time to put a trauma in context and address any underlying issues—from PTSD to substance abuse—that may have contributed to your injury. We follow our patients through the entire course of care, working with the Trauma Survivor's Network, and even welcoming former patients back years later to celebrate their recovery during our annual Trauma Survivor's Day.
Contributing to Our Community
Understanding the importance of injury prevention, our team works with organizations including Vision Zero and Families for Safe Streets to lower the prevalence of traffic-related incidents. We also submit our data to the National Trauma Data Bank to assist in research efforts to improve trauma care nationwide.
Through this dual focus on both our individual patients and the larger community, the Mount Sinai Morningside Trauma Program is dedicated to helping patients and families who have been affected by trauma move on from their injuries to enjoy life to the fullest.