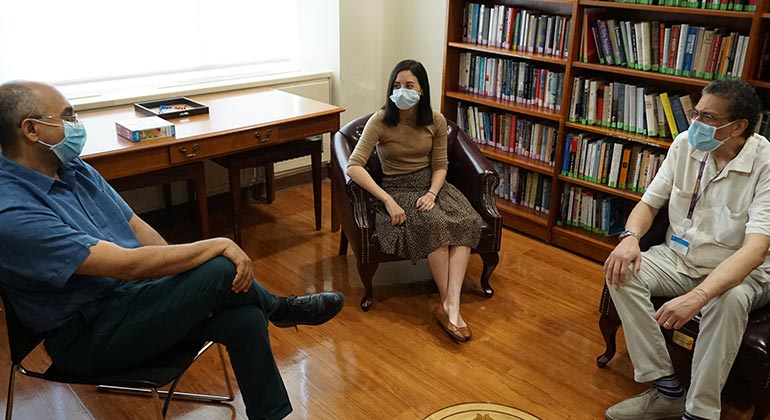 Our Services
"Addiction is defined as a chronic, relapsing brain disease that is characterized by compulsive drug seeking and use, despite harmful consequences. It is considered a brain disease because drugs change the brain—they change its structure and how it works. These brain changes can be long lasting, and can lead to the harmful behaviors seen in people who abuse drugs. Addiction is similar to other diseases, such as heart disease. Both disrupt the normal, healthy functioning of the underlying organ, have serious harmful consequences, are preventable, treatable, and if left untreated, can last a lifetime." - National Institute on Drug Abuse (NIDA)
Addiction is a biological illness and we can help. We can treat it to prevent relapse and improve your chances of a successful recovery. Our services include pharmacotherapy, psychotherapy, and group therapy. Our team consists of highly trained psychiatrists, psychologists, physician assistants, social workers, nurses, and counselors. We take into account any other conditions you may have. And we work together to provide the best possible care for you.
Our goal is to stabilize your condition. We treat your addiction as well as any associated medical and/or psychiatric problems. Also, we guide you to understand and accept your addiction and learn to remain abstinent. We make all treatment decisions, including type and frequency, based on your individual needs.
Inpatient Services
We offer a full range of addiction inpatient services at Mount Sinai West and Mount Sinai Beth Israel.
We use evidence-based detoxification protocols for acute withdrawal. This works especially well for addiction to alcohol, opioids, sedatives (including benzodiazepines), and GHB.
We provide inpatient services with group and individual counselling. Our goal is to help you gain coping skills to begin recovery.
Outpatient Services
We offer comprehensive outpatient services throughout New York City, Mount Sinai West, Mount Sinai Morningside (formerly known as the 'Addiction Institute of New York') and Mount Sinai Beth Israel (formerly known as Stuyvesant Square Chemical Dependency Services).
Outpatient services include:
Rehab (five day a week programming)
Intensive outpatient programming
Group and individual counseling
Outpatient detoxification services
Sobriety-based addiction pharmacotherapy (medication)
Medication-Assisted Treatment Programs
We offer daily Medication-Assisted Treatment Programs (methadone and buprenorphine) at the Addiction Institute of Mount Sinai Beth Israel and Mount Sinai West.
Adolescent and Young Adult Programs
The Child and Family Institute at Mount Sinai West and Mount Sinai Morningside features a unique adolescent day program: the Comprehensive Adolescent Rehabilitation and Education Service (CARES). CARES is composed of two tracks: the Adolescent Alternative Day Program (AADP) and the Comprehensive Addiction Program for Adolescents (CAPA). Both programs offer a fully integrated academic experience, which is taught by New York City Department of Education teachers.
REACH Program
The Respectful and Equitable Access to Comprehensive Healthcare (REACH) Program provides a patient-centered, harm reduction approach to primary care for persons who use alcohol and other drugs, and for individuals living with hepatitis C virus (HCV) infection. Co-located within Mount Sinai Hospital's Internal Medicine Associates, REACH provides comprehensive primary care services, including office-based buprenorphine treatment, stigma-free risk reduction counseling, HCV treatment, overdose response training, and psychosocial assessment and support including support groups. The REACH model of multidisciplinary team-based care uses patient navigators to coordinate services and guide patients through the complex health care system, thereby removing barriers to accessing quality care and treatment. REACH also conducts community HCV testing and education, overdose response training, and education about evidence based treatment of substance use disorders.
Wellness at AIMS
At AIMS, we aim to empower people to take action when they are feeling susceptible to excessive use of substances, and to promote enlightenment and self-awareness. Review our tips and resources here.
We also provide care to people who have psychological or medical needs in addition to addiction. These programs include:
Chemical Dependency (MICA) Inpatient Dual Diagnosis Unit (at The Mount Sinai Hospital on the Upper East Side), a 20-bed unit providing intensive treatment for inpatients who suffer from addiction and another psychiatric illness.
James J. Peters VA Medical Center (Bronx, NY), an outpatient addiction and methadone maintenance program for veterans who struggle with substance abuse and another psychiatric illness.
Comprehensive Health Program Downtown (in Chelsea), a clinic providing integrated psychiatric and addiction treatment program for patients with HIV/AIDS and hepatitis C.
Jack Martin Fund Clinic (at The Mount Sinai Hospital on the Upper East Side), an integrative care clinic providing psychiatric treatment for patients with HIV/AIDS and hepatitis C.