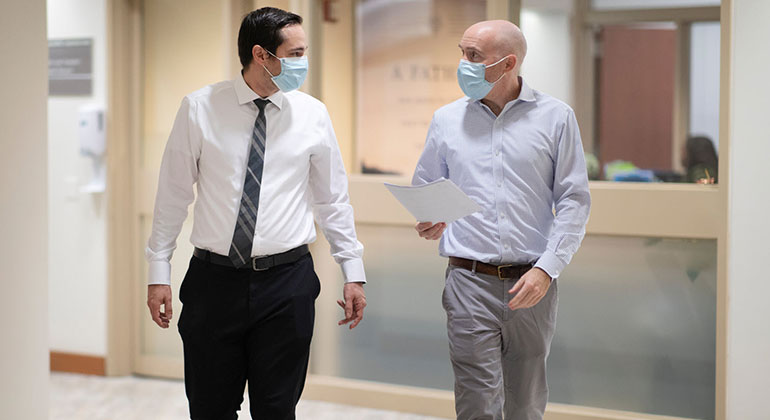 Inpatient Treatments
COVID-19 Clinical Services Update
Addiction Institute of Mount Sinai West: Our inpatient unit is open for admissions 24/7 for all patients with all substance use disorders, including those opioid use disorder." We can provide outpatient addiction treatment for all conditions, including opioid use disorder via both telemedicine and in-person visits. New patients are very welcome"
At the Addiction Institute at Mount Sinai, we often start with inpatient treatment. Our goal is to help you develop the basic skills you need to successfully recover from addiction. We offer inpatient programs at Mount Sinai Beth Israel and Mount Sinai West.
Basic Goals of Treatment
When we start treatment, we aim to:
Begin to develop the skills necessary to remain abstinent
Help you understand and accept your addiction
Stabilize you through aggressive treatment of the addiction and any associated medical and/or psychiatric problems
Evaluation
We first conduct a comprehensive assessment. Our team works together to develop a diagnosis and treatment plan. Our team includes physicians, physician assistants, nurses, psychologists, and substance abuse counselors.
Evaluation services include:
Biopsychosocial assessment using:

Addiction Severity Index (ASI)
American Society of Addiction Medicine Placement Criteria (APC)
Brief Symptom Inventory (BSI)
Family evaluation
Psychiatric evaluation
Development of initial treatment plan
Feedback session with you and/or your family
Insurance analysis and pre-certification
Telephone and/or written report to referral source
Diagnostic lab tests and urine toxicology
History and physical examination
Triage and monitoring for withdrawal, medical, and psychiatric problems
Detoxification
Our state-of-the-art facilities let us offer a safe and humane environment for detoxification. This environment helps lessen the symptoms of withdrawal. The length of stay depends on the substance you are addicted to and your medical condition.
Rehabilitation
After detoxification, you will probably move on to inpatient rehabilitation (rehab). This approach gives you 24/7 safe and structured treatment. In this stage, you enjoy a routine that teaches you how to experience life without drugs or alcohol.
We believe family is essential to your recovery. Mending and building family relationships is key. And we encourage your family to be involved throughout treatment.
Rehabilitation Programs at AIMS – Mount Sinai Beth Israel
Our program at Mount Sinai Beth Israel includes the following components:
Access to medical and psychiatric care if needed
Daily self-help groups
Daily therapy sessions (individual, group, and family)
Discussion groups
Family programs
HIV support groups
Lectures and multimedia education programs
Medical supervision
Nutritious meals
Personal quiet time
Psychiatric services
Spiritual care
Weekend visits with family and friends
Rehabilitation Programs at AIMS – Mount Sinai West
At Mount Sinai West, we offer these services:
Group and individual counseling
Individual, group, couples, and family therapy (family sessions by appointment only)
Intensive family program
Intensive Relapse Prevention Training
Medical evaluation and treatment
Motivational enhancement groups
Nutritional counseling
Psychiatric evaluation and treatment
Psychoeducational groups
Partial hospitalization program (day time)
Relaxation/stress reduction
Referral for ongoing counseling
Self-help groups on site (daily)
Discharge planning and referral for continuing care