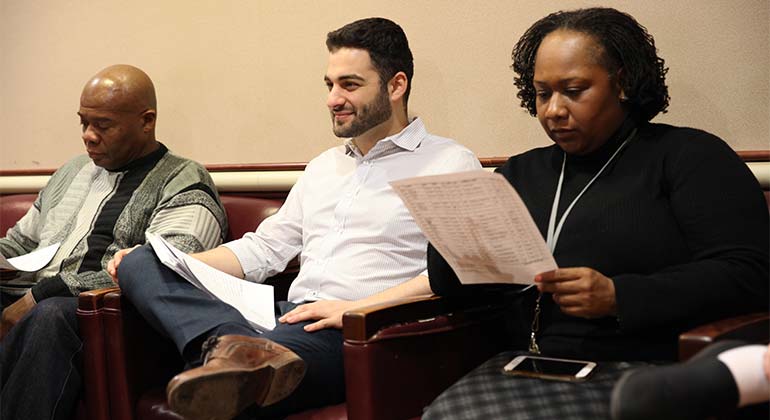 Training and Education
There is no better place in New York City to study addiction than Mount Sinai. As the largest and most diverse provider of addiction services in New York City, one of our top priorities is to train future clinicians in treatment services and research.
We take a highly personalized approach to training and expose our trainees to new and varied evidence-based programs. We are proud to care for a profoundly varied range of addiction pathologies and have provided decades of judgement-free, high-quality care to New Yorkers from all socioeconomic backgrounds. You will not find training experiences that top Mount Sinai's reach, history, and impact in the field of addiction treatment. We have some of the top researchers in the field shaping the path forward in addiction research, including Yasmin Hurd, PhD, Xiaosi Gu, PhD, and Eric Nestler, MD, PhD.
For medical students and residents, we offer 1-2 months of rotation in a variety of addiction settings in the Mount Sinai Health System including both inpatient and outpatient rehabilitation treatment units, dual-diagnosis unit, and a withdrawal management ("detox") unit. We do not offer observerships at this time.
We also offer training via the following programs.
Fellowships
The Icahn School of Medicine at Mount Sinai has several dedicated addiction fellowships. Each has its own character, but all feature exposure to the incredibly rich and diverse range of clinical services the Addiction Institute of Mount Sinai provides to those suffering from substance abuse in New York.
Fellowship in Addiction Medicine (Mount Sinai West / Mount Sinai Morningside)
ACGME accredited; 1-year duration
Open to physicians who have completed residency in any specialty
Rotations include a dedicated hospital-based inpatient detoxification/rehabilitation unit, Mount Sinai's system-wide opioid treatment program (the largest in New York City) and an addiction consultation service in a large academic teaching hospital
Additional mentored research year available for aspiring academic research physicians
For more information, contact Timothy Brennan, MD
Fellowship in Addiction Psychiatry (Mount Sinai West / James J. Peters VA Medical Center)
ACGME accredited; 1-year duration
Open to physicians who have completed residency in psychiatry
Rotations include inpatient detox/rehab unit as primary rotation plus addiction consults or pain management as a secondary rotation at Mount Sinai West, and outpatient clinic/methadone program at James J. Peters VA Medical Center (Bronx VA).
Additional mentored research year available for aspiring academic research physicians
For more information, visit the fellowship website or contact Manassa Hany, MD
Fellowship in Addiction Psychiatry (Mount Sinai Beth Israel)
ACGME accredited; 1-year duration
Open to physicians who have completed residency in psychiatry
Rotations include an acute dual-diagnosis inpatient psychiatry unit, active continuity of care addiction psychiatry ambulatory program, ambulatory detoxification and chemical dependency treatment, dedicated hospital-based inpatient detoxification/rehabilitation unit, Mount Sinai's system-wide opioid treatment program (the largest in New York City), and an addiction consultation service in a large culturally diverse academic teaching hospital
Additional mentored research year available for aspiring academic research physicians
For more information, visit the fellowship website or contact Melinda Lantz, MD
Post-Doctoral Psychology Fellowship (Mount Sinai West / Mount Sinai Morningside)
Internships, Externships, and Clerkships
Clinical-Research Social Work Internships (Mount Sinai Hospital)
Internship for graduate social work students in collaboration with the Department of Social Work Services; 1-year duration
Open to master's students applying for field placement at Mount Sinai
Additional mentored research opportunities are available for PhD candidates in social work (2-3 year duration)
For more information, contact Keren Bach, PhD
Masters Level Graduate School Internship for Inpatient Detoxification/Rehabilitation and Outpatient Rehabilitation Services (Mount Sinai West)
1 academic year duration
Open to graduate students enrolled in accredited mental health counseling masters programs, social work masters programs or (non-masters) CASAC certification programs
Additional mentored clinical year available for graduate to obtain post-graduate clinical hours for licensure
For more information, contact Laura Diamond
Master of Social Work School Internship for Opioid Treatment Program (Mount Sinai West)
1 academic year duration
Open to graduate students enrolled in accredited master of social work programs
For more information, contact Ingrid Pascali
Pre-Doctoral Psychology Internship (Mount Sinai West / Mount Sinai Morningside)
12-month, APA-approved internship beginning July 1 and ending the last week of June each training year
Open only to master's-level psychologists enrolled in APA-accredited doctoral programs
Internship includes at least one 4-month rotation in the Addiction Institute of Mount Sinai and other addictions-related training
Applications are due on the APPIC universal due date for pre-doctoral internships
For more information, visit the internship website or contact Leora Heckelman, PhD
Psychology Externship (Mount Sinai West / Mount Sinai Morningside)
12 months, 16 hours per week beginning in July and ending in June each training year
Open only to master's-level psychologists enrolled in APA-accredited doctoral programs
Applications are due on universal wiki due date
For more information, contact Joseph Ruggiero, PhD or Leora Heckelman, PhD
Advanced Clerkship in Addiction Medicine (Mount Sinai West)
2 weeks or 1 month duration
Includes exposure to inpatient detoxification and rehabilitation units, opioid treatment programs and outpatient substance use disorder counselling programs
Requires pre-approval from Mount Sinai Registrar's Office and completion of either internal medicine or psychiatry clerkship
For more information, contact Mount Sinai Registrar