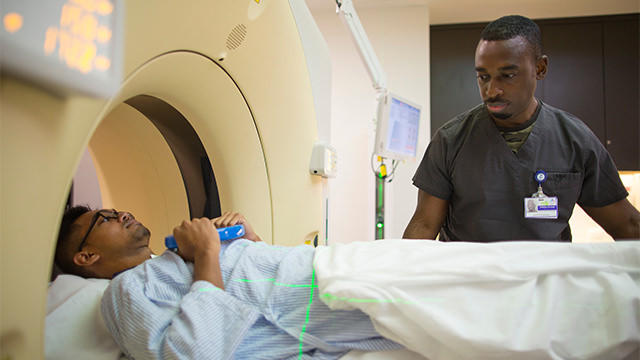 If you have cancer and need radiation therapy—also known as radiation oncology—Mount Sinai-Union Square offers you not only the best care, but also a personal approach to help minimize disruptions that can affect your lifestyle.
We offer radiation oncology treatments for all cancers, along with unique supportive services, in one convenient location near your home or where you work using state-of-the-art technology.
Normally, you receive your treatment as an outpatient, in short daily visits, which can reduce the impact on your everyday life.
We offer a holistic approach to patient care by providing supportive services such as art therapy, music therapy, and hair and make-up services.
Radiation therapy is used in a variety of ways depending on your diagnosis:
To cure cancers without surgery
To shrink a tumor before surgery
To treat cancer cells remaining after surgery
For palliative care, when a cure is not possible. Palliative radiation therapy can shrink a tumor and relieve pain and other symptoms.
Radiation therapy is often combined with chemotherapy and/or surgery, and our radiation oncologists work closely with colleagues in these other areas to provide you optimal care. Our doctors are also on the faculty of the Icahn School of Medicine at Mount Sinai, one of the nation's leading medical schools, which means you have the benefit of the latest research and clinical trials.
Conditions We Treat
We have expertise in treating the following cancers:
Bladder
Brain
Breast
Ear, nose and throat (head and neck)
Gastrointestinal
Gynecological
Lung
Prostate
Soft tissue and bone
Treatment Options We Offer
Each of these treatment options is tailored to meet your needs:
Stereotactic radiosurgery/stereotactic body radiotherapy
Image-guided intensity-modulated radiation therapy
Brachytherapy
Xofigo (radium 223 dichloride)
Proton therapy