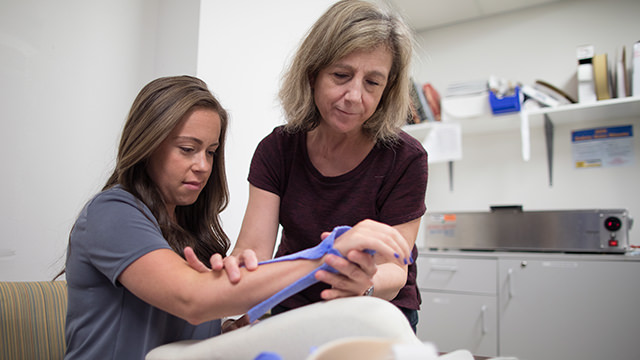 Rehabilitation and Human Performance
If you have a physical condition that might require rehabilitation, our physical and occupational therapists at Mount Sinai-Union Square will quickly diagnose and develop personalized treatment that is right for you.
Conditions We Treat
Our physical and occupational therapists offer comprehensive, compassionate care in a family-centered environment for a wide range of medical conditions, including:
Back pain: Often related to an injury to muscles or ligaments
Chronic pain: Any pain lasting longer than 12 weeks
Functional loss after surgery: Inability to move a certain part of your body
Joint pain: Caused by inflammation in the joint(s)
Lymphedema: Build-up of lymph fluid in the affected area
Rheumatoid arthritis: Chronic pain due to inflammation of the joints and surrounding tissues
Sports injuries: All kinds of injuries that occur in both recreational and professional athletes
Diagnosis
When you come to Mount Sinai-Union Square, you can be tested and diagnosed, as well as have your consultations and treatments.
Diagnostic tests we can perform include:
Electromyography (EMG): Technique for evaluating and recording the electrical activity produced by skeletal muscles
Ultrasound: Technique producing pictures of the inside of the body using sound waves
VO2 mask: Breathing device used to test the flow of oxygen to the lungs
Treatments We Offer
Our highly skilled Mount Sinai Health System doctors offer a variety of the most advanced rehabilitative treatments available, such as:
Balance and gait training: Exercise-based treatment that improves function of the inner ear, eyes, and leg muscles
Cold laser: Use of light wavelengths to build tissue and speed up the healing process
Community re-entry training: Helps you return to your routine daily lifestyle
Functional mobility training: Develops muscles and joints for you to more safely perform everyday activities
Hand therapy: Helps you regain strength and prevent pain in your hands
Iontophoresis: A treatment to decrease sweating
Kinesio taping: Helps alleviate pain in the knee, shoulder, ankle, and wrist
Maitland therapy: Manual therapy to treat joint pain
McKenzie therapy: Treats low back pain and leg pain
Neurokinetic therapy: Healing bodywork to treat injuries and chronic pain
Neurodevelopmental technique: Improves movement control as a result of neurological issues, such as cerebral palsy, stroke, or head injury
Rock taping: Decreases swelling and inflammation underneath the skin
TENS therapy: Improves pain relief with low-voltage electrical current
If you require more complex care, we will connect you directly with one of our seven hospitals and specialists—all within the extensive Mount Sinai Health System in New York City.
After Care
Our doctors will also provide you with home exercises and a treatment program. We remain your partner for all of your rehabilitation needs.