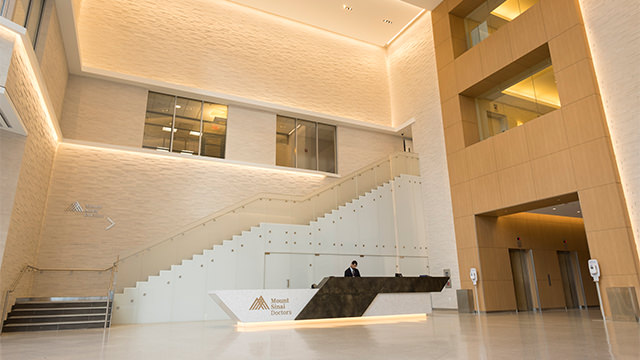 Mount Sinai-Union Square offers more than 30 medical specialties, including an extensive primary care practice and a new Urgent Care Center. There is also a pharmacy on-site for your convenience.
When you make an appointment at Mount Sinai-Union Square, you are taking the first important step on your health care journey. The doctors on our team are highly trained to provide compassionate and expert care in their specialty areas.
We hope that you will appreciate the bright and comfortable setting of our renovated atrium lounge, waiting areas, doctors' offices, exam rooms, and diagnostic and treatment areas.
Located in the vibrant Union Square neighborhood, it is easy to get to us by public transportation, since we are located within steps of one of New York City's most traveled transportation hubs, the Union Square subway station.
Welcome
Enter our airy, wheelchair-accessible lobby at 10 Union Square East, where elevators makes it easy for you to get to your appointment.
When you arrive at the suite for your appointment, inform the receptionist. Our staff will greet you and ask you the purpose of your visit. If you are coming for an appointment—a consultation with a doctor, an outpatient surgical procedure, a mammogram, or a follow-up visit—we will ask you to review or complete some paperwork that will enable us to provide you the service you need.
It is always good to arrive at least 15 to 30 minutes before your appointment time so that you can move through the registration process smoothly without delaying your visit.
Registration
Each time you visit, our helpful and friendly reception staff will collect any paperwork you may have and confirm your insurance coverage.
Each practice and doctor may require different registration forms; check with the receptionist about which you need for your appointment. You can save time by completing your registration forms in advance and bringing them with you to your first appointment. If you need to complete the registration forms during your visit, arrive a bit earlier to allow for the extra time that will take.
Always have your personal identification and your insurance card. If your health insurance requires a copayment, be prepared to pay that at the time of your visit. You can check with your insurer about copays. If a doctor's referral is required, bring that paper with you as well. When you make your appointment, ask if you need a referral from your other doctor(s).
What You Need for Your Appointment
Your doctor may need you to provide some additional information. Check with our staff when you make your appointment.
Through our electronic medical records system, we have your diagnostic and test results from within the Mount Sinai Health System, but we will not have information from outside doctors, so please bring or arrange to have your doctor send that information, which may include:
Medical records and diagnostic images
A list of all your drugs and dosages you take
A copy of any pathology reports from previous biopsy or surgery procedures
Bloodwork results
If you had a related surgery, a copy of the surgeon's report
If you were in the hospital for a related condition, a copy of the discharge summary
If you have questions before your appointment, or at any time, please contact your doctor's office.
We are your Mount Sinai, and we are here to help you before, during, and after your visit.