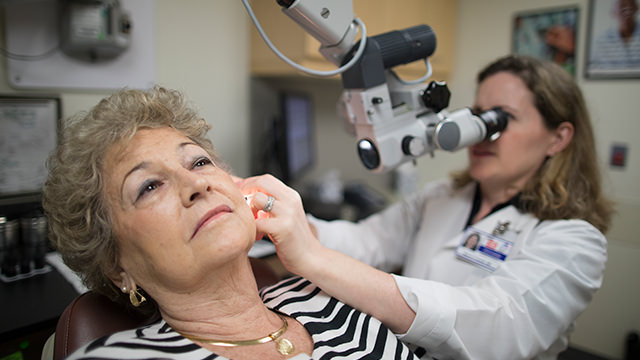 Ear, Nose, and Throat (ENT)
When you think of specialists in ENT, or ear, nose and throat—also known as Otolaryngology—earaches and nasal congestion may come to mind. At Mount Sinai-Union Square, we can take care of those conditions and many more.
Whether you are seeking treatment for a routine ear problem or complex head and neck cancers, our team of highly specialized experts offers you comprehensive and compassionate care, along with state-of-the-art patient services, in one modern location convenient to where you live or work.
Our physicians and researchers have pioneered many surgical techniques and medical therapies to treat disorders of the ears, nose, throat, and structures of the head and neck, including some of the newest minimally invasive techniques that can help you recover more quickly. We also have unique expertise in a range of areas from sleep disorders to thyroid cancer.
Members of our team have more than 30 years of experience working together. We are committed to using our expertise to ensure that you receive the best care, and treatment that is seamless, whether by arranging for consultations with other experts at Mount Sinai-Union Square or helping you prepare for any surgery or procedures. Many outpatient services are provided at Mount Sinai-Union Square, while inpatient surgeries take place at Mount Sinai Health System hospitals.
We work closely with multidisciplinary specialists in head and neck radiology, pathology, radiation oncology, medical oncology, neurosurgery, endocrinology, nutrition, and pain. That means we can coordinate care for the most complex cases and assist you at each stage of your treatment.
Our doctors are part of the Mount Sinai Health System, which includes the New York Eye and Ear Infirmary of Mount Sinai (NYEE). NYEE, just a few blocks from Mount Sinai-Union Square, is recognized by U.S. News & World Report as having one of the finest Ear, Nose, and Throat programs in the country. Our doctors are also on the faculty of the Icahn School of Medicine at Mount Sinai, one of the nation's leading medical schools, which means you have the benefit of the latest research and clinical trials.
Treatments We Offer
Our board certified physicians are trained in the following specialty areas:
Head and neck surgery—Recognized for innovation in oral, throat, larynx, salivary, and thyroid cancer treatment
General otolaryngology—Caring for hoarseness, speech and swallowing problems, sinus/ear infections, vertigo, and injuries to the head and neck
Rhinology and endoscopic sinus and skull base surgery—Using the latest minimally invasive techniques to treat sinusitis, rhinitis, nasal congestion, nasal polyps, nasal obstruction, and skull-base tumors, such as pituitary tumors
Oral, maxillofacial and orthognathic surgery—Reconstruction and rehabilitation for the jaw, face, and teeth; dental/prosthetic implants as part of cancer treatment surgery, avoiding the need for a second surgery
Facial plastic and reconstructive surgery—Aesthetic surgery of the face, congenital malformations, traumatic facial injuries, facial cancer reconstruction, and Mohs surgery for precise treatment of skin cancer
Dentistry, prosthodontics, and dental implants—Preserving the function and aesthetic look of the teeth and mouth, including cosmetic improvements, post-cancer treatment, and implant-anchored permanent teeth and prosthetics
Sleep surgery—Nonsurgical and surgical treatments for obstructive sleep apnea
Patient Services For You
We offer support services including nutritional counseling, a range of pain and palliative care options, integrative medicine, speech and swallowing therapy, and patient advocacy.
Our Speech-Language and Learning Center features a team of speech-language pathologists licensed by New York State and certified by the American Speech-Language-Hearing Association, who provide assessment and treatment to infants, children, adults, and their families.