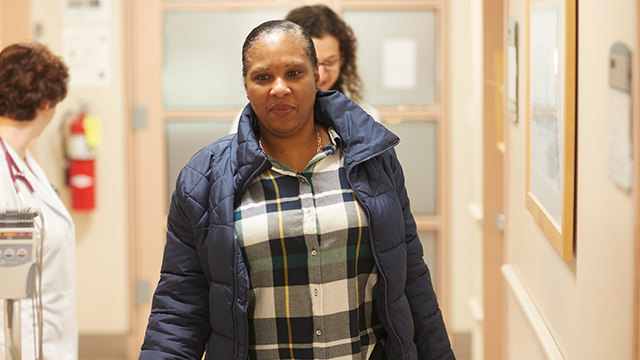 The nephrology specialists at Mount Sinai-Union Square are expert at treating all types of kidney disease ranging from the sudden pain of kidney stones or acute kidney injury to long-term chronic kidney disease and hypertension.
Conveniently located in Union Square, wherever you are in lower Manhattan and across the New York metropolitan area, help is available and easily accessible for you.
Mount Sinai-Union Square doctors have long provided specialty care for patients with kidney disease. Our compassionate faculty and staff are dedicated to providing you the finest care and an effective treatment plan personalized for you.
At our outpatient ambulatory clinic, we provide consultation services, chronic disease management, acute care, and follow-up care after hospital stays. We can help you manage chronic kidney disease and control risk factors such as hypertension and diabetes mellitus
Our physicians are faculty members at the Icahn School of Medicine at Mount Sinai, and they are involved in clinical research at all stages of kidney disease that may be helpful in your treatment. Our focus is on preventing kidney disease while reducing cardiovascular risk. Our physicians are part of the Mount Sinai Health System, whose flagship hospital, The Mount Sinai Hospital, is recognized by U.S. News & World Report as having one of the top nephrology programs in the country.
Conditions we treat
Acute kidney injury
Chronic kidney disease
Congenital kidney diseases
Diabetic nephropathy/diabetic kidney disease
Edema or swelling
End-stage kidney disease
Glomerulonephritis
Hematuria
Hyperparathyroidism
Hypertension (primary, secondary, and drug-resistant)
Hypokalemia and hyperkalemia
Hypomagnesemia
Hyponatremia and hypernatremia
Kidney cysts, tumors, and lesions
Kidney stones
Lupus nephritis
Metabolic acidosis and alkalosis
Nephrotic syndrome
Nephrotoxicity, or toxic injury of the kidneys
Polycystic kidney disease
Pre-eclampsia and kidney disease in pregnancy
Proteinuria
Renal tubular acidosis
Vasculitis
Services We Offer
Ambulatory blood pressure monitoring
Clinical expertise in resistant hypertension
Kidney biopsy and bone biopsy
Kidney stone risk evaluation and prevention
Kidney transplantation care
Nephrology consultation and follow-up