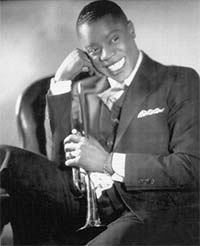 Growing scientific evidence reflects that music, used as therapy by a licensed certified music therapist, supports our health and wellbeing in a wide variety of clinical areas. Music therapy can enhance resilience when combatting a disease, or assist in the maintenance of physical and mental health across the lifespan.
Mount Sinai-Union Square has long been a star performer in this engaging field of medicine. The Louis Armstrong Department of Music Therapy has been a leader in offering music therapy for more than two decades and is the largest and foremost treatment program of its kind in New York City, as well as a leader in research and clinical practice.
At the Louis Armstrong Center for Music and Medicine, our therapists use live music and clinical improvisation with instruments, such as guitar, piano, percussion, winds, strings, and often songs from patients' preferred selection—adapted to meet individual needs, as only a live applicationcan be. This helps alleviate pain, regulate heart rate and blood pressure, improve breathing, ease anxiety, reduce depression, and enhance quality of life. Our center is intricately linked to Mount Sinai-Union Square's Mount Sinai - National Jewish Health Respiratory Institute and Mount Sinai Heart.
Our patients tell us that music therapy has improved their quality of life, for instance with chronic illness such as heart disease or COPD, neurologic symptoms related to stroke, Alzheimer's or Parkinson's, reduced their pain, assisted with treatment endurance, such as radiation and chemotherapy, and has also enhanced their self-image and their relationships with family and within their community.
Doctors and nurses refer patients to our music therapists, who are licensed, board certified, and trained to offer you the most current music therapy techniques. Our approach is highly personalized, which means we'll meet with you to learn precisely how we can use music to meet your specific needs, generally by augmenting traditional treatments for those coping with an illness. We like to say we are in tune with our patients.
As part of our mission and our connection to the Icahn School of Medicine at Mount Sinai, we conduct research in music and medicine. We run clinical trials to support evidence-based music therapy practices, which means you will have the benefits of the latest research in this evolving field. Our clinical trials have helped to discover how our music therapy techniques have aided spine surgery patients, decreased anxiety in radiation oncology and improved the breathing of kids with Asthma. Our current research projects include a study looking at the impact of music therapy with patients requiring Mechanical Ventilation at the ICU and the impact of Music Therapy on neonates with Neonatal Abstinence Syndrome in the NICU.
We also treat children and teens with developmental delays, or that are on the autism spectrum, or those who have eating disorders, anxiety and/or depression. Music therapy can help children and adults with speech delays or mutism.
Our music therapy services are offered through The Louis Armstrong Center for Music and Medicine atMount Sinai-Union Square. We hold weekly individual and group sessions under the direction of our medical director, psychiatrist, and music therapy team.
Can you benefit from our services?
We have extensive experience offering music therapy for:
Adults who have Parkinson's or Alzheimer's disease or those recovering from a stroke
Children and teens with developmental delays such as pervasive developmental disorders, attention-deficit/hyperactivity disorder (ADHD), and autism
Musicians and performing artists with performance-related ailments
People of all ages who have not benefited from talk therapy
Patients who are at any stage of cancer treatment. We use music to address symptoms such as nausea, chemo-brain, anxiety, and depression which can accompany cancer treatment
Teens who have anxiety, depression, eating disorders, or who are at risk
In addition, we sponsor events at Union Square and in the community that feature presentations on the latest topics in music therapy that are open to the public. We also provide a wide range of inpatient services at Mount Sinai hospitals as well as programs at universities, NORCs and schools and in the community.