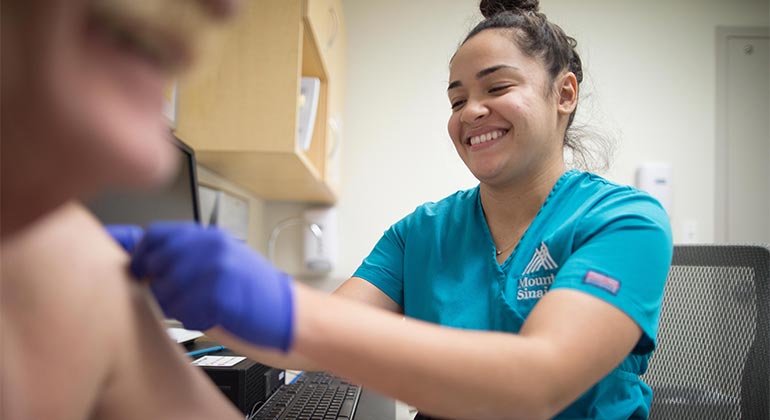 The Autoimmune Diseases Center at Mount Sinai-Union Square
Having an autoimmune disease can be overwhelming. Getting the care you need shouldn't be. The Autoimmune Diseases Center at Mount Sinai Union Square will coordinate all your appointments with the specialists you need to see. When you call, you will reach an educated care coordinator who will help you navigate the process of treating your autoimmune disease comprehensively.
"Autoimmune diseases are complicated diseases that often require multiple specialties for treatment. Our Center provides coordinated treatment, rapid appointments, unified medical records, and first class doctors. And up to now, that kind of coordinated care has been hard for patients to find."
– Alice B. Gottlieb, MD, PhD
Coordinated Care for Complicated Diseases
Autoimmune diseases often affect several systems of the body, which can mean needing consultation with several types of specialty doctors. For instance, patients with inflammatory bowel disease may often have eczema, arthritis, or vision disorders. Your care coordinator will help you get the consultations and appointments you need, often within days or a couple of weeks. Our dedicated care navigators will guide you through the referral, prescription, and treatment process.
We are opening with the following subspecialties, with many more to follow:
Dermatology
Neurology
Ophthalmology
Rheumatology
Gastroenterology
Autoimmune diseases often require specialty prescriptions—medications that require special handling, administration, or monitoring. They usually require preauthorization with your insurance company, and our Center will handle the process for you. Our pharmacy works hand in hand with our Center, so your treatment plan is seamless and stress-free. Our team includes clinical pharmacists, who are able to help you understand how to take the medication, and possible side effects.
Your medical records are securely shared among your consulting physicians instantaneously, so each member of your team understands every facet of your care plan. The result? Effective, coordinated, and personalized care.
Get World Class Care and the Latest Treatments
The Autoimmune Diseases Center is led by Alice B. Gottlieb, MD, PhD, an internationally recognized expert in the field of psoriasis and psoriatic arthritis. At the Center, you will receive care by our team of renowned physicians, as well as have access to the latest autoimmune treatments, including clinical trials.
Today, new treatments are changing patients' lives in ways we were not able to achieve in the past. For instance, biologics are now being used to treat many autoimmune diseases. Biologics work by disrupting the inflammation response of the body that contribute to autoimmune diseases.
Some of the clinical trials now being conducted at the Center include:
A trial for a biologic that may raise the bar for the treatment of psoriatic arthritis
Multiple biologics and clinical trials for hidradenitis suppurativia
Studies that address autoimmune hair loss
Conditions We Treat
Some of the disorders treated in Autoimmune Diseases Center include:
Atopic Diseases:

Eczema
Asthma
Allergic Rhinitis
Atopic Dermatitis

Collagen Vascular Diseases:

Lupus
Scleroderma
Rheumatoid Arthritis

Multiple Sclerosis
Inflammatory Bowel Disease
Psoriatic Arthritis
Plaque Psoriasis
Autoimmune Thyroid Disease
Sarcoidosis
Hidradenitis Suppurativia
Ankylosing Spondylitis
Pyoderma Gangrenosum
Uveitis
Also, in the wake of COVID-19, we are discovering that some patients develop autoimmune complications. Through our collaborations throughout the Mount Sinai Health System, we bring an interdisciplinary team to treat these conditions effectively.
Whatever your autoimmune condition, you will receive compassionate and expert care at the Autoimmune Diseases Center at Mount Sinai-Union Square.
Advancing the Understanding of Autoimmune Diseases
The Autoimmune Diseases Center is a hub for research and education programs, interdisciplinary collaboration, and patient education. In addition to fostering the latest research, we actively mentor the next wave of talented physicians. Together we are committed to broadening our understanding of autoimmune diseases.
For Referring Physicians
We make it simple to refer complicated cases to the Autoimmune Diseases Center. With one phone call, we will coordinate all the Mount Sinai specialists required. To refer a patient, please call 646-605-5751.