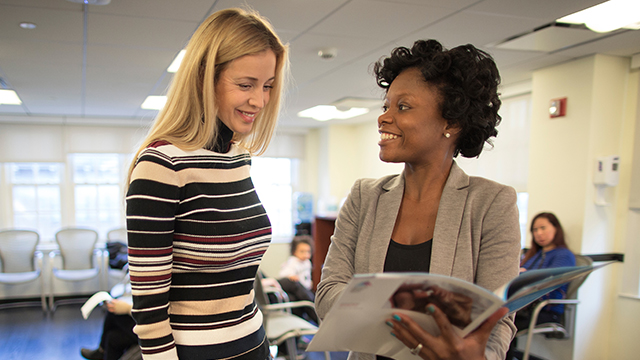 Obstetrics and Gynecology (OB/GYN)
With more than 16,000 babies born throughout the Mount Sinai Health System each year, we have the experience and dedication it takes to keep you and your family healthy. Our obstetricians and gynecologists are all on the faculty of the Icahn School of Medicine at Mount Sinai, bringing the most advanced knowledge of the field to you at one convenient location, Mount Sinai-Union Square.
From annual exams to birth control and from pregnancy to menopause, our superb health care team is committed to helping you maintain sexual and reproductive health.
Located near one of New York's busiest subway hubs, Union Square, we are a full-service health care facility close to where you live or work—so you can also have your mammograms done here, or meet with your other Mount Sinai-Union Square doctors. We provide exceptional care, whether for wellness visits or to follow up on any symptoms you may be experiencing.
As part of the Mount Sinai Health System, our Union Square location is associated with our flagship hospital, The Mount Sinai Hospital, which is recognized by U.S. News & World Report as having one of the nation's finest gynecology programs.
Wellness Care
We are committed to maintaining your health and wellness with annual visits that include a physical breast and pelvic exam along with a pap smear. We can advise you on birth control and provide prescriptions. We will also teach you how to perform a monthly breast self-exam.
If you require additional testing, we will refer you to one of our Mount Sinai Health System colleagues or perform the following as needed:
Biopsies to remove a sample of tissue to test for possible disease
Colposcopies to closely examine the cervix, vagina, and vulva for diagnostic purposes
Blood work for analysis and diagnosis
We are happy to answer any questions you have regarding nutrition, exercise, sexual activity, pregnancy, menopause and hormone replacement therapy, and other topics. Your OB/GYN is your partner in wellness, and we are always able to refer you to other specialists as needed.
Pregnancy
Your well-being is always our priority. We guide you through your pregnancy and any complications to ensure that you are receiving the best care.
We perform pregnancy tests and monitor your pregnancy as it progresses. We routinely conduct blood tests and ultrasound scans to ensure that you are having a healthy pregnancy. Developing a birth plan with you, we connect you with the Mount Sinai Health System hospital where you plan to deliver your baby. And we are here for you for your follow up care.
Conditions We Treat
Our highly trained and experienced OB/GYN doctors treat a variety of obstetric and gynecological conditions that may occur, including:
Breast lumps and pain
Dyspareunia, or pain during sexual intercourse
Endometriosis, a painful disorder caused when your uterine tissue grows outside the uterus
Fibroids, or growths that develop in the uterus
Hot flashes, and other problematic symptoms of menopause
Incontinence, or lack of bladder control
Menstruation problems
Ovarian cysts, or fluid-filled sacs in or on top of an ovary
Pelvic pain
Polyps, or abnormal tissue growth
Premenstrual syndrome (PMS), uncomfortable symptoms before each monthly menstrual cycle
Prolapse, when one or more of the pelvic organs bulges into or out of the vagina
Sexually transmitted diseases (STD)
Urinary tract infection (UTI)
Yeast infections
Treatment
Our outpatient medical facility includes many highly skilled health care providers, both at Union Square and throughout the Mount Sinai Health System. Our experts are available to provide you with treatments for multiple conditions, including:
Fibroid removal
Hormone therapy
Hysterectomy, surgical removal of the uterus