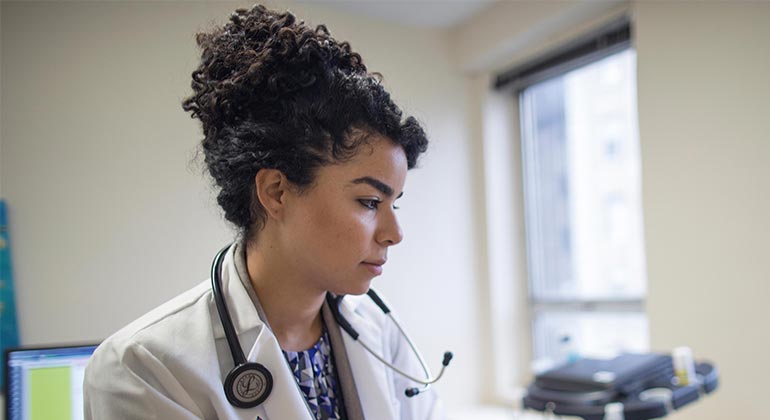 Collaborative Initiatives and International Expertise
We are committed to providing you the most advanced care.
Laboratory research
Our Center is engaged in cutting edge research to determine the cause of thyroid disease, in particular the Thyroid Autoimmune Diseases. The Davies Thyroid Laboratory at Mount Sinai is a state of the art research facility that is internationally recognized and has been the source of innovation and discovery in the field of thyroidology (the study and practice of patient thyroid care) for over 30 years. The Davies Laboratory has made discoveries in the regulation of thyroid growth and metabolism, the genetic association of thyroid diseases, and recently, has developed major activity in the area of human thyroid stem cells. Our studies have been supported by the National Institutes of Health since 1980.
Clinical Research
One of the hallmarks of a comprehensive multidisciplinary thyroid program is a thirst for new knowledge that can enhance our understanding about thyroid disease. The goal of knowledge seeking is being to inform the future management of thyroid cancer. Much remains to be discovered about the biology of thyroid cancer. Some research takes place in a basic science research laboratory. Other discoveries are made through research in the clinical setting with patients.
Thoughtful research questions are helping us to lead advances in thyroid cancer management for you, our patient. Before we start a research project, our Institutional Review Board conducts a review. This review provides oversight about the value of a project and ensures the safety to participating patients. As a patient who enters into a clinical research study, we will give you the information you need to give your informed consent. If you do not wish to be included in our clinical research study, you can be assured that your care will not be adversely affected.
Our Thyroid Center doctors are constantly involved in conducting clinical research for the sake of discovery and to improve the care and outcomes of you and all of our patients. If you have questions about clinical research, we encourage you to ask. We are happy to discuss our areas of research.
Thyroid Cancer Tumor Board
Multiple specialties are involved in your care when you have thyroid disease: surgery, endocrinology, and nuclear medicine, and possibly radiation and medical oncology as needed. Other specialists who are important to your diagnosis include cytopathologists (studies disease at the cellular level), pathologists (studies causes and effects of disease), and radiologists (uses X-rays and other radiation to diagnose and treat disease).
We believe that the best care for your thyroid cancer is through a coordinated multidisciplinary team approach. Therefore, if you have an advanced form of thyroid cancer, we will review your case at our monthly Thyroid Tumor Board meeting. At this meeting, our multidisciplinary panel of experts will do a thorough review of your pathology, imaging, and prior treatment. Our goal is to have an informed discussion and decide the best next steps for your diagnosis and therapeutic treatment. It is to your advantage to have the insights from each of the specialists to ensure that you receive the best care for your condition.
New approaches
At Mount Sinai-Union Square, we bring you the most innovative medicine and advanced health care. We do this through our pioneering surgical and in-office procedures. We push the limits of discovery in clinical trials—providing you with the very latest diagnostics and treatments available.
We can ensure that you receive outstanding care in managing your thyroid condition.
Keeping You Informed
Our electronic health record is open for your review at all times through MyChart, which our staff will help you register for. This allows you to see your investigation results and other information at your leisure and as soon as possible. In addition, our physicians make every effort to answer your phone inquiries as efficiently as possible.