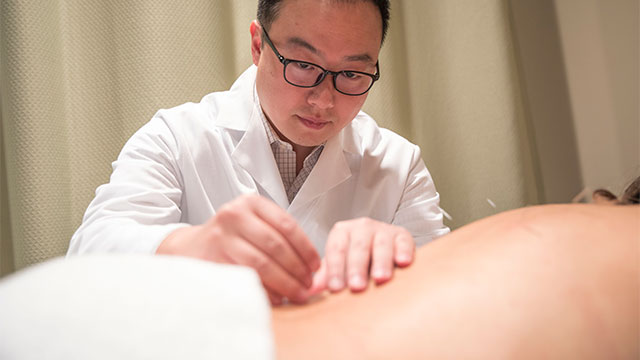 Acupuncture
The mind-body connection plays a major role in our overall health. This is not a new concept; the effect of stress and other emotions on physical well-being has been the focus of Chinese medicine for centuries. Western medicine uses these Eastern insights to care for patients through the practice of acupuncture, a form of supplementary treatment by certified acupuncturists to treat pain and uncomfortable symptoms related to medical conditions and other treatments.
According to the National Institutes of Health, a number of scientific studies have shown that acupuncture may help ease types of pain that are often chronic, such as lower-back pain, neck pain, and osteoarthritis/knee pain. It also may help reduce nausea associated with chemotherapy.
Mount Sinai Health System offers acupuncture when appropriate as part of your overall health care plan. We invite you to explore the benefits of acupuncture in the relaxing setting of our convenient Mount Sinai-Union Square location. Our licensed acupuncturists and your doctor can discuss with you in detail how acupuncture might help you.
How It Works
The practice of acupuncture emphasizes your overall wellness as an individual and the understanding that energy flows throughout your body—known as Qi; pronounced "chee"—along meridians (pathways) made up of touch points that relate to specific parts of the body.
Our New York State licensed acupuncturists use their knowledge of these touch points to insert fine needles that stimulate the release of naturally occurring pain-relieving chemicals. By unblocking the flow of energy, your body is better able to produce hormones that return you to a balanced state of well-being and relieve your pain and discomfort.
Conditions We Treat
We treat chronic (long-lasting) conditions by enhancing the treatment you are receiving from your primary care doctor or other medical specialists for conditions such as:
Lower-back pain
Neck pain
Joint pain of the hip, knee, and shoulder
In addition, acupuncture can help relieve other symptoms you are experiencing, such as the following and more:
Gastrointestinal disorders and discomfort
Insomnia
Menstrual cramp pain
Mood disorders
Nausea due to cancer therapy
At Mount Sinai-Union Square, our New York State licensed acupuncturists are available to enhance your medical treatment plan with an individualized acupuncture treatment plan. Call to make an appointment with our experienced and compassionate acupuncturists.