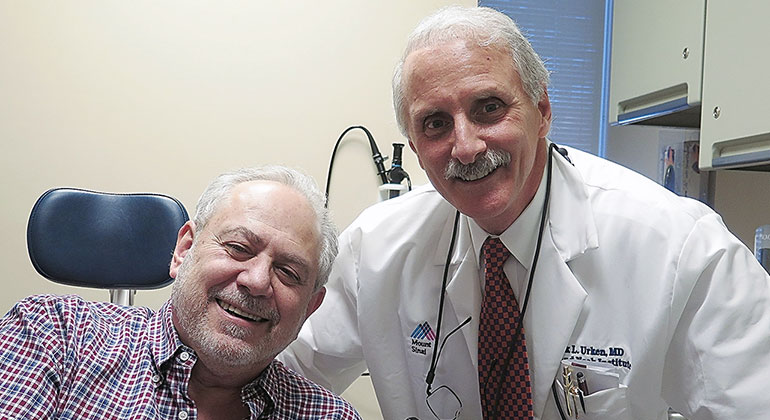 Center for Thyroid and Parathyroid Diseases at Mount Sinai-Union Square
For all your thyroid and parathyroid concerns, our Mount Sinai-Union Square team of endocrinologists, surgeons, radiologists, and pathologists partner with specialists in other related disciplines to create a personalized treatment plan for you. Uniquely, our Center for Thyroid and Parathyroid Diseases has dedicated patient navigators who will coordinate your care seamlessly across all the experts that your condition requires.
If you have a known thyroid or parathyroid condition, or are experiencing symptoms such as changes in energy level, fluctuations in weight, swelling of your neck, or changes in your voice, our experts can help. We will promptly schedule an initial consultation and conduct any diagnostics—including laboratory tests, thyroid ultrasound, or thyroid biopsy—and discuss in detail the best approach for managing your condition. We can also coordinate radiology and nuclear medicine consultations, if needed.
In addition, we encourage you to contact the Center for a second opinion to ensure you are on the right treatment path. We are happy to review your medical records, including any biopsy slides and scans, and to discuss your diagnosis and treatment options.
Cutting Edge Thyroid Research
Our Center is engaged in cutting edge research to determine the cause of thyroid disease, in particular the thyroid autoimmune diseases. The Davies Thyroid Laboratory at Mount Sinai is a state of the art research facility that is widely recognized and has been the source of innovation and discovery in the field of thyroidology for over 30 years. The Davies Laboratory has made discoveries in the regulation of thyroid growth and metabolism, the genetic association of thyroid diseases, and recently, has developed major activity in the area of human thyroid stem cells. Our studies have been supported by the National Institutes of Health since 1980.
While some research takes place in a basic science research laboratory, other discoveries are made through research in the clinical setting with patients. Our Center physicians are constantly involved in conducting clinical research with the goal of improving care. If you have questions about clinical research, we encourage you to ask. Any patient interested in entering a clinical research study will be provided with the information you need to give your informed consent.
Thyroid Cancer Care
Multiple specialties are involved in your care when you have thyroid disease: surgery, endocrinology, and nuclear medicine, and possibly radiation and medical oncology as needed. Other specialists who are important to your diagnosis include cytopathologists (who study disease at the cellular level), pathologists (who study causes and effects of disease), and radiologists (who use imaging studies to diagnose and treat disease).
We believe the best care for your thyroid cancer is through a coordinated multidisciplinary team approach. Therefore, if you have an advanced form of thyroid cancer, we will review your case at our monthly Thyroid Tumor Board meeting. At this meeting, our multidisciplinary panel of experts will do a thorough review of your pathology, imaging, and prior treatment. Our goal is to have an informed discussion and decide the best next steps for your diagnosis and therapeutic treatment.
To ensure that you receive the finest care, our Center participates with national thyroid organizations to maintain best practices in thyroid cancer treatment, including a national quality initiative that monitors patient outcomes. We encourage you as a thyroid cancer patient to participate in the Thyroid Cancer Care Collaborative, a secure database, where you and your physician are able to see your medical records to better manage your care and work together as a coordinated team.
Telemedicine and Up-to-Date Information Through MyChart
At Mount Sinai-Union Square, we deliver innovative health care, not only with the latest diagnostics and treatments available, but also with digital communication solutions for seamless thyroid care. Our electronic health record system is open for your review at all times through MyChart. This allows you to see your diagnostic results and other information at your leisure and as soon as possible. In addition, our physicians make every effort to answer your inquiries promptly.
If you prefer to start with a telemedicine consult or would like to schedule a video visit for your follow-up appointment, ask our staff to assist you downloading the MyChart app if you have not done so already. They will walk you through the process and schedule a convenient video visit in the comfort of your home.
To schedule an appointment, please call 833-844-8887.