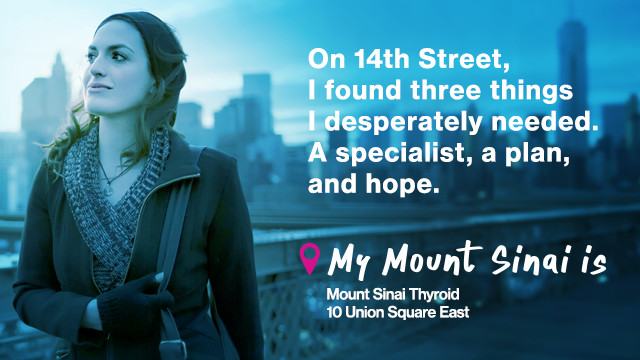 One place, one coordinated care team, and a plan that gives hope.
To schedule an appointment, please call 212-844-8887.
You need and deserve the kind of quality, coordinated thyroid care provided by our Thyroid Center. Here, all under one roof, we can ensure that you receive an accurate diagnosis and the best possible plan of action to manage your condition, from a minor hormonal imbalance to the most invasive disease.
At Mount Sinai Union Square, our multidisciplinary team will provide you with a thorough consultation at a single location and treatment that is fast and effective. For all your thyroid and parathyroid concerns, a team of endocrinologists—specialists in the body's hormonal system—will partner with specialists in other related disciplines to create a personalized treatment plan for disorders of the thyroid and parathyroid glands.
If you need a biopsy, we will do it on the spot and give you the preliminary results immediately. If your condition will benefit from surgery, our experts can see you the same day. We will discuss in detail the best approach for managing your condition. We also can set up a consultation with a nuclear medicine specialist if that will be helpful in diagnosing or treating your thyroid condition.
"My doctor checks my thyroid nodules every six months, and I am fine. I feel lucky to have everything I need near me in one place—especially doctors I know and trust."
– Angela S., patient since 2012 at Mount Sinai Thyroid Center
No matter what you need, our team is here to help you.
If you are experiencing changes in your energy level, fluctuations in your weight, swelling in your neck or throat, or changes in your voice, or swallowing problems our experts can help you. We will schedule an appointment for you to see one of our endocrinologists and/or surgeons as soon as possible for diagnosis and treatment.
We also encourage you to contact the Thyroid Center for a second or third opinion to assure that you are on the right treatment path. We are happy to review your medical records, as well as your biopsy slides and scans, and to meet with you about your diagnosis and treatment. Our team will then make recommendations about your care, suggesting alternatives when appropriate.
Collaborative Initiatives and National Expertise
We are committed to providing you the most advanced care. Our Center participates with national thyroid organizations to maintain best practices in thyroid treatment, including a national quality initiative that monitors patient outcomes. We encourage you as a thyroid patient to participate in the Thyroid Care Collaborative, a secure database, where you and the doctors of your choice are able to see your medical records to better manage your thyroid care and truly work together as a coordinated team. Through constant feedback of each individual patient's condition, our specialists are dedicated to continuous quality improvement and the desire to refine our diagnostic accuracy.
The Mount Sinai Thyroid Center is part of the Mount Sinai Health System, whose flagship hospital, The Mount Sinai Hospital, is recognized by U.S. News & World Report as having one of the nation's finest endocrinology programs. The physicians at the Mount Sinai Thyroid Center have faculty appointments at the Icahn School of Medicine at Mount Sinai, a leading medical school with teaching, research, and treatment expertise.
Conditions We Treat
Thyroid cancer
While thyroid cancer is the most rapidly increasing cancer in the United States, we have new techniques that allow us to detect, diagnose, and treat it earlier than ever, starting at the early stages.
Our specialists at Mount Sinai Union Square are experts in accurately diagnosing and then treating thyroid cancers, often using a combination of surgery, and in select circumstances, radioactive iodine to eradicate the disease.
Many patients with early stage thyroid cancer may be eligible for active surveillance that involves our monitoring your thyroid for progression of the disease and delaying or even avoiding surgery, based on what we observe of your condition over time. We ensure that you receive the care you need to manage your health, from benign nodules to advanced disease.
Other thyroid disorders
In addition to cancer, we treat these common thyroid and parathyroid disorders that are highly treatable once we have diagnosed them.
Nodules of the thyroid—cells that form a lump on the thyroid gland and may be malignant so evaluation is required to rule out thyroid cancer
Eye disease (Graves orbitopathy)—a swelling of the eyes associated with Graves' disease
Goiter (multinodular thyroid goiter)—a common disorder that produces swelling in the neck and may cause problems with breathing and swallowing
Graves' disease—an autoimmune condition and a common cause of hyperthyroidism, or excess production of thyroid hormone
Hashimoto's thyroiditis—a common form of inherited thyroid disease, a cause of hypothyroidism
Hyperthyroidism—condition of an overactive thyroid gland that produces too much thyroid hormone
Hypothyroidism—condition of an underactive thyroid gland that does not produce enough thyroid hormone
Hyperparathyroidism—condition of the parathyroid gland that produces too much parathyroid hormone leading to high calcium levels and may weaken the bones and a cause a predisposition to kidney stones
Pregnancy-related and postpartum thyroid disease—changes in thyroid hormone levels during and after pregnancy
Inherited thyroid disorders—present at birth and managed over time
Diagnostic Services We Provide
At the Thyroid Center, our specialists will perform a series of tests to find the cause and the nature of your thyroid condition. We work together to ensure an accurate diagnosis, and along with you, we determine the best course of action for your treatment.
Typically, we start by checking your hormone levels through blood and urine tests. If needed, we conduct additional tests right here at the Thyroid Center, such as:
Fine needle aspiration biopsy with immediate analysis to determine if the tissue is benign or cancerous
Molecular profiling of thyroid nodules to diagnose their composition and their risk of being malignant
Radioactive iodine studies to diagnose the condition of your thyroid gland
Real-time thyroid ultrasound to monitor your thyroid
Thyroid antibody testing to determine if your body is producing thyroid antibodies that could cause a thyroid disorder
Thyroid function testing to see if your thyroid is functioning properly
Genetic testing of you and your family to determine your risk for congenital thyroid disorders
During our evaluation of your condition, we also may perform imaging diagnostics, such as:
Computerized tomography (CT), which creates a cross-sectional image of your thyroid gland and can detect abnormal lymph nodes in your neck
Magnetic resonance imaging (MRI), which detects small changes in your thyroid gland, as well as adjacent structures and the presence of abnormal lymph nodes in your neck
Positron emissions tomography (PET), which produces three-dimensional color images of your thyroid function within your entire body as well as the thyroid gland
Treatments We Offer
Our doctors have extensive experience in designing the best course of treatment for you. We use proven techniques and when appropriate, we may suggest a new innovative approach. Our commitment is to ensure that you receive the best possible treatment. We can treat most thyroid conditions with medication alone, though some conditions require a combination of surgery, radioactive iodine, and medicine. At the Thyroid Center, you mayreceive treatments on an outpatient basis, and be able to go home the same day.
In our commitment to bring you the best care possible, we coordinate our efforts within the Thyroid Center, and often will collaborate with many other specialists throughout the Mount Sinai Health System as well as your local doctors who may have been involved in your care for an extensive period of time . This multidisciplinary approach helps to bring together doctors from our Thyroid Center with doctors in various fields who have the expertise to care for you.
We have expertise in the following areas, and we work together as a team to manage your care:
Endocrinology—specializing in the overall endocrine system, which maintains your hormonal balance
Endocrine surgery and head and neck surgery—surgically removing diseased thyroid and parathyroid glands
Pathology/cytopathology—performing fine needle aspirations of the thyroid gland and lymph nodes and analyzing the results to determine whether there are abnormal cells present before and after surgery for an accurate diagnosis
Nuclear medicine—using small, safe amounts of a radioactive substance for the diagnosis and treatment of your thyroid gland
Genetics—diagnosing inherited disorders to create the best course of care for you
Weight management—helping you to maintain a healthy weight
Ophthalmology—treating eye conditions that are related to thyroid disorders
In rare instances, a patient may be eligible for hidden-scar surgery—a minimally invasive thyroidectomy procedure to remove all or part of the thyroid gland without leaving a visible scar on the neck.
At Mount Sinai Union Square, we bring you the most innovative medicine and advanced health care through our pioneering research and by pushing the limits of discovery in clinical trials—providing you with the very latest diagnostic and treatment available.
All we do is to ensure that you receive outstanding care in managing your thyroid condition.