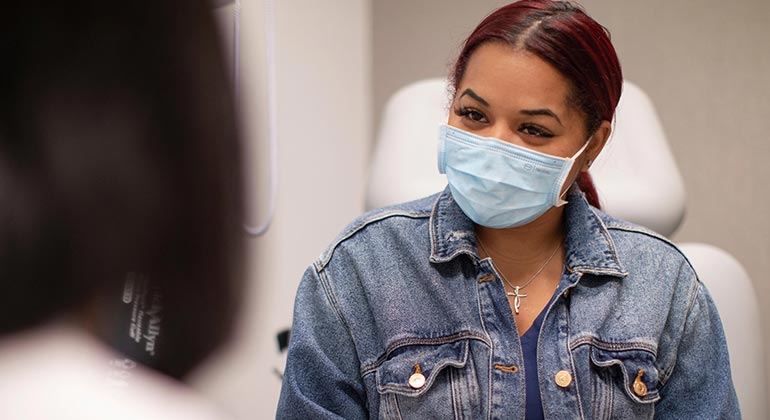 Center for Thyroid and Parathyroid Diseases at Mount Sinai-Union Square
One place, one coordinated care team, and a plan that gives hope.
You need and deserve the kind of quality and coordinated thyroid care that is only provided in New York City by the Center for Thyroid and Parathyroid Diseases at Mount Sinai-Union Square. Here, all under one roof, we can ensure that you receive an accurate diagnosis and the best possible plan of action to manage your condition, from a minor hormonal imbalance to the most invasive disease.
Our multidisciplinary team will provide you with a thorough consultation at a single location and treatment that is fast and effective. For all your thyroid and parathyroid concerns, a team of endocrinologists, surgeons, radiologists and pathologists will partner with specialists in other related disciplines to create a personalized treatment plan for you. Uniquely, our Thyroid Center has dedicated patient navigators who will coordinate your care seamlessly across all the experts that your condition requires.
If you need laboratory tests, a thyroid ultrasound or a thyroid biopsy, we will do it on the spot. We provide immediate preliminary results of your biopsy and if your condition will benefit from surgery, our experts can see you without delay. We'll discuss in detail the best approach for managing your condition. We can also set up radiology and nuclear medicine consultations if that will be helpful in diagnosing or treating your thyroid or a related condition.
No matter what you need, our team is here to help you. We will schedule an appointment for you to see one of our endocrinologists or surgeons as soon as possible for diagnosis and treatment within 72 hours of your request.
If you have a known thyroid/parathyroid condition or are experiencing symptoms such as changes in your energy level, fluctuations in your weight, swelling of your neck, or changes in your voice- our experts can help you.
We also encourage you to contact the Thyroid Center for a second or third opinion to assure that you are on the right treatment path. We are also happy to review your medical records, as well as your biopsy slides and scans, if appropriate and to meet with you about your diagnosis and treatment. Our team will then make recommendations about your care, suggesting appropriate alternative.
Telemedicine and Up-to-Date Information Through MyChart
At Mount Sinai-Union Square, we deliver innovative health care, not only with the latest diagnostics and treatments available, but also with digital communication solutions for seamless thyroid care. Our electronic health record system is open for your review at all times through MyChart. This allows you to see your diagnostic results and other information at your leisure and as soon as possible. In addition, our physicians make every effort to answer your inquiries promptly.
If you prefer to start with a telemedicine consult or would like to schedule a video visit for your follow-up appointment, ask our staff to assist you downloading the MyChart app if you have not done so already. They will walk you through the process and schedule a convenient video visit in the comfort of your home.
To schedule an appointment, please call 833-844-8887.