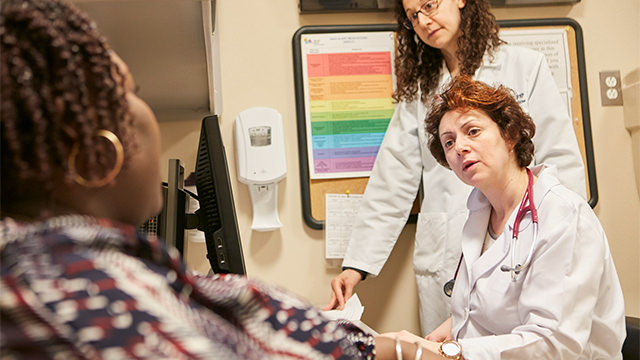 At Mount Sinai-Union Square, we invite you to explore the many free support services we offer to you as part of your health care regimen. Discover new life skills through creative and practical experiences designed to nurture you in body, mind, and spirit.
In addition to the expert, compassionate doctors who care for you, your Mount Sinai team includes highly skilled and caring nurses, counselors, and therapists whose sole purpose is to offer you the kind of support that boosts your morale, helps you cope, and encourages you to thrive.
Choose what appeals to you, and enjoy new activities, new friends, and new ideas. We offer the following menu of empowerment, support, and wellness programs at Mount Sinai-Union Square and additional programs at our Chelsea facility and throughout the Mount Sinai Health System. For specific days, times, and more information about these programs, which are offered free of charge to our patients, refer to this calendar of support services.
For Cancer Patients
We offer the following support services for cancer patients at Union Square:
Art therapy—Our artist-in-residence helps you discover your own creative resources and have fun. It can also help you relax and maintain a positive attitude.
Yoga for Women—Gentle stretching and breathing exercises help you breathe and relax.
Reiki: Living Light™—This relaxing and comforting healing technique balances and realigns energy to activate your own healing powers by reducing stress, increasing energy and focus, and enhancing creativity through no-hands or very light hands-on movement.
Chemo Brain Workshops—By practicing various mental exercises and learning skills, you may be able to sharpen your mental skills and build coping techniques. These workshops help with memory and multitasking deficits you may experience during and after chemotherapy treatment.
Legal Health-New York Legal Assistance Group Clinic—Lawyers are available to provide guidance on health-related legal matters.
Support for People with Oral, Head, and Neck Cancer—If you are a cancer patient or survivor of oral, head, or neck cancer, this is a support group for you.
Malecare—Mount Sinai provides you direct access to support groups provided by Malecare, an organization that helps men with prostate cancer recover psychologically and physically. One of these groups may be helpful for you:

Prostate Cancer Support Group
Advanced Prostate Cancer Support Group
Gay Men's Prostate Cancer Support Group

Lymphedema Workshop—This is an educational workshop for you if you are a breast surgery patient.
Knitting Circle—Rather than knitting alone, we invite you to join our knitting circle where you can relax, knit, and create new friendships.
Spanish Speaking Workshops—Quimioterapia lo esencial manejo de los efectos secundarios mas communes. (English translation: This workshop is conducted in Spanish to help you manage the common side effects of chemotherapy.)
Here at Mount Sinai-Union Square, we provide our cancer patients with these additional support services:
Nutritional counseling
Social work services
Patient navigation
Peer support
Music therapy
Access to psychiatry services
In addition, nearby at the 14th Street Y, we offer a Renewal Pool Program for women with breast cancer. This program combines gentle exercise in the studio with aquatic exercise and relaxing Ai Chi breathing exercises in the pool to improve your ability to move by relieving stress and pain.
Helping You with Other Conditions
Exercise, creativity, socializing, and education are valuable resources during treatment for and recovery from a wide variety of conditions, for all age groups. For example, we offer music therapy, physical and occupational therapy, speech therapy, and other wellness programs, including acupuncture and yoga at Mount Sinai-Union Square.
We offer support services for other conditions as well. Please check with your doctor about support services that will help you.