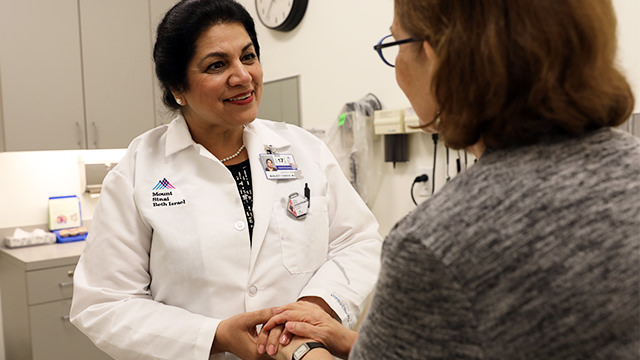 When you have cancer, and radiation therapy is included in your personalized treatment plan, we can offer that to you in the comfortable and calm setting of the Blavatnik Family Chelsea Medical Center at Mount Sinai.
Putting you at the center of all we do, our radiation oncologists work closely with our medical oncologists and surgeons to coordinate all aspects of your care for the best possible outcome. We may use radiation treatment by itself, along with or instead of chemotherapy, or before or after surgery.
At the Blavatnik Center, you receive care from radiation oncologists and technicians who are highly trained and extensively experienced in using precisely focused high-intensity beams to kill cancer cells and shrink tumors. At our state-of-the-art facilities, you can receive comprehensive radiation oncology treatment for all types of cancer.
Conditions We Treat
At the Blavatnik Center, we specialize in women's cancers through our Women's Cancer Program. In addition we can offer radiation oncology for all types of cancers, including:
Bladder
Brain
Breast
Gastrointestinal
Head and neck
Lung
Prostate
Soft tissue sarcoma
Treatments Available
We use two major categories of radiation oncology: externally and internally administered. You receive the treatment that is most appropriate for your type and stage of cancer. External beam radiation is treatment that we direct at your tumor from outside your body. Internal radiation therapy (brachytherapy) uses radioactive seeds or pellets placed in or near your tumor.
Our advanced technologies for radiation treatment include:
3D conformal radiation therapy (3D CRT), which delivers high doses of radiation beams to tumors while sparing nearby normal tissues. We use this approach if you have a tumor that is too close to a vital organ or other vital structures for us to use normal radiation therapy.
Brachytherapy, which involves implantation of radiation seeds or rods next to or inside a tumor. We can use this procedure for breast or gynecological cancers.
Intensity modulated radiotherapy (IMRT), a state-of-the-art treatment that allows us to deliver a high dose of radiation to a precise location using 3-D technology.
Proton beam therapy (PBT), which uses protons (most other types of radiation treatment use X-rays) to kill cancer cells. We generate these protons using a particle accelerator and can target them very specifically to your tumor or tumors, sparing healthy tissue.
Palliative radiation, which treats symptoms caused by metastases, such as headaches and weakness, with the goal of improving your quality of life.
Stereotactic radiotherapy, which delivers radiation beams to a very specific area, often the brain, using specialized equipment.
Typically, when you receive radiation treatment, you come in for half-hour appointments five days a week, Monday through Friday. Having two days off allows your body to recuperate.
As part of the Mount Sinai Health System, we also offer you the opportunity to participate in clinical trials, for the very latest in cancer treatment.
Supportive Services
As part of our integrative oncology services, you can take advantage of all our support services available during your treatment visit and afterward, including:
Music therapy
Nutrition
Pastoral care
Peer support programs
Social work
Wellness programs such as yoga and pet therapy
During and after treatment, we are here for you, to provide the most compassionate and effective care possible, and to help you along on your journey to recovery.