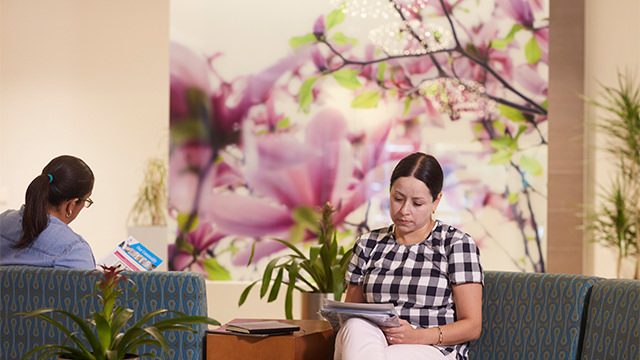 When you arrive at the Blavatnik Family Chelsea Medical Center at Mount Sinai, we will greet you and guide you through your personal health care experience. Now that you have made an appointment with us, you have taken the first important step on your health care journey with our team of highly trained and compassionate doctors, nurses, technicians, and support staff.
Especially if this is your first visit, we hope that our calm and supportive environment soothes you. We can assure you that you will be further pleased with the level of care you receive from us.
The Blavatnik Family Chelsea Medical Center at Mount Sinai is named for its vibrant and interesting neighborhood on the west side of New York City, near Chelsea Market, the High Line, and the Meatpacking District. Even if you do not live near us, it is easy to get here by public transportation or your own car.
Valet Parking
You can leave the parking to us.
Simply pull into our covered semicircular driveway, which protects you from the weather. Our valet will park your car for you at a local parking facility. You do not have to worry about trying to find street parking, driving around in search of a garage, or walking to and from our location.
After your appointment, we will bring your car to you. Simply pay the valet the parking fee and you can be on your way.
Welcoming and Accessible
The Blavatnik Family Chelsea Medical Center at Mount Sinai is fully wheelchair accessible and extremely easy to navigate. There are no stairs or elevators inside our facility; every office, exam room, and treatment area is conveniently located on the single main floor.
Once you are in the lobby, our reception desk staff will greet you and ask you the purpose of your visit. Since you are coming for an appointment—a consultation with one of our cancer specialists, an outpatient surgical procedure, an infusion or radiation oncology session, or a follow-up mammogram—we will direct you to the Registration Office, immediately or after a brief pause in our relaxing waiting area.
Registration
Each time you visit, our helpful and friendly registration staff will collect any paperwork you may have and confirm your insurance coverage. They will then send you to the appropriate comfortable waiting area where you can check in for your appointment.
It is always good to arrive at least 15 to 30 minutes before your appointment time so that you can move smoothly through the registration and check-in process, and be on time for your appointment.
You can save time by completing your registration forms in advance and bringing them with you to your first appointment. Simply give them to the registrar, who will review the forms.
If you need to complete the registration forms on the day of your appointment, please arrive a bit earlier to allow for the extra time that will take. Even if you do not plan to complete the registration forms before your visit, you may want to review the forms in advance so that you are prepared to provide the appropriate information when you are here.
Always have your personal identification with you, and your insurance card. If your health insurance requires a copayment, be prepared to pay that at the time of your visit. You can check with your insurer about copays.
When you call to make your appointment, ask if you need a referral from your primary doctor. If a doctor's referral is required, bring that paper with you as well. Our staff may require additional information from you.
What You Need for Your Visit
Your doctor may need you to bring additional information to your appointment. Check with our staff when you make your appointment. Not all of the following items will apply to you, but our staff will let you know what you need when you call.
Through our electronic medical records system, we have all diagnostic and testing results from anywhere within the Mount Sinai Health System, but we will not have information from outside doctors, so please bring that information, which may include:
Medical records and diagnostic images
A list of all your drugs and dosages
A copy of any pathology reports from previous biopsy or surgery procedures
Bloodwork results
If you had a related surgery, a copy of the surgeon's report
If you were in the hospital for a related condition, a copy of the discharge summary
If you have questions before your appointment, or at any time, please contact your doctor's office.
We are your Mount Sinai, and we are here to help you before, during, and after your visit.