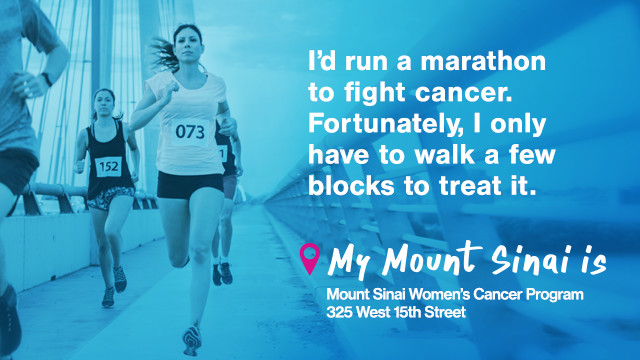 If you have gynecological cancer, you want the very best, most expert doctor to treat you. In fact, you want a whole team of experts on your side. You want your questions answered and your worries addressed, and you need and deserve all the support available as quickly as possible.
To schedule an appointment, please call 212-731-7570.
At Mount Sinai Chelsea, we begin meeting your needs by arranging a same-day or next-day appointment for outpatient care. The deeply experienced gynecological oncologists of our Women's Cancer Program give you unparalleled personalized care in a warm and calm environment where you will feel comfortable and at ease. Mount Sinai Chelsea, where the people and the environment are caring and supportive, is your one stop for comprehensive and compassionate cancer care. You are not alone. You have us.
Mount Sinai Health System created the Women's Cancer Program specifically for women with gynecological and breast cancers. Based on your personal needs and quality-of-life goals, we develop a treatment plan designed just for you. We explain what is going on at every step of your journey so that you understand your diagnosis and your treatment options.
We listen to you, and get to know you. Our doctors go beyond your expectations to embrace you during your cancer journey and involve you in making your health care decisions. We truly care about you as we take care of you, offering ongoing support services to help during treatment.
The Best Care
This Chelsea neighborhood location is the singular place for women with gynecologic cancer that has the added advantage of bringing to you all the resources of the Mount Sinai Health System, including the Icahn School of Medicine at Mount Sinai. In addition, we have a National Cancer Institute-designated cancer center, The Tisch Cancer Institute. Tisch is located at our flagship hospital, The Mount Sinai Hospital, which is recognized by U.S. News & World Report as having one of the finest cancer programs in the country.
Our doctors are dedicated medical professionals who are constantly exploring innovations in cancer treatments. At Mount Sinai Chelsea, you get the finest care from Mount Sinai specialists, including:
Clinical trials for our newly diagnosed and current cancer patients
Admission, when needed for complex surgeries, to one of the Mount Sinai Health System's seven New York City hospitals, where we are able to use the latest robotic surgical techniques
Always the most individualized and comprehensive care through our team approach of engaging whatever specialists you may need from among our vast staff of doctors
Services We Offer
Enhancing the medical and radiological treatments you receive, we offer a level of service that is most helpful to you.
If you have a new cancer diagnosis, we will give you an appointment within 24 hours—and on the same day whenever possible.
We welcome you when you want second and third opinions.
Genetic testing and genetic counseling are available to determine your risk for cancer, including tests for the genes BRCA 1 and 2 as well as lesser-known but important genetic conditions like Lynch syndrome.
Gynecologic Cancers and Symptoms
We see women at risk for all reproductive system cancers, as well as non-cancerous conditions of the reproductive system such as benign fibroids. Our doctors encourage you to be aware of changes in your body as well as genetic or environmental conditions that may indicate the risk or presence of gynecologic conditions. While many of these conditions tend to have only the most subtle warning signs, please seek a doctor's care if you notice the symptoms of possible reproductive system cancers, including:
Cervical cancer—abnormal vaginal bleeding or discharge, such as bleeding after sex
Endometrial and other uterine cancers—vaginal discharge or bleeding, pain, or pressure in your pelvis in the lower abdomen area that is not normal for you
Ovarian cancer—vaginal bleeding or abnormal discharge from your vagina; pelvic or abdominal pain (the area below your stomach and between your hip bones); back pain; bloating or feeling full quickly while eating; change in bathroom habits, such as having to pass urine very badly or very often, or constipation or diarrhea
Vaginal cancer—vaginal discharge or bleeding that is not normal for you; change in bathroom habits, such as having blood in the stool or urine, going to the bathroom more often than usual, or feeling constipated; pain in your pelvis (the area below your stomach and in between your hip bones) especially when you pass urine or have sex; itching, burning, or bleeding on the vulva that does not go away; changes in the color of the skin of the vulva; a rash or warts, sores, lumps, or ulcers on the vulva that do not go away
It is always important to see your gynecologist or primary care physician if you notice changes in your body, so you can be reassured and start treatment, if needed, for the best possible outcome.
Diagnosis and Screening
Your annual Pap smear screens for cervical cancer, looking for cell changes on the cervix that may become cervical cancer if left untreated. Another test, the human papillomavirus (HPV) test, looks for the virus that can cause these cell changes.
To perform a complete diagnosis of other types of gynecologic cancers, we offer diagnostic exams and testing, including:
Pelvic exam: A physical exam of the vagina, cervix, uterus, fallopian tubes, ovaries, and rectum
Ultrasound: A sonogram, or sound waves through an abdominal ultrasound or a transvaginal ultrasound
CA 125 assay: A blood test that measures the level of CA 125, a protein that may be a sign of cancer or another condition
Barium enema: A series of X-rays of the lower gastrointestinal tract, also known as a lower GI series
Intravenous pyelogram (IVP): A series of X-rays using a contrast dye to determine if the kidneys and bladder have been affected by cancer
CT scan (computed tomography): A series of detailed pictures of areas inside the body, taken from different angles
Biopsy: Removal of cells or tissues to check for signs of cancer
A Team Approach
In addition to testing you for gynecological cancers, we are relentless in looking for other associated-risk cancers so that we can monitor you and treat you if needed. We are able to refer you to other specialists as indicated, and we all work together to ensure the best possible prognosis for you. For example, if we are treating you for breast cancer, our gynecological oncologists will join your health care team and share information that will help improve your treatment.
We are now able to offer new molecular testing on tumors for indication of cancer risk. If appropriate for your case, we can address what we find with the latest oral medication, and work to make sure it is covered by your health insurance.
Treatment Options
Your gynecological oncologist will prescribe and oversee your treatment, which you receive, here, among the health care staff that knows you. Our services include:
Infusion therapy—includes chemotherapy in our comfortable infusion suite
Outpatient surgical procedures—such as dilation and curettage (D&C) to treat abnormal bleedings
Direct delivery—a new way to target delivery of medical antibodies with fewer side effects

If your treatment requires an overnight stay, we will admit you to a Mount Sinai Health System hospital where your gynecologic oncologist will perform your operation. For your follow-up care, you can return to Mount Sinai Chelsea, where we will continue to support you and treat you throughout your journey with the care you have come to expect from us.