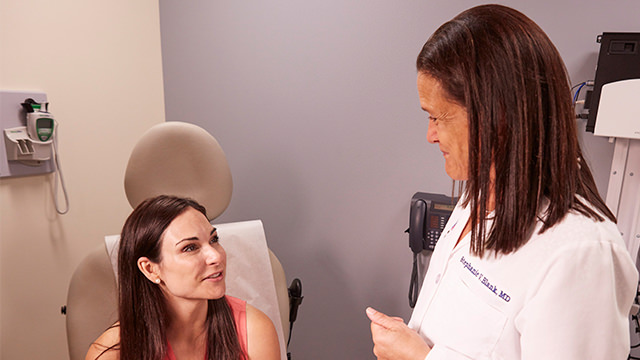 If you have received a diagnosis of breast or gynecological cancer, or are concerned about a family history of the disease, the Blavatnik Family Chelsea Medical Center at Mount Sinai is the ideal place for you to come for help.
In a comfortable, calming environment designed for private conversation, our genetic counselor can sit with you and review your personal and family medical history in light of the latest knowledge about the connections between genes and cancer—including discoveries made by the leading scientists at the Mount Sinai Health System's medical school, the Icahn School of Medicine at Mount Sinai.
We can help you decide whether to do genetic testing, which involves sending a blood sample to a laboratory for analysis. In addition, we can help you address the emotional, psychological, and social consequences of the test results, always bearing in mind that your genetic information is private.
What to Consider
It is important to remember that having an increased risk for cancer, genetic or otherwise, is not the same as having cancer. You can have a genetic mutation and not have any problems for years, or ever. However, the mutation does increase your chances of developing the disease.
If you carry a genetic mutation, you may want to consider ways to lower your risk through lifestyle changes, as well as early and regular screenings. You may also consider undertaking other preventive measures, such as medication or a surgical procedure. We can help you choose the best course of action by providing you with all the available information and supporting you as you think about your options. Our goal is to empower you to make the decision that is right for you.
People often believe that knowing their genetic make-up will bring a level of certainty to planning and decisions, but often it raises as many questions as it answers. Our counselors carefully describe the limitations of the tests, which may not provide the definitive answers you might be seeking. If you decide you are interested in having genetic testing, we will talk with you about the types of tests that might be most appropriate for you, given your situation and what you hope to learn.
Choosing Genetic Counseling
Most women come to us through referral from their primary care doctor or a doctor here at the Blavatnik Center. You may be thinking about genetic counseling because you are concerned about breast, ovarian, or uterine cancer.
Genetic counseling is particularly helpful for you if you have:
A diagnosis of cancer
Multiple close family members who have faced a cancer diagnosis
Family members diagnosed with cancer before they were 50 years of age
Family members who have been diagnosed with various types of cancers or a rare type of cancer or tumor
An ethnicity associated with a higher risk of genetic cancer, such as women of Eastern European Jewish background
If you do not have a personal history of cancer, we may recommend that a family member who has been diagnosed with the cancer be tested first before you schedule testing.
During Your Appointment
When you come to meet with our genetics counselor, you may want to bring information about your personal medical history and your family members' experiences with cancer of all types. Dates and types of cancer are particularly helpful. You can invite a friend or relative to join you at the appointment to help ask questions and remember information you receive. If you bring a family member, your relative might be able to provide additional information about your family history.
We usually schedule an hour for the appointments so we have plenty of time to address all of your questions and concerns.
During our conversation, we lay out your personal medical records, your family members' current ages or ages of death, and causes of death, going back at least two generations. If your family members had cancer, we outline the types of cancers and their ages at diagnosis. Do not worry if you do not have all of this information available. We can still help you think through your genetic risk.
Next, we discuss the possibility of inherited cancer risk and the benefits and limitations of genetic testing.
Choosing Genetic Testing
If you decide you are interested in having genetic testing, we discuss the various types of tests and guide you in choosing the most appropriate test for you. We also can describe the testing procedure and coordinate the details, such as health insurance concerns. At the Chelsea facility, we can take a specimen for your genetic test immediately, if you request it.
When the results are available—typically in three to six weeks—we meet with you to discuss the findings and help you consider what the results might mean for you and your family members.
What BRCA May Mean for You
At the Chelsea facility, most of our patients are women concerned about breast or ovarian cancer. As a result, the genetic mutations we see tend to be in the BRCA1 and BRCA2 genes, though there are other genetic mutations that can increase your risk of these types of cancer.
If you have either or both of the BRCA genetic mutations, it can raise your lifetime risk of getting breast cancer to 87 percent (compared with 12 percent in the general population) and your risk of ovarian cancer to 54 percent (compared with 1 percent to 2 percent generally). A BRCA mutation can also increase your risk of other types of cancer, including melanoma and pancreatic, stomach, esophageal, and bileduct cancers.
If You Have Cancer
If you find out you carry a genetic mutation and you have a cancer diagnosis, it may affect your recommended course of treatment. Our doctors may propose that you take a more aggressive approach to treatment, particularly when it comes to surgery (e.g., mastectomy instead of lumpectomy).
In addition, we are also learning that some genetic mutations are more responsive to certain types of treatment. We take into consideration your genetic makeup as we develop the right treatment plan for you. If you already have a treatment plan, our doctors can help you make any necessary adjustments to it.
If You Are at High Risk
If you have a genetic mutation, and are considered to be at high risk for breast cancer, but you have not been diagnosed with cancer, our Surveillance Breast Program offers thorough monitoring and testing to make sure that, should a pre-cancer or cancer develop, we catch it early when it is most treatable. We can also discuss lifestyle changes, such as quitting smoking, and preventive medication or surgery. Our doctors are surgeons and medical and radiation oncologists who can help you think through preventive measures that may be right for you.
Helping Your Family
If it turns out that you have an increased genetic risk of cancer, you may wonder about the risk for your children and other family members. Our health care professionals can help you think through these issues. Our extensive Social Work program can provide emotional support for you and your family members.
Our involvement does not end when the test results come back from the lab. Diagnoses, pregnancies, and other considerations can bring up the issue of genetic risk again, and you may find that you need additional information or advice. Right now and into the future, we are here to help.