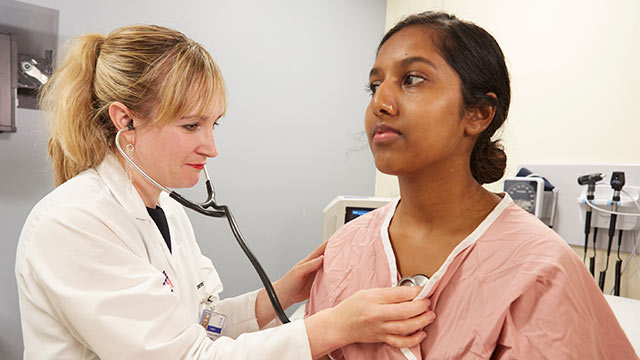 Gynecologic Cancer Treatment Options
Following the tests and procedures we perform to diagnose and treat your gynecologic cancer, we continue to monitor your condition and take care of you at the Blavatnik Family – Chelsea Medical Center at Mount Sinai.
We perform several outpatient treatment procedures right here in our comfortable Chelsea setting. If we determine that you need a hospital stay, we will refer you to one of the hospitals within the Mount Sinai Health System for treatment by our highly trained and experienced gynecological surgeons.
Surgical Procedures
For gynecologic cancer, our surgeons can treat you in most cases by performing treatment procedures we specialize in, such as:
Laparoscopic treatment is a minimally invasive surgical procedure that we may use to remove ovarian cysts, and to treat early and certain advanced or recurrent ovarian cancers.
Laser surgery is a surgical procedure that uses a laser beam (a narrow beam of intense light) as a knife to make bloodless cuts in tissue or to remove a surface lesion such as a tumor.
Loop electrosurgical excision procedure (LEEP) uses electrical current passed through a thin wire loop as a knife to remove abnormal cervical tissue or cancer.
Total laparoscopic hysterectomy removes the uterus and cervix through a small incision in the abdomen.
Outpatient surgical procedures—such as dilation and curettage (D&C) to treat abnormal bleedings.
Non-surgical Procedures
Your gynecological oncologist will prescribe and oversee your treatment, which you receive, here, among the health care staff that knows you. Our services include:
Infusion therapy—includes chemotherapy in our comfortable infusion suite
Direct delivery—a new way to target delivery of medical antibodies with fewer side effects
If your treatment requires an overnight stay, we will admit you to a Mount Sinai Health System hospital where your gynecologic oncologist will perform your operation. For your follow-up care, you can return to the Blavatnik Family – Chelsea Medical Center at Mount Sinai, where we will continue to support you and treat you throughout your journey with the care you have come to expect from us.