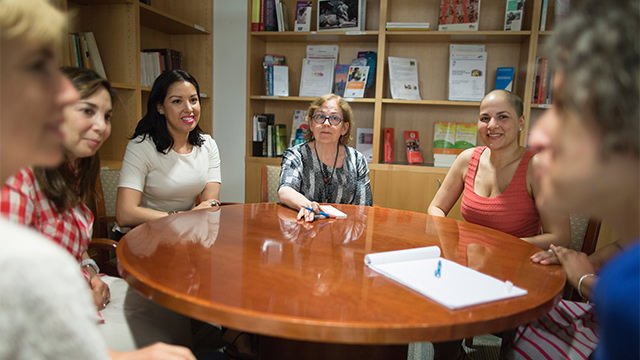 At the Blavatnik Family Chelsea Medical Center at Mount Sinai, we offer many complimentary support services as part of your health care regimen. You can explore new life skills through creative and practical experiences designed to nurture you in body, mind, and spirit.
In addition to the expert, compassionate cancer care you receive from our doctors and nurses, your Mount Sinai team includes highly skilled and caring counselors and therapists who provide the support that boosts your morale, helps you cope, and encourages you to thrive.
Choose what appeals to you, and enjoy new activities, new friends, and new ideas. We offer the following empowerment, support, and wellness programs—programs marked with * are provided thanks to the generosity of the Marisa Acocella Foundation (MAF) through a grant from Bloomingdale's.
Please note that some programs are currently on hold due to COVID-19. We look forward to resuming them as soon as it is safe to do so.
Artist-in-Residence Program*—Our artist in residence helps everyone discover their own creative resources and have fun in waiting areas and in the infusion suite. It can also help you relax and maintain a positive attitude. This program is held on Thursdays. For more information, call 212-604-6097 or visit www.thecreativecenter.org.

Guided Imagery During Chemotherapy*—Our mindfulness expert offers individual, guided imagery that uses words or music to help you stay calm during infusion therapy. Individual guided imagery and meditation sessions are available on Thursday mornings in the infusion suite. A weekly meditation group is held on Tuesday afternoons. For more information, call 212-604-6097.

Journaling Workshop*—Write your thoughts in a journal, which can be creative and therapeutic, minimizing stress and anxiety. We offer writing workshops, or if you prefer to write on your own you can ask your social worker for a journal.

Books—We have books available that you might be interested in reading during your visit. Your social worker can help select a book for you.

Latina SHARE—Estos grupos son facilitados por voluntarios etrenadas quienes han tenido una experiencia similar. Comparta informacion, experiencias, sentimientos y estrategias para aceptar y combatir aspetos negativos de la enfermedad. (English translation: Trained volunteers who have had a similar experience facilitate these groups. Share information, experiences, feelings, and strategies to help you cope.)

Legal Health (NYLAG) Clinic—Lawyers are available to provide guidance on health-related legal matters.

Massage therapy*—Therapeutic massage can decrease stress and anxiety, depression, pain, fatigue, muscle tension, and nausea. We provide massage therapy in the infusion suite from a NY State licensed massage therapist. Please speak to your nurse if you are interested, as some restrictions may apply.

Meditation*—Meditate in a group or with a therapist to focus your thoughts and calm your mind.

Qi Gong/T'ai Chi Chih®*—These Eastern traditions encompass meditation and gentle movement that you can do at any level of physical ability to focus on developing your inner energy. A weekly T'ai Chi Chih class is held on Fridays from 11 am-12 pm. For more information, call 212-844-8575.

Survivorship Lecture Series/Preparation of Life-Planning Documents—This is a quarterly discussion about various life-planning documents and includes a question-and-answer period.

Vocal Ensemble/Sing with Us*—We encourage singers of all levels to sing and enjoy their voices; this group is open to anyone affected by cancer, including patients, survivors, and caregivers.

Yoga*—This gentle form of exercise combines visualization and quiet music with stretching to help you relax, revitalize, and move toward healing. For more information, call 212-844-8575.
For specific days, times, and more information about these programs, which are offered free of charge to our patients, refer to this calendar of support services.
Some programs are currently on hold due to COVID-19. We look forward to resuming them as soon as it is safe to do so.