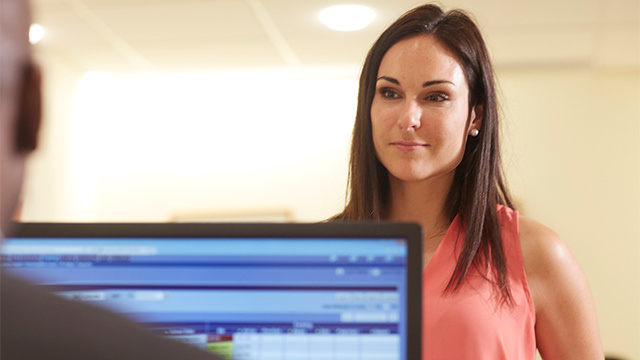 If you are told you have cancer, what are your options? If you are given a treatment plan, how do you know it is the most effective one?
You want to be sure. You want to be 100 percent certain that you have all the information you need, and that you are making the right choices. That is where we come in.
The cancer specialists of our Women's Cancer Program can reassure you by providing a valuable second, or even third, opinion.
For peace of mind that you are at the right place, and have the best doctor and the correct treatment plan, getting a second opinion is the right way to go. It is your health, and you are right to seek confirmation and education about a serious condition like cancer.
Why Come to Us?
Whether you need a second opinion for yourself or for someone you love—your mother, sister, wife, or dear friend—we welcome you at the Blavatnik Family Chelsea Medical Center at Mount Sinai. We can usually schedule second-opinion appointments for diagnosed cancers of the breast or reproductive system on the same day or within 24 hours.
Come to us if the doctor who made the diagnosis is not a women's cancer specialist. Our medical and radiation oncologists are highly trained in diagnosing and treating all forms of women's cancer.
Come to us if you have a rare or unusual cancer. Our Mount Sinai Health System fellowship-trained specialists have access to research and clinical trials on even rare forms of cancer. We collaborate with our colleagues at the renowned Icahn School of Medicine at Mount Sinai to provide you with the latest insights and information.
Breast Cancer Expertise
To provide a second opinion about a breast cancer diagnosis or a suspicious mammogram, sonogram (ultrasound), or MRI, we will look at your existing breast imaging studies and your pathology slides, and perform a physical examination.
Our dedicated breast radiologists, who are experts in accurate diagnosis, may require additional special views or other diagnostic studies. We may recommend that we perform a minimally invasive biopsy to make a definitive diagnosis. Our breast specialists confer with each other, giving you the added advantage of our team approach to your health care.
Because It Is Your Life
A second opinion can shed new light on treatment options and give you confidence in taking the next step in moving forward with the treatment that is right for you.
An accurate diagnosis and a personalized treatment plan are essential to achieving the best possible outcome. You may find that having a second opinion—whether it is the same or a different opinion than the first—will help you come to terms with a diagnosis and think through your treatment options.
During your second-opinion consultation, our oncologists and our coordinated team of experts will analyze all the information about your condition and let you know our diagnosis. We also explain the individualized treatment plan we believe is right for you. If our opinion differs from the first opinion, we answer all your questions about our findings.
You want to know that you are making the right choice of provider. Often, women who come to us for a second opinion stay with us for treatment because of our doctors' special cancer expertise, and level of caring. We aim to go beyond providing the best medical advice. We get to know and understand you and your needs. Our compassionate team approach proves both effective and comforting.
First Things First
Please keep in mind that you will need your current medical records for your second-opinion appointment so that we can review them. Before scheduling your appointment:
Review your health insurance plan to confirm that it covers second opinions and that Mount Sinai Health System is in-network. You'll be pleased to know that many plans actually require a second opinion before approving treatment coverage.
Check with our doctor's administrator to be sure that we accept your insurance—our cancer specialists accept most health insurance plans.
If necessary, ask about self-pay as a possible option if you are uninsured, or you are not covered for second opinions.
What You'll Need
To evaluate your situation, we need you to provide the following information, which you can get from your current doctor.
A copy of your pathology report from any biopsy or surgery
Your previous images and imaging reports
Your blood work results
If you had surgery, a copy of the surgeon's report
If you were in the hospital, a copy of the discharge summary
A detailed summary of your doctor's current diagnosis and treatment plan
A list of all your drugs, including dosages
You might consider bringing a notebook and pen, a tape recorder, or even a friend or relative to the second opinion consultation so you can be sure to remember everything that we say.
During Your Visit
A cancer diagnosis can make you feel like you have little control over your situation. The staff of the Mount Sinai Women's Cancer Program encourages you to be fully engaged in making decisions about your health.
For your visit, write a list of questions, such as:
What is your diagnosis of my condition?
What are my options for treatment?
What are the benefits and risks of each treatment option?
What would you recommend given my situation?
What is my prognosis?
Can I take a few days to decide on the course of treatment that feels right to me?
Do I need to start treatment immediately? Why?
We welcome your questions. Come to us to learn about your diagnosis, to confide in us about your personal goals, and to ensure that you have considered all of the best available treatment options.
We Care about You
Getting a second opinion is a thoughtful process. It can empower you on your journey toward health. Our doctors partner with you, making sure you have the information you need to choose the right course of treatment for you.
A second opinion offers you the information you need to make this major decision. It is your life, but you do not have to do this alone. Come to the Blavatnik Family Chelsea Medical Center at Mount Sinai where we can help you.