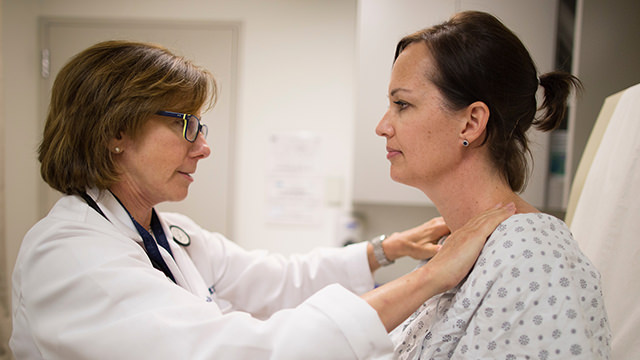 Surveillance Breast Program
Efficient, fast, and compassionate.
Our staff is on our side to offer you peace of mind through a screening program that puts you first.
If you need a yearly screening or are at high risk for developing breast cancer because of your family history or a genetic mutation, our doctors and staff at the Women's Cancer Program at the Blavatnik Family Chelsea Medical Center at Mount Sinai are on your side.
Carefully Watching Over You
The team of our special Surveillance Breast Program will keep a close eye on you. We will make sure that if pre-cancer or cancer develops, we will find it early and refer you for immediate and appropriate treatment. Our multidisciplinary surveillance team includes fellowship-trained breast surgeons and radiologists, pathologists, a genetic counselor, and a psychologist.
The Special Surveillance Breast Program also offers genetic counseling to provide additional insights into your level of risk.
As a participant in the Surveillance Breast Program, you are our partner in helping ensure your best possible outcome. We keep a close watch over you with regular screenings, because the things we learn through these screenings may help to treat you one day. We are here for you.
Are You a Candidate for the Program?
The Surveillance Breast Program is ideal for you if you have a background of, or have experienced, any of the following:
Family history of breast or ovarian cancer (including male breast cancer).
A BRCA 1 or BRCA 2 genetic mutation.
Personal history of Hodgkin's lymphoma with radiation to the upper chest.
Personal history of precancerous conditions, such as abnormal cells in the milk glands, known as lobular carcinoma in situ (LCUS), atypical ductal hyperplasia (ADH), or atypical lobular hyperplasia (ALH).
Program Services We Offer
Our Surveillance Breast Program brings together a talented and highly trained team of breast specialists who rally around you. We assess your situation and develop a personalized plan to meet your needs for careful monitoring.
In this program, we use a variety of imaging procedures, including:
Digital mammography: uses low-dose X-rays that typically provide the first indication of cancer.
Ultrasound: uses sound waves and is particularly effective for dense breasts.
Breast magnetic resonance imaging (MRI): uses a magnetic field and wave energy.
Breast-specific gamma imaging: uses a radioactive tracer and gamma camera and is especially helpful with dense breasts.
If appropriate, we can also perform fine needle aspirations, which are biopsies of particular sites in the breast that are of concern. Often, we can give you the results of this test on the same day.
In addition to helping you address the medical aspects of being at increased risk for breast cancer, we are also here to support you and your loved ones emotionally. Our team of social workers and our psychologist are available for counseling. We are your Mount Sinai.
As part of the Mount Sinai health care family, you have access to clinical trials of new medications that are being conducted anywhere in our Health System. And if you need an inpatient procedure, we can easily refer you to one of our seven hospitals in New York City.