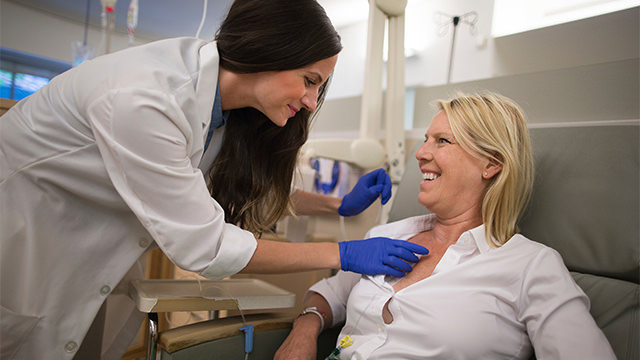 At the Blavatnik Family Chelsea Medical Center at Mount Sinai's medical infusion therapy suite, we want you to be comfortable while we treat you—whether you have cancer or any other condition treatable by infusion.
In our bright and accessible infusion suite, you will find restful reclining chairs arranged in intimate groupings of three. You can nap or, if you want, have informal conversations with other infusion patients. If you find your conversations mutually supportive, let us know, and we will do what we can to schedule your future appointments together.
We also offer cozy private rooms with beds and TVs to help you pass the time for longer treatment appointments and during your first visit to our infusion suite.
During your time here, we offer you and your accompanying family and friends the use of our open kitchen, where we provide breakfast, lunch, and snack foods.
You Receive Personal Treatment
In the comfort of our infusion suite, we do all we can to make your treatment time as easy as possible for you.
Your doctor will stop by during each session to check in with you.
The first time you are here, we assign you to a private room for comfort as you become familiar with the infusion process, and one of our nurses will sit with you for the first 15 minutes to make sure it is going well and answer any questions you may have.
While you are receiving infusion, we bring everything you need right to you. We have blankets and shawls if you feel cold. Our support services include massage therapists, social workers, clergy, art and music therapists, and practitioners of meditation and guided imagery, who stop by routinely or upon request during your sessions. We also offer acupuncture or acupressure in a private space just off the infusion center. At the end of each session, one of our staff members can walk you to your car—we offer valet parking—or a taxi.
The day after you receive your first infusion, you can expect a follow-up call from one of our nurses.
Conditions We Treat
At the Blavatnik Center, we treat a variety of conditions with infusion therapy, ranging from cancer to anemia, Crohn's disease, multiple sclerosis, some forms of arthritis, congestive heart failure, and some types of immune deficiency or neurological disorders. Infusions can provide antibiotics, anti-coagulation therapy, anti-emetics, anti-hemophilic factors, hydration, vitamins, and other nutrients such as iron, and chemotherapy.
Our doctors are part of the Mount Sinai Health System and the Icahn School of Medicine at Mount Sinai, meaning they have access to clinical trials that offer the latest medical advances to treat your condition.
About Infusion Therapy
Infusion therapy is the preferred form of treatment when you require medications that must be administered intravenously because you cannot take them by mouth. A medical infusion expert gently inserts a sterile catheter or IV into your vein to administer the prescribed medication into your system. To make the process easier each time, we may implant a port under your skin for administering your infusion therapy during your visits.
Some infusion sessions take less than two hours, while others can take more than five; in that case, you will be in one of our private rooms with a bed. We will let you know in advance how long you can expect to be here so that you can plan accordingly.
For Chemotherapy Patients
When you come to the infusion center, we typically start by checking your weight and giving you a blood test, to make sure that you are strong enough for treatment. Once we have the results and know that you are ready, our on-site pharmacy prepares the medication to your doctor's specifications, so we know it is fresh. In addition to standard training, all of our nurses belong to the Oncology Nursing Society and hold Oncology Nursing Certification.
If you receive chemotherapy at our infusion center, you can use the DigniCap® Scalp Cooling System. The cap helps prevent hair loss. Approved by the U.S. Food and Drug Administration in 2015, the system consists of a silicone cap connected to a computer-operated cooling system that protects the hair from the effects of chemotherapy. All our nurses are trained in proper use of the cooling cap, and while most insurance companies do not cover this service, we have a special fund to help you cover its cost.
We do all we can to support you during your infusion treatments at the Blavatnik Center.
For more information about the Therapeutic Infusion suite and what to expect the day of your appointment, refer to this brochure.