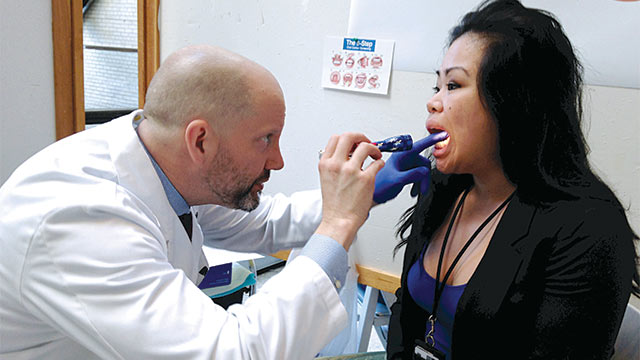 Our expertise encompass all phases of general dentistry, such as restorative and cosmetic, fixed and removable prosthetic, and implant restorative services, as well as treatment for temporomandibular joint (TMJ) dysfunction disorders.
About Dentistry at Mount Sinai
The professionals in the Mount Sinai Department of Dentistry are dedicated to maintaining and improving your dental health and appearance through advanced techniques and customized care. Our greatest reward is seeing patients' genuine happiness shine through their confident smiles. Some of the most common treatments we provide include:
Veneers
Teeth Whitening
Dentures
Dental Crowns
Dental Bridges
Dental Implants
Management of temporomandibular joint (TMJ)
With a history of more than 100 years of service, the Department of Dentistry has consistently been at the forefront of advances in the dentistry field. We were among the first to employ the expanded research and use of local anesthetics and antibiotics for treating patients.
Our History
Having recently celebrated 100 years of service, the Department of Dentistry at the Mount Sinai Health System reflects a rich history in patient care, clinical practice, academics, and research excellence.
Established in 1910, the Department initially tended to the dental needs of hospital inpatients. In 1924, the Department opened a unit for outpatient dental care, and by 1935, the faculty had expanded to more than 40 dentists, practicing in various dental specialties.
The Mount Sinai Department of Dentistry has consistently been at the forefront of advances in hospital dentistry. Our dentists were among the first in the U.S. to use procaine as a local anesthetic, signaling the beginning of a medical approach to pain control and the widespread use of local anesthetics within the specialty. Beginning in 1946, the department was largely focused on the advancement of hospital dentistry, and care was expanded to patients with severe comorbidities such as hemophilia, cardiac disease, and pregnancy. In addition, the department's focus on prevention of dental-related infections resulted in the publication of one of the first clinical research papers on the use of penicillin in dentistry.
The Department's collaborative achievements include the first pilot Cleft Palate Rehabilitation Center in New York State. The Department of Dentistry teamed with the departments of Pediatrics, Psychiatry, Anesthesiology, Otolaryngology, Plastic Surgery, Nursing, and Social Services to form a unique multidisciplinary service that offered comprehensive care and best practice in the specialty. And in response to the AIDS crisis in the 1980's, the Department of Dentistry collaborated with the Division of Infectious Disease to conduct studies on needle-stick prevention and the universal adoption of gloves and masks.