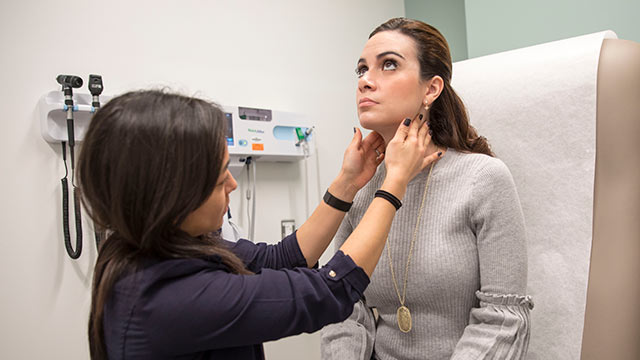 Family and Community Medicine Services
From routine checkups, to urgent care visits and specialist referrals, Mount Sinai makes a wide range of health care services available throughout the communities of Manhattan, the Bronx and Brooklyn. We have made it our mission to provide outstanding, high quality patient care and to keep our communities healthy and informed through wellness and prevention education geared to reduce factors that pose health risks.

Community Medicine & Services
Adolescent Health Center
Serves the Upper East Side/East Harlem communities in NYC and beyond—health care tailored specifically to the needs of young people age 10 to 22; private, confidential and at no cost
Comprehensive Health Program-Downtown
Serves lower Manhattan communities, delivering full-service, high-level care—part of one of the nation's largest HIV programs
Mount Sinai Sexual Assault and Violence Intervention Program (SAVI)
Emergency room advocacy, counseling, referrals and support services provided to survivors of domestic violence, sexual assault and abuse in the New York-metro area
Family Medicine Services
Family Medicine
A network of New York-metro community health centers offering a wide range of healthcare services to patients of all ages, regardless of the ability to pay; available through Mount Sinai's affiliation with the Institute for Family Health; locations in the Bronx, Manhattan and the Mid-Hudson Valley
Integrative Medicine Services
Integrative Medicine Program
As part of the Mount Sinai Health System, the integrative medicine program provides primary care that focuses on prevention, wellness, patient health education and self-care. We seek to understand and address the context of illness, healing and wellness in the patient's life.
Primary Care
Chelsea Village House Call Program
In-home primary medical care for elderly homebound residents of Chelsea, Greenwich Village, Chinatown and Manhattan's Lower East Side
Jack Martin Clinic
Primary outpatient and inpatient care for individuals of all ages with infectious diseases—also a NYS Department of Health designated AIDS Center
Visiting Doctors Program
Patient-focused primary and end-of-life care for homebound New York City residents
Primary Care Associates
Personalized, comprehensive care available six days a week, serving Manhattan's Upper East Side/East Harlem communities
Women's Health Program
Customized coordination of services that focus on a woman's specific health care needs; serving the New York-metro area
Urgent Care
Brooklyn Heights Medical Group Urgent Care
Family medicine—access to high-quality health care in Brooklyn Heights and the surrounding community
Urgent Care Upper West Side
On Manhattan's Upper West Side, emergency medicine without the long wait for non-emergency conditions; no appointment necessary, open seven days a week