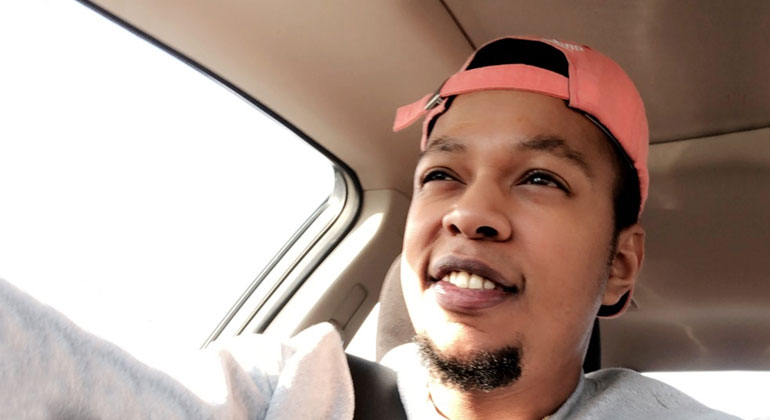 Minimally Invasive Procedure Rids Epilepsy Patient of Seizures
Matthew Mann was always the extroverted type—when he was a student, he was class president, he sang in his church choir, and he genuinely liked being around people. But in August 2018, his world was forever changed after he hit his head while diving into a pool and later began having seizures.
Matthew, then 26, experienced his first major seizure in October 2018, while in the bathroom of his home. The Long Island resident was brought to a small, community hospital and then transferred to a larger medical center after he continued to experience seizures as an inpatient. He underwent an MRI and CT scans over the course of a few days, but Matthew's mother, a nurse in the Surgical Intensive Care Unit at The Mount Sinai Hospital, thought it made sense to have him cared for and monitored by people she personally knew and worked with.
Matthew was transferred to Mount Sinai, where he met epileptologist Nathalie Jette, MSc, MD, FRCPC, Professor of Neurology and Population Health Science and Policy and the Bludhorn Professor of International Medicine at the Icahn School of Medicine at Mount Sinai.
Matthew described his seizures as induced by stress—he would get them when he experienced lack of sleep, worrying, or even after arguing with someone. Dr. Jette did an outpatient EEG and diagnosed Matthew with epilepsy, prescribing him medication to manage the seizures. He was also prescribed Zoloft to help curb his stress at the recommendation of Pojen Deng, MD, Assistant Professor of Neurology. By February 2019, the seizures had subsided and seemed to be gone altogether. Matthew eventually resumed normal activities, including driving and living on his own.
A year passed uneventfully, then in February 2020, while on vacation in California, Matthew experienced a focal onset seizure after becoming nervous in a large crowd. He soon after suffered a full convulsion in which he hit his head on a granite countertop and sustained a concussion.
Matthew quickly moved back in with his parents and continued to experience seizures throughout the summer. Because medications were no longer keeping Matthew's seizures under control, Dr. Jette concluded that he was experiencing drug-resistant epilepsy. Dr. Jette ordered inpatient testing for Matthew, beginning with an EEG that detected some small seizures but also a larger focal to bilateral tonic-clonic seizure during the test. She recommended that surgery was the next step in controlling his seizures and referred Matthew to Fedor Panov, MD, Director of Adult Surgical Epilepsy and Assistant Professor of Neurosurgery, and Saadi Ghatan, MD, Chair of Neurosurgery at Mount Sinai West and Mount Sinai Morningside, and Associate Professor of Neurosurgery and Pediatrics.
In October 2020, Dr. Panov and Dr. Ghatan performed a stereotactic electroencephalography, or SEEG, a diagnostic procedure that captures seizures via electrodes in the brain tissue to get more detailed information on their origin. During the SEEG, the brain area responsible for the seizures was identified, and in November 2020, Matthew underwent a minimally invasive laser ablation of his mesial temporal lobe using the interventional MRI approach.
He was able to leave the hospital the next morning after a night of observation. Since then, Matthew's life has taken a turn for the better—as of February 2021, he has experienced no seizures.
"Since the surgery, I've really been able to relax for the first time in years," Matthew says. "To know that weeks have gone by and I haven't even had an aura speaks to the fact that this surgery was very successful. It's night and day how I feel right now."
"It is incredible that technology has advanced to the point of treating Matthew with only minimally invasive procedures for both diagnostic and therapeutic stages," Dr. Panov says. "This opens up a world of possibilities to patients who suffer from epilepsy and want a chance at seizure freedom, but are hesitant about brain surgery."
Dr. Ghatan adds, "While the epilepsy team had all of the knowledge, experience, and a multitude of tools and techniques to stop Matthew's seizures, Dr. Panov's ClearPoint Laser modality was what Matthew chose for his treatment: effective, precise, and state of the art."
Matthew credits not only the expertise of his Mount Sinai physicians with successfully managing his seizures, but the compassionate way they cared for him. "Dr. Jette is literally the best doctor I've ever had in my entire life. She makes me feel very comfortable. She listens to exactly what I have to say," he says. "Dr. Panov and Dr. Ghatan made me feel so confident going into surgery. I had no anxiety."
Dr. Jette says it has been an honor to meet Matthew and guide him and his family through his care. "Matthew has been so resilient throughout his journey as a person living with epilepsy. The seizures and his epilepsy had such a negative impact on his quality of life," she says. "The surgery has been life-changing for him. It is so incredible to see what Matthew has already accomplished in the last few months since he has become seizure free again."
Matthew, now 28, is working on returning to his "old self." He's slowly becoming more social, he picked up a bass guitar for the first time in years, he sang karaoke at a family member's birthday party, and he recently gave a testimony at church where he went up on stage and clearly and cohesively spoke about his experience with epilepsy. He also has been phased off Zoloft.
"I'm happy. I'm blessed. I'm so thankful for my surgeons. I'm so thankful for my neurologist. I'm so thankful for the team," Matthew says. "I'm the best I've been in a very long time."