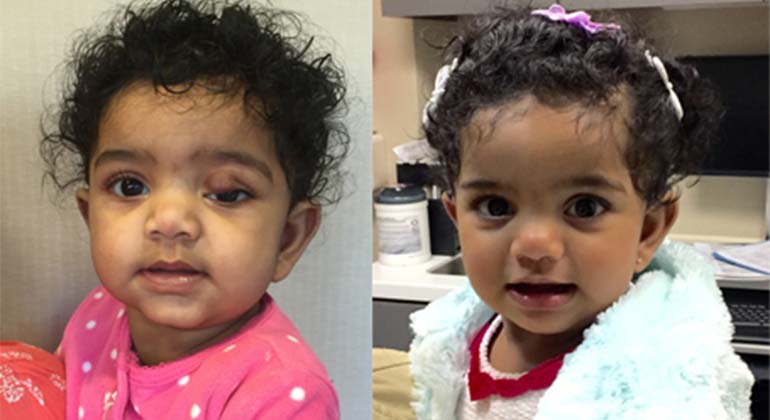 9-Month-Old Toddler Risked Blindness from a Hemangioma on Upper Eyelid
We are very grateful to Gregory Levitin, MD, for helping us with our 9-month-old daughter's surgery. My daughter was diagnosed with hemangioma on the left eye. The malformation became big enough that it was starting to impact her vision, and she developed astigmatism. Before meeting Dr. Levitin we saw several doctors because we were very skeptical of getting surgery done on a 9-month-old baby and were not convinced by any doctors. But Dr. Levitin is just amazing. He is a very confident doctor who understood what we were going through and made us very comfortable. He explained to us everything in detail, including what our options were, and the pros and cons of each option. Even though we were anxious getting the surgery done, we went ahead with it because of the trust we had in Dr. Levitin.
"I was glad to have a chance to offer a second opinion on this case. When I examined the 9-month-old tot, her upper eyelid hemangioma was causing significant astigmatism (or pressure) on the left eye and blockage of the left iris, creating a real risk of blindness," recalls Dr. Levitin. "She started to develop the eyelid hemangioma soon after birth, and it was relatively small for the first two months. Her parents were told there was nothing that needed to be done. However it continued to grow and soon began to impact her vision. Fortunately, the parents did their own research and decided to seek out additional opinion for treatment. We removed the entire hemangioma in a single, outpatient surgery. The stitches were dissolvable and the incision was aligned within the natural eyelid crease." Not only did the operation restore her vision and allow a reversal of astigmatism," said Dr. Levitin, "but by operating at such an early age, she will never remember that she even had a hemangioma to begin with."
Now after almost a year from the surgery we are glad we went ahead with the surgery. The scar has almost disappeared and the stigmatism has come down considerably. We can't thank Dr. Levitin enough. He is an absolute craftsman at what he does. Thank You!!!