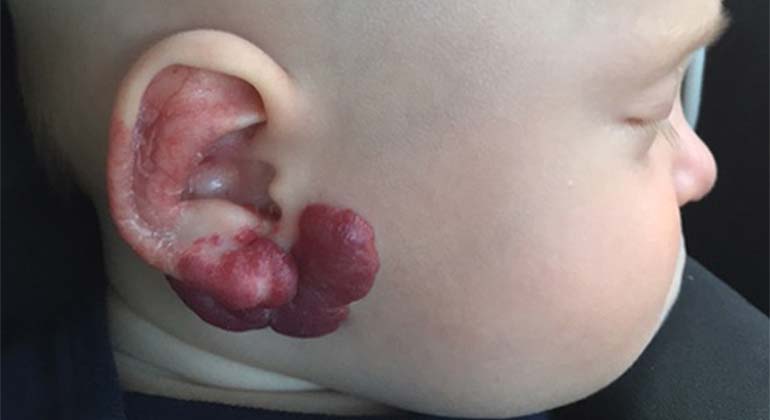 Hemangioma of the Ear Lobe: Taking Charge Early Can Be the Best Medicine
My son Hudson was born January 6, 2016. He was perfectly healthy and all appeared fine. Within two weeks he developed a small red mark next to his right ear that at first glance resembled heat rash. Within a few weeks it had grown a lot and appeared to distort his ear lobe. Everyone who saw it referred to it as a strawberry birthmark and told us not to worry; it would go away on its own. Thankfully our pediatrician recommended that we go for a consultation with a vascular birthmarks specialist in New York, Gregory Levitin, MD.
So in April we met with Dr. Levitin, who confirmed it was a hemangioma and recommended the oral medication Hemangeol and laser therapy. Obviously no parent wants to put their child on medication, but Dr. Levitin put our worries at ease going over side effects and complications to watch out for. Laser therapy was a bit more complicated for us as we live in New Jersey and no physicians wanted to do laser therapy on a child of Hudson's age. Luckily Dr. Levitin was an advocate for us and helped us find the Laser and Skin Surgery Center of New York. Hudson started laser therapy the day of our first consultation.
Now nine months later as we begin to wean him off the medication and have finished with laser therapy, our son's hemangioma has faded, and we couldn't be happier with our decision not to listen to everyone's advice to "wait and see" but to take the aggressive approach of oral medication and laser therapy. We are very hopeful there won't be any re-growth, but we know we are in the best hands if that does occur. Based on our experience I would highly recommend any parent who has a child with a hemangioma to at least have a consultation with Dr. Gregory Levitin.
- Christin N.