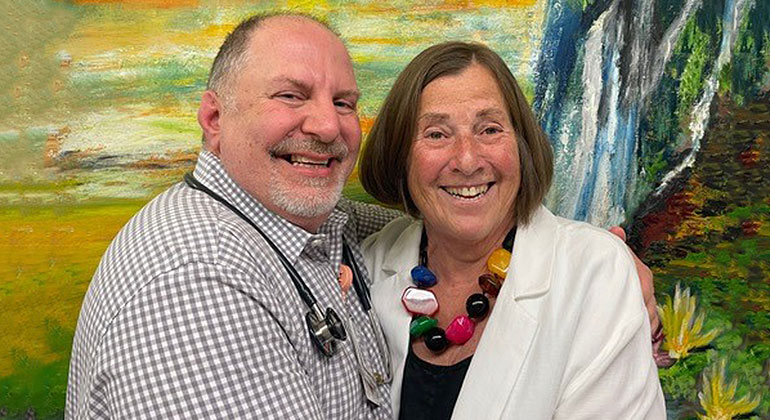 CAR-T Therapy Produces a Multiple Myeloma Miracle
These days, Victoria Marrone, 73, is a healthy multiple myeloma survivor, a snowbird who winters in Florida and summers in Poughkeepsie, New York. She spends as much time as possible with her husband, three children, and eight grandchildren.
Victoria's cancer started out low-key. In 2011, she fell and ended up with a compression fracture. That typically only happens when the bones are already compromised in some way. She was diagnosed with smoldering myeloma, a precancerous condition that requires monitoring but no treatment.
Two years later, at her annual physical, Victoria's internist found she had too much protein in her blood. Victoria's first thought was that she would have to lose weight. "I thought I was going to get a big lecture on how fat I was," she remembers. "It turned out that it was a little more complicated than that." A second test confirmed the results. The internist then sent Victoria to a hematologist/oncologist near her home, who diagnosed multiple myeloma.
"It was a steep learning curve for me," Victoria explains. She learned that multiple myeloma is a blood cancer that forms in the blood plasma cells, which are part of the body's immune system. While there is no cure for this rare disease, doctors can slow its progress and treat the symptoms and related conditions.
Once Victoria understood more about what she was facing, it was time to decide where to go for treatment. She and her husband, Vincent Marrone, MD, a gastroenterologist who did some of his training at Mount Sinai, started researching the leaders in the field.
That research led Victoria to Sundar Jagannath, MBBS, Director of the Center of Excellence for Multiple Myeloma and Professor of Medicine (Hematology and Medical Oncology) at the Icahn School of Medicine at Mount Sinai.
Mount Sinai lived up to her expectations. "Even from the very first day, they told me they would always have something else to try," Victoria says. "They never promised me they could cure the cancer, which does not have a cure. But they promised me they would always keep trying. And that really put me at ease," she adds.
The fact that Mount Sinai was about 80 miles south of her Poughkeepsie home didn't faze the couple; in fact, Vincent retired early because he knew he couldn't take care of Victoria and give his job 100 percent.
At the first appointment, Dr. Jagannath performed blood, urine, and imaging tests, which showed that Victoria's cancer was very slow-growing, and that she probably wouldn't need any treatment for two to four years. Victoria and her husband were thrilled.
A few months later, Victoria began to experience pain in her spine and chest and the protein level in her blood doubled. This suggested, contrary to the original assessment, that she had an aggressive cancer. At this point, Samir Parekh, MD, had joined her Mount Sinai medical team. Dr. Parekh is a Professor of Medicine (Hematology and Medical Oncology), and Oncological Sciences, at Icahn Mount Sinai. He is the Director of Translational Research in Myeloma and Co-leader of the Cancer Clinical Investigation Program at The Tisch Cancer Institute.
Under the doctors' care, Victoria underwent several lines of treatment, including a few regimens of chemotherapy and autologous stem cell transplants (which involve removing healthy blood cells and then returning them to the body after treatment). She received most of the treatments near her home in upstate New York, overseen by her Mount Sinai oncologists. Each effort helped—for a while.
By 2018, it became clear that she needed a different treatment. "We got a call in the middle of the night telling us to come down to Mount Sinai," Victoria relates. "They had gotten me into a clinical trial for chimeric antigen receptor (CAR)-T cell therapy." Victoria was one of the first Mount Sinai patients to receive this treatment.
CAR-T therapy involves teaching the body's own immune system to attack the cancer, a type of treatment called immunotherapy. To perform this therapy, doctors remove some of the patient's blood through an intravenous line, extract the T cells, and send them to a lab for processing. The lab genetically modifies the cells so they can locate and destroy cancer cells and then replicates the modified cells. Then the doctors infuse the modified T cells back into the patient's body.
This therapy was a five-week process. Victoria spent the first three weeks as an inpatient at The Mount Sinai Hospital. The next two weeks, she and her husband stayed at a nearby hotel so Victoria could have almost-daily outpatient treatment.
Victoria felt she was treated like a princess throughout her chemotherapy and CAR-T therapy treatments. "The doctors were wonderful. I am so grateful to them for all they did," she explains. Victoria feels particularly indebted to her nurse practitioner, Daniel Verina, DNP, ACNP-BC "His enthusiasm, his sense of humor, and his concern are so genuine and so life-affirming. He's got to have a wonderful mother." Mr. Verina is highly trained and travels around the country lecturing on nursing issues. While he worked in the outpatient office, he even came to visit Victoria when she was in the hospital receiving CAR-T therapy.
Since she completed the CAR-T therapy, Victoria has remained under Dr. Parekh's care. She receives intravenous immunoglobulin therapy to boost her immune system and has her blood checked regularly to make sure her protein levels stay low.
At her fifth-year checkup, Dr. Parekh did an extensive workup to see if he could find any myeloma in her system. That involved a bone marrow scan, blood work, urine tests. "We were not able to find anything, even using measurable residual disease testing, the most sensitive testing available," says Dr. Parekh. "It finds one myeloma cell in a million cells."
Vincent says he always knew Victoria would make it. "She's a tough lady—in the best possible way," he says. "She's very strong." Victoria laughs in response, saying, "It's easy to be strong when you have a wonderful husband, three wonderful children, eight grandchildren, and wonderful doctors."
Victoria feels lucky she was able to get into the CAR-T therapy clinical trial. "It seems to be the best hope for multiple myeloma patients. I hope that soon everyone will be able to get it." And she feels especially lucky that she received this treatment at Mount Sinai. "Mount Sinai is a wonderful hospital that saved our lives."