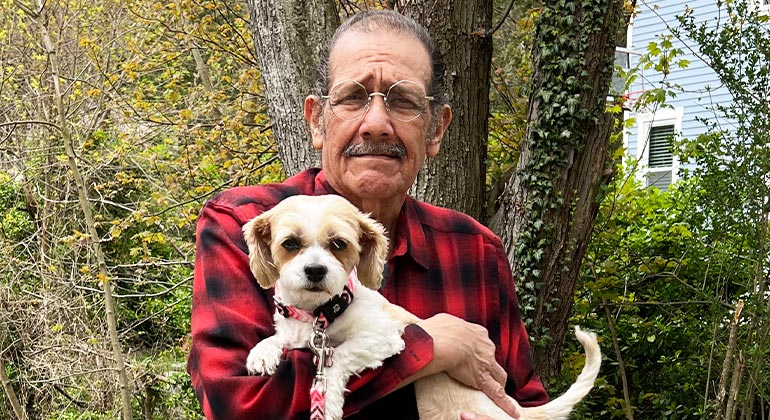 A Patient-to-Patient Appeal Led to Life-Changing Surgery for Esophageal Cancer at Mount Sinai
It all started with heartburn and acid reflux. Lou Martinez, 69, of Staten Island, had experienced this burning pain for years. But he would just take an antacid and keep on going. One night in 2016, the overnight custodian for the court system was having dinner at work and found he was unable to swallow his food.
"The food wouldn't go down. It was just sort of stuck in my throat. Water would just lay there," he said in an article about his health journey on the Today site. "Yet, I was breathing. I wasn't choking."
This episode eventually led Lou to a diagnosis of esophageal cancer, and to advanced care at The Mount Sinai Hospital from Raja M. Flores, MD, a renowned specialist in esophageal surgery.
In an initial visit, Dr. Flores recommended that Lou undergo an endoscopy, a procedure used to look at the digestive tract. The test found that Lou had Barrett's esophagus (BE) a disorder in which the lining of the esophagus—the "food pipe" that connects the stomach to the throat—is damaged by stomach acid. People with BE have an increased risk for cancer in the area involved, though it is not common.
In this case, Lou was diagnosed with esophageal cancer in 2016. He was shocked that such a common symptom—heartburn—could lead to a serious condition as serious as cancer.
About 19,000 people a year are diagnosed with esophageal cancer, says Dr. Flores, Chair of Thoracic Surgery, and the Steven and Ann Ames Professor in Thoracic Surgery, Icahn School of Medicine at Mount Sinai. While smoking used to be the most common cause of esophageal cancer in the U.S., doctors are now seeing a different type of esophageal cancer due to acid reflux.
"When you have stomach contents that go up into your esophagus and give you heartburn, that is the biggest reason nowadays that people develop esophageal cancer," Dr. Flores says.
For Lou, Dr. Flores recommended an esophagectomy, a surgical procedure to remove most or all of the esophagus and reconstruct it with other tissue, usually from the stomach. Dr. Flores, a renowned specialist in the field, is Chair of Thoracic Surgery, and the Steven and Ann Ames Professor in Thoracic Surgery, Icahn School of Medicine at Mount Sinai.
Lou was reluctant to have surgery. But the pain in his chest kept getting worse, and Dr. Flores continued to try to answer his questions and concerns. After about a year, Dr. Flores brought an esophageal cancer survivor into the office to speak with Lou face to face. "Have the operation," the patient said. "It will save your life." The personal approach resonated with Lou, and he agreed to have the procedure. "The more and more he talked, the more and more I started to understand that it had to be done," Lou recalls.
The esophagectomy was a success. Because of his technical skill and unusual approach, Dr. Flores performs the procedure in two and a half hours, rather than the typical seven hours. Dr. Flores's surgical approach also lowers the complication rate from the standard 25 percent to 1.8 percent.
After his procedure, Lou has passed along the kindness he received from his care team at Mount Sinai. He routinely counsels esophageal cancer patients who are fearful about the procedure. And he gave a particularly kind nurse one of his beloved antique watches as a thank you. He often brings treats for staff when he comes for follow-up appointments.
Lou hopes his story will encourage people to see their doctor if they have long-term symptoms, especially with heartburn and acid reflux. "You should really have it checked," he says. "It might have been nothing, but it's worth a shot."
Dr. Flores agrees, "Most people who have reflux will just brush it off," he says. "But when you have persistent reflux where you are altering your lifestyle, where you're waking up in the middle of the night, where you won't eat certain things because you're worried that it's going to give you reflux, then you should get an endoscopy."