Sunny Living on the Bright Side after Pituitary Tumor and Nasal Surgery
Beginning in 2010, Sunsierey "Sunny" Jones underwent three surgeries for a pituitary adenoma (tumor) associated with Cushing's disease, which is a serious condition resulting from excessive cortisol in the blood. She regularly visited her endocrinologists, who exhausted medications and clinical trials as options to help her with her symptoms. However, while discussing Sunny's case among Mount Sinai physicians, Constantinos G. Hadjipanayis, MD, PhD, Chair of Mount Sinai Beth Israel's Department of Neurosurgery and Director of Neurosurgical Oncology for the Mount Sinai Health System, expressed to the endocrinologists that he was keen to explore her case. After researching Sunny's history and condition, Dr. Hadjipanayis relayed to the team that he would welcome the opportunity to treat her.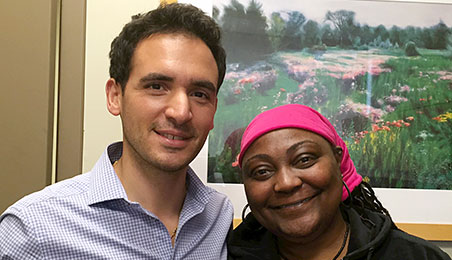 The problem was that some of Sunny's tumor was left after the first three surgeries she had to remove the hormone-secreting pituitary tumor. She continued to have elevated hormone levels in her blood that caused multiple problems, including elevations of her blood sugar and blood pressure. She also presented with headaches and visual changes. When Dr. Hadjipanayis examined Sunny, he reviewed her brain MRI scan and lab values. Her MRI revealed a small tumor remnant at the base of her skull next to her pituitary gland. After reviewing her labs that showed elevated hormone levels, indicative of her recurrent Cushing's disease, Dr. Hadjipanayis recommend an endoscopic approach through the nose to remove the tumor remnant. Dr. Hadjipanayis communicated with his colleague, Dr. Anthony Del Signore, MD, Director of Rhinology and Endoscopic Skull Base Surgery at Mount Sinai Beth Israel's Department of Otolaryngology – Head and Neck Surgery, to evaluate Sunny so the surgery could be planned.
"Dr. Hadjipanayis struck me as more down-to-earth than other neurosurgeons I had met. He never made me feel abnormal about my condition and he didn't sugar coat any aspect of my situation," Sunny stated. "He was also confident if something arose in terms of complications, he and Dr. Del Signore could handle it.
When Sunny met Dr. Del Signore, she liked him immediately. "I could tell right away that he was extremely knowledgeable about Cushing's disease – something that is very important to me – and he took into account my symptoms and previous radiation when devising a treatment plan. He thought outside the box, knowing that my situation was unique, and made me feel very comfortable about undergoing another surgery."
Surgery for Ridding Remnants of Her Pituitary Adenoma amidst the Previous Scar
In April 2016, Dr. Hadjipanayis and Dr. Del Signore performed Sunny's fourth surgery and removed the remainder of the tumor. Given the prior surgeries, there was a fair amount of scar tissue and pockets of infection.
"I wasn't breathing well after my previous surgeries and although my sinuses were wide open, pollen was able to travel in my nasal passages very easily, causing severe headaches," Sunny recalled.
Upon completion of the operation, she had a small amount of nasal packing that slowly dissolved, helping her operative site to heal. She met with Dr. Del Signore post operatively several times to ensure that healing was progressing as expected and to remove any early scar formation with gentle in-office suctioning
"I can now go swimming and water doesn't go right up my nose," Sunny explained. "Dr. Del Signore rebuilt the inside of my nose and I tell everyone I now have my old nose back - but it's even better. I'm still sensitive to smells and have an occasional post-nasal drip, but overall, it feels terrific and my quality of life has improved significantly."
Post Pituitary Tumor Surgery at Mount Sinai Beth Israel, Sunny is Stronger and Better
"Out of all my surgeries, this is by far the best I've felt of all of them. I feel better, my morale is high, my spirits are better and I feel healthier. I feel blessed to have found these doctors and thank God every day we met. My four boys now say, "'Mom, you are now better!' And they are happy with my outcome."
Her boys are right – Sunny is better. "I call Drs. Hadjipanayis and Del Signore the miracle workers. They and the radiation team all stay connected with one another and all remember me. The support care I had at Mount Sinai Beth Israel was wonderful too. Even now when I go for checkups, everyone listens intently and addresses all of my questions. I highly recommend anyone who has Cushing's disease or requires brain or nose surgery to come to Mount Sinai Beth Israel. These doctors have wonderful spirits – they are extremely humble, knowledgeable, and comforting and they are attentive with follow-up care – and that's what makes them so great at what they do!"
- Sunsierey "Sunny" Jones