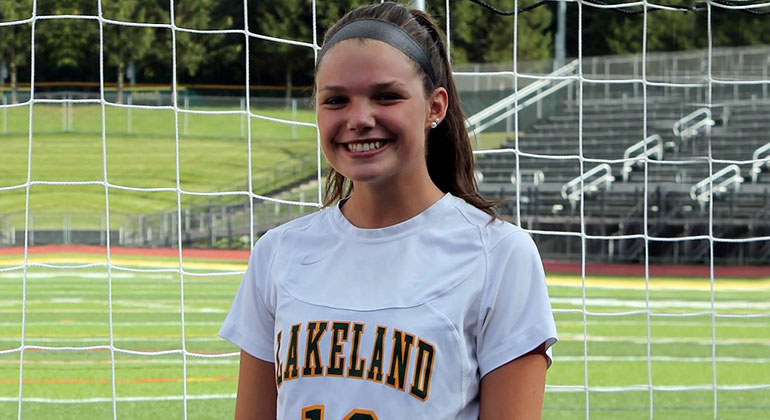 Repairing a Brain Malformation That Catches Many Unaware
Katelyn Bloss was an active, bubbly 20-year-old college student who had never been sick in her life until March 1, 2020, when she experienced a three-minute seizure in her college dining hall. Katelyn underwent an MRI the next day and was diagnosed with a seizure-inducing brain malformation called a cavernoma in her occipital lobe. She was told to "wait and watch" her symptoms by her local neurologist, but her symptoms only got worse. Katelyn began experiencing daily migraines, vomiting, and extreme anxiety.
Cavernomas are abnormal formations of blood vessels that form a tumor-like mass. Normally noncancerous, they can vary in size and are hereditary 20 percent of the time. They become dangerous when they enlarge, bleed, or compress brain tissue, causing headaches or seizures. If there is significant bleeding, the condition can be catastrophic to the surrounding brain tissue. Most people are unaware of this condition, yet 1 in 600 people might have it and may have no symptoms for their entire lives.
Katelyn turned to Joshua Bederson, MD, Chair of the Department of Neurosurgery for the Mount Sinai Health System, for help. As the COVID-19 pandemic was in high gear, Katelyn and her parents met with Dr. Bederson via telehealth on May 18. He used a virtual tool to show them Katelyn's brain anatomy and his plan for surgery. Although Katelyn thought a telemedicine meeting would be "weird," it wasn't. Katelyn and her parents felt as if they were right in the room with him. "After we hung up the phone, it was a no-brainer—we were scheduling the surgery," Katelyn says.
On June 2, the day of her surgery, Katelyn met Dr. Bederson and his team for the first time. She was nervous, but Dr. Bederson told her not to worry, that she would be fine. He made good on his promise. Her surgery was successful, and she returned home in 48 hours.
"Due to the COVID-19 global pandemic, our team conservatively monitored, managed, and successfully planned Katelyn's complex surgery through video visits and telemedicine," said Joshua B. Bederson, MD, Leonard I. Malis, MD / Corinne and Joseph Graber Professor of Neurosurgery at the Icahn School of Medicine at Mount Sinai. "I finally physically met her face-to-face for the first time just five minutes before she was wheeled into the operating room for her surgery."
"Throughout the pandemic, it was crucial for us to keep in touch with patients who had neurological disorders and proved to be a great way to communicate with patients near and far," said Leslie C. Schlachter, PA-C, Chief Physician Assistant and Clinical Director of Neurosurgery at The Mount Sinai Hospital coordinated much of Katelyn's care. "Telemedicine, whether for a primary or follow-up visit, and even a second opinion has become a welcome change in our patient care and it's definitely here to stay."
By early July, Katelyn was "doing great" and excited to get back to her pre-occupational therapy program at Fairfield University. "I've learned to be grateful for everything in my life and my health," she told News 12, Westchester. And she is not leaving Mount Sinai behind. Before her surgery, Katelyn participated in the Department of Neurosurgery's "Ambassador Program," which allows new patients who are about to undergo neurosurgery to meet someone with a similar diagnosis and treatment plan. Katelyn met with a patient who had a cavernoma, seizures, and underwent neurosurgery with Dr. Bederson, the same as she did. "This was so helpful for me," Katelyn says. "I want to become an Ambassador myself."