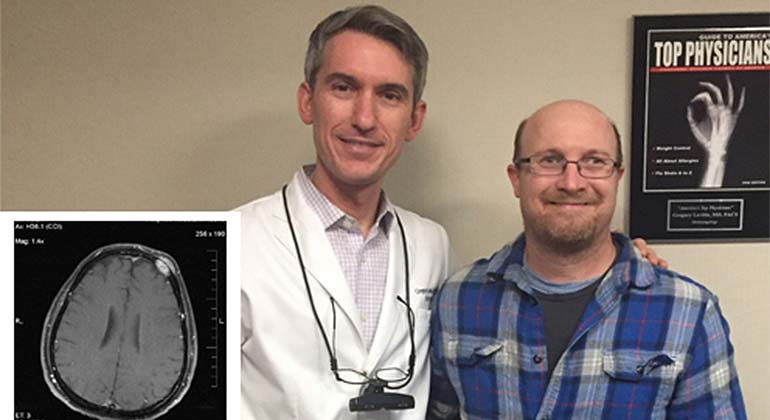 Rare Arteriovenous Malformation (AVM) of the Scalp: Why Finding the Right Specialist is Key
My name is Chris Verosky, and I would like to tell you about an experience I had with Gregory Levitin, MD. In the fall of 2013 I noticed a small bump on my forehead. At first, I thought nothing of it. After a few months my wife told me "why don't you get that cyst removed?" At my next primary care check-up I mentioned it to my doctor. He recommended a general surgeon who shares his office. In April of 2014 I went to see the surgeon and he examined me. The prognosis was: "It is on the bone. I can do it as outpatient surgery. It will be covered by insurance." Sounded easy enough. No medical imaging was done. Since my father had a cyst or two on his forehead, I figured it was just something I inherited from him.
The surgery was performed in June of 2014. As I woke up from the anesthesia, the surgeon debriefed me on the procedure. He said that he had been a surgeon for 37 years and had only seen this once before. The vein was directly connected to the artery. He thought he got it all. A sample was sent to the lab for analysis. At my two-week follow-up appointment when the bandages were removed, a small cyst had become an enormous lump approximately an inch and half in diameter. It was probably swelling though. More time was needed. I returned a month later as the swelling did not improve. He could do no more to help me and referred me to a plastic surgeon who might have experience with my condition. The lab sample revealed a diagnosis "ateriorvenuous malformation" or "AVM" for short.
Many Google searches later I arrived at a website called "avmsurvivors.org." I read through many posts and resource lists. Four things struck me when searching this site: 1) many people realize they have an AVM as a result of another procedure, 2) AVMs are difficult to treat and recurrence is common, 3) if not treated correctly they can be made worse, and 4) you need an experienced doctor for your best chances for success.
The closest doctors to me with experience with this condition were in New York City. Thankfully, that is only a one-hour car ride to the train station and a 2-hour train ride to Grand Central terminal from my home. I snapped a few pictures and e-mailed Dr. Gregory Levitin. He had good recommendations on the website I had found, was located close to my home, and accepted my insurance carrier. He e-mailed me back a day later saying, "I can help you with this".
For the past three months I had been wearing a baseball cap even to work to hide the large mound on my forehead. I felt extremely foolish for letting an unnecessary operation get so out of control. But now there was some hope. Dr. Levitin directed me to get some MRI and CAT scans done so that he could determine the extent of the AVM. I visited him in September of 2014. He recommended that he be the "quarterback" of my treatment team. I visited two other excellent doctors in Manhattan: Raj Shrivastava, MD, in the Department of Neurosurgery at Mount Sinai, and Rafael Ortiz, MD, of Lennox Hill.
The three doctors collaborated and formed a plan to be put into action on December 1, 2014. First, Dr. Ortiz conducted a procedure where he used an adhesive to shunt a vein feeding the AVM. I had to stay in the hospital overnight for observational purposes. The next day, escorted by my wife, I changed hospitals, where Dr. Levitin removed the AMV and Dr. Shrivastava put a small piece of titanium mesh in my head so that the contour of my skull would remain the same. Dr. Levitin made the incision such that the scar would match the lines on my forehead. I did not need to stay in the hospital the second night. One week later a drain and stitches were removed.
This time the swelling went away. The lump was gone. I have had regular checks for the past 18 months and there is no evidence of recurrence. Thanks to Drs. Levitin, Ortiz, and Shrivastava, I have to use sun tan lotion on my face and head!
- Chris Verosky