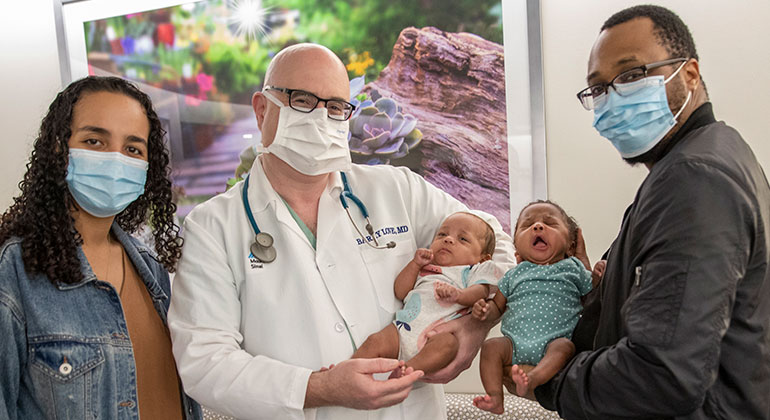 Parents of Premature Twins Call Their Mount Sinai Team a "Blessing"
Yamira Garcia wanted to keep the birth of her twins, Isabel and Luna, "basic and natural." However, that was not to be. At 20 weeks, her midwife informed her that her status had become high risk due to a shortened cervix. Yamira sought out the experts at the Mount Sinai Health System because she knew the Neonatal Intensive Care Unit (NICU) was one of the best and wanted the best possible care for her daughters. In the 24th week, Yamira had an appointment at The Mount Sinai Hospital with Noel Strong, MD, Assistant Professor of Obstetrics, Gynecology and Reproductive Science, Icahn School of Medicine at Mount Sinai. She was admitted the same day, and remained on bedrest in the hospital for the next two weeks before giving birth on December 27, 2020. Her girls would stay in the NICU at Mount Sinai for four months due to the same heart defect, patent ductus arteriosus (PDA), a persistent opening between the two major blood vessels leading from the heart.
Yamira and husband, Andrew, overflow with appreciation and praise for the physicians and nurses who cared for them and their babies from the moment Yamira was admitted, through delivery, and the days the girls were released—Isabel on April 20 and Luna on May 13. "There was incredible support from physicians and nurses, reassuring us about positive outcomes," Yamira says. "Everyone was super friendly and always forthcoming with information. The night nurses took such good care of me; they often came in just to chat.''
Andrew is thankful for the care he received as well. "I always felt welcome; I never felt that I was in the way," he says. "One day I leaned on the emergency call button by accident and a flood of people rushed in. I was mortified. But they just made light of it."
"Incredibly, even though this was in the middle of a pandemic, the nurses were calm, cool, and collected," Andrew adds. "They never seemed stressed. We had our fears and anxieties, and their demeanor was a blessing, allowing us to remain hopeful."
Yamira gives a special shout out to Caroline Keating, RN, primary day nurse for Luna and Isabel in the NICU. "I believe she is the reason they are here today. She knew their personalities. Luna and Isabel had two surgeries and several infections, but Caroline pushed them. It was as if she was motivating them to get well. And Caroline and the other nurses, especially our night nurse, Lisa Noel, RN, were always worried about our well-being. They wanted us take a break and go out on a date!"
Lastly, they have heartfelt words of thanks for Barry Love, MD, Assistant Professor in the Division of Cardiology in the Jack and Lucy Clark Department of Pediatrics at Icahn Mount Sinai, and Director of the Congenital Cardiac Catheterization Program at the Mount Sinai Kravis Children's Heart Center, and Jennifer Bragg, MD, Assistant Professor in the Jack and Lucy Clark Department of Pediatrics at Icahn Mount Sinai, and Director of the NICU Follow-Up Clinic at Mount Sinai Kravis Children's Hospital.
"Dr. Bragg assisted us during both the girls' procedures and during their infections. She was such a great help during the harder times," Yamira says. "Dr. Love always treated us as partners. He never talked at us; at no point did we not understand the next step. We were asked about our concerns; we felt like partners."
Andrew adds, "In a way, we had no choice but to move forward, but we always felt the decisions made were the best ones. And that is the case; our daughters just turned 5 months old, and they are great."