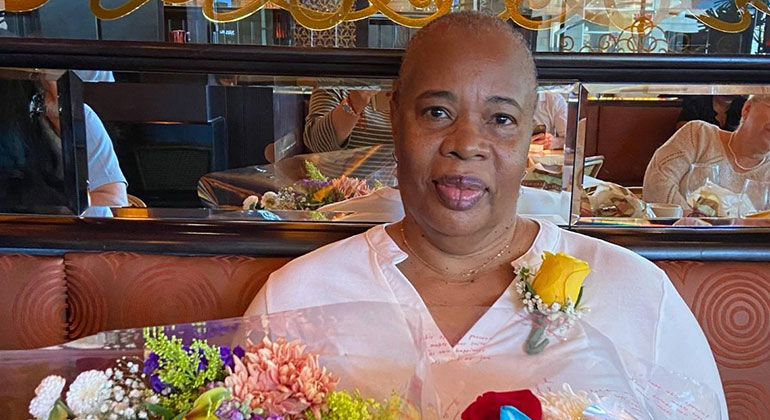 Non-smoker Receives Life-Saving, Minimally Invasive Surgery for Lung Cancer at The Mount Sinai Hospital
Back in 2018, Saundra Moore, then 60 and a perioperative nurse working at a hospital in Queens, started to experience pain on her right side. She spoke to an urologist, who thought the pain could be due to be kidney stones and sent her for an ultrasound. The ultrasound didn't find anything, and shortly afterward, the pain disappeared. Saundra forgot about it, only for the pain to reappear a year later. This time, the pain had intensified enough that she went to her local hospital's emergency room.
"The pain was worse," Saundra told TODAY.com. "At the emergency room they basically were trying to figure out what type of pain it was."
This search for answers eventually led to a diagnosis of lung cancer and life-saving surgery by Raja Flores, MD, Chair and Steven and Ann Ames Professor of Thoracic Surgery at the Icahn School of Medicine at Mount Sinai.
In her initial emergency room visit, a CT scan that revealed nothing, but a further CT scan with barium (which helps to highlight body areas during the scan), revealed two nodes on her lungs. It was unclear whether the pain in her side was related, but the doctors recommended she keep the nodes under surveillance with regular checkups at her hospital's pulmonology department.
In December 2020, Saundra, a self-proclaimed "gym rat" who takes good care of herself and doesn't smoke, was shocked to find out that her latest CT scan and biopsy had revealed she had stage 1 lung cancer. "I wasn't symptomatic. I had no difficulty in breathing. I had no coughing, no hoarseness, which were the typical signs, and I don't smoke."
A colleague at her hospital recommended that she seek the care of Dr. Flores, a leader in his field. Saundra says that Dr. Flores advised surgery without delay to remove the lower lobe, or section of the right lung, "saving me having to come back to have something repeated again, so I went with that."
Dr. Flores performed minimally invasive surgery to remove the two nodes and the lower lobe. Saundra's case was unusual since each nodule was a different type of cancer. "We sometimes see two cancers at once, but it's not common," Dr. Flores says.
The surgery on her lower lobe was a success. After her release, a full set of test results showed her to be clear of cancer. Dr. Flores and the Mount Sinai team decided that she would not need to follow up with chemotherapy treatment.
"Nothing invasive had been discovered in the surgical margins. Everything was clear," Saundra says. "So Dr. Flores carries out surveillance—I go twice a year for CT scans. I also follow up with the Oncology Department at Mount Sinai twice a year."

It took Saundra almost six months to recover physically from the surgery, but she has returned to her gym and also keeps fit with regular long walks. However, she knows to be careful not to push herself too hard. "I'm always in a hurry to do things. I have to slowly take my time," she says.

Saundra has also agreed to take part in clinical research Dr. Flores is undertaking into lung cancer cases among nonsmoking women. "I understand that I'm not the first female that he met that who had the same thing. So I said I had no problem being part of his research. It was out of curiosity—why?"

Saundra believes that being in the front line as a nurse in Queens during the COVID-19 pandemic may have been a contributing factor. "Our unit was taking direct cases from the emergency room, and that was really, really bad because you had ten patients with ten ventilators, and as a supervisor I got called on to be there and be in charge. That was a lot, not just the care. It was very, very stressful and emotional."

After 31 years as a nurse in Queens, and 11 years prior in Barbados, Saundra decided to retire in November 2021. She is enjoying spending her time in a less stressful environment and recently took a Caribbean cruise. She also makes sure she takes more time to care for herself and stresses the importance of listening and paying attention to your body.

"I was so caught up in taking care of everyone else I wasn't even taking care of my own self," she says. "Pay attention to yourself. Pay attention to what's going on in your own body."