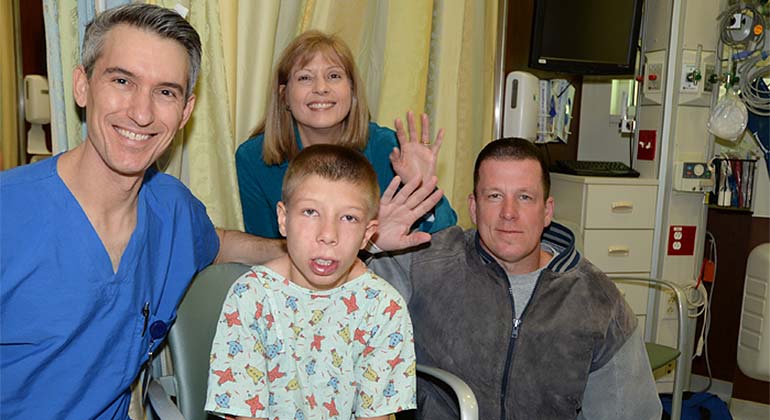 Port-Wine Stains: Use of Laser Therapy is Giving New Hope to Patients
My name is Diane, and I am the mother of a very special boy named Christopher born with port-wine stains and a lower lip malformation. His port wine stains are very extensive, running from the top of his skull to the bottoms of his feet and scattered throughout his body. His face was approximately 90 percent covered with port-wine stains. His entire left arm and back of the neck were also involved. Some of his back, chest, and left hand had port-wine stains as well. Also, his entire buttocks and back of the legs straight down to his feet and toes were afflicted. We were very concerned about how to treat this.
We were referred to a local dermatologist who does laser. His treatments started at four months of age and then monthly. After a year we started seeing some results and lightening, but I felt progress was slow. At this time Christopher's bottom lip was starting to grow and needed surgery. I was searching for a specialist who treats port-wine stains and vascular malformations. I found the one: Gregory Levitin, MD.
At the consultation Dr. Levitin was very professional, thorough, patient, and caring. He listened and spent time answering all our questions. He began treating the port-wine stains every three to four months, very aggressively in the operating room. The effectiveness of his treatments was amazing. After a few years, the dark port-wine stains lessened to a pink tinge.
Christopher is now 10 years old, and one day I picked him up from a new camp out of town. He said, "Mommy no one asked me what was on my face." His port-wine stains have lightened up so much they are hardly noticeable now.
"Christopher is incredibly brave, and I have seen the amazing benefits of additional laser therapy on both his physical and emotional health just over the last year," said Dr. Levitin. "One of the best examples is how confident he feels now that his birthmark has faded; he considers himself to be like the other boys in school now that people have stopped asking about his condition."
Dr. Levitin is a fantastic surgeon and has operated on Christopher's lip several times. His lower lip continues to grow and requires a procedure called "debulking" periodically.
The staff at New York Eye and Ear Infirmary of Mount Sinai, the hospital Dr. Levitin operates out of, is wonderful and always so professional and caring. Dr. Levitin is phenomenal in every way. If ever he were going to move, we would follow him to another part of the country for these treatments. He is that Good!!!
Thank you Dr. Levitin from the bottoms of our hearts.
- Diane