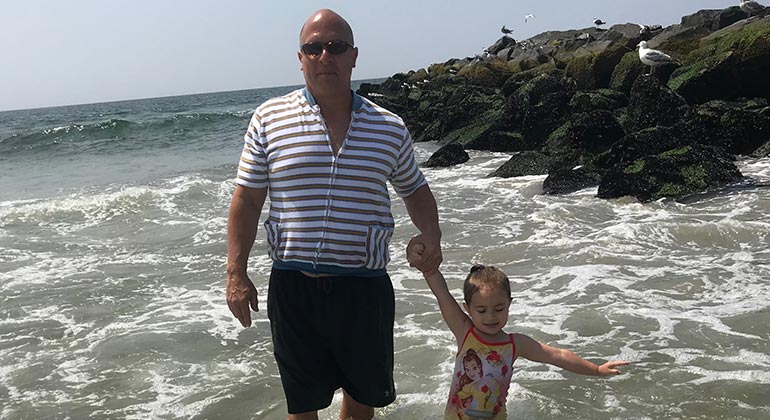 Hope Against All Odds for Mount Sinai Patient With Bladder Cancer
When Michael Morigi was diagnosed with stage 3 urothelial cancer of the bladder more than 10 years ago, he had no idea this diagnosis would be the start of a decade-long journey.
Following that initial diagnosis, Michael was diagnosed with another urothelial cancer, this time located in a part of the kidney called the renal pelvis. His left kidney was removed, but he developed spread of his cancer, and his doctors told him they had taken him as far as they could. They recommended that he turn to the Mount Sinai Health System for consideration of a clinical trial.
Michael pursued a consultation at Mount Sinai's The Tisch Cancer Institute and enrolled in a clinical trial testing standard chemotherapy versus chemotherapy administered with immunotherapy versus immunotherapy alone. Lead researcher Matthew Galsky, MD, Professor of Hematology and Medical Oncology, and Urology, Icahn School of Medicine at Mount Sinai, explains that this program has had a major impact on the way metastatic urothelial cancer is treated worldwide. "This is the first reported study to compare standard chemotherapy with immunotherapy-based approaches and show that a subset of patients achieve durable control of their cancer with immunotherapy," Dr. Galsky says.
Michael now undergoes immunotherapy treatment once every three weeks. He is responding to the treatment well with no side effects. Michael's advice to other cancer patients is simple: Learn as much as you can about your cancer and treatment options, and seek out second and third opinions. Most of all, try to maintain a positive outlook.
"According to the American Cancer Society, I was only supposed to live five years," Michael says. "But I'm going roughly 11 years. Now I am enjoying my life, spending time with my grandkids, and going to the beautiful beaches in Florida in between my treatments. Mount Sinai gave me a new chapter in life."