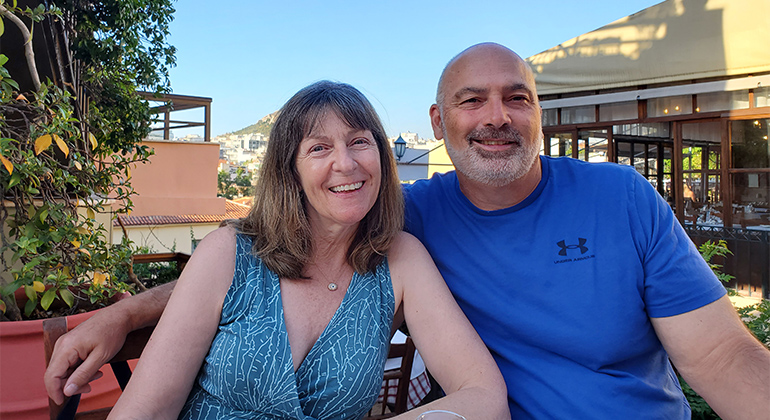 Grateful for Restoring Her Hearing Loss
Every day Kelly Sachs marvels at the sounds she can hear. The buzz of the alarm clock, the wails of emergency vehicles passing by, and the mere drip of water coming from the faucet. And for 20 years, she has credited the Ear, Nose and Throat (Otolaryngology) Department at New York Eye and Ear Infirmary of Mount Sinai (NYEE) for making it possible to experience them.
"I am so grateful to all the physicians and staff who helped restore my hearing over the years. It has made such a difference in my life," describes Kelly, who is 61 years old and works as a bookkeeper for a small business. "I feel so fortunate that I live close to New York City and can be treated at a place that is highly specialized in conditions that affect the ear."
Kelly was in her late thirties when she first came to NYEE. Shortly after her children were born, she started feeling dizzy and had difficulty hearing. The doctors diagnosed her with a condition called otosclerosis that can affect both ears. In otosclerosis, an abnormal growth of bone develops in the middle ear that prevents sound from traveling the way it should. More than three million Americans suffer from otosclerosis, and it most commonly affects young adults.
Otosclerosis Treatment Negates Need for Kelly's Hearing Aids
Otosclerosis is generally treated with surgery and hearing aids that help amplify different sounds. Kelly's condition was so progressive that the hearing aids needed to be adjusted monthly. She had two surgeries at NYEE in the early 2000s, which removed the diseased bone and replaced it with a prosthetic device. The surgeries were successful, and Kelly was able to function without hearing aids for many years.
"Hearing has meant so much to me over the years," she says. "I could tell if my children woke up in the middle of the night. I was even able to learn how to play the flute."
After those initial surgeries, Kelly was able to hear well for nearly two decades. But unfortunately, about a year ago, she began to have trouble picking up on many noises and sounds again.
Otosclerosis Reoccurrence Treatment at NYEE in Manhattan
Otosclerosis reoccurs in about 10 percent of patients. Over time, the bones that hold the prosthetic in place can begin to deteriorate. Kelly would need another operation and there was no question where she wanted to have it. Upon researching her condition, she teamed up with George Wanna, MD, Chief of Otology-Neurotology at NYEE and the Mount Sinai Health System]. He successfully placed a second prosthetic in her ear to hold the structure in place.
"Dr. Wanna was very honest and knowledgeable. He explained that the surgery had a high success rate but there were also risks involved. My husband and I liked how open he was with us," she describes.
When Kelly arrived at the hospital for surgery, she immediately felt at ease. Everyone, from the person who greeted her at the front desk to the surgical nurses, were compassionate, friendly, and calming.
"It was an excellent experience all around. The hospital is organized and very well-run," she said. "Everything went exactly as planned."
Three weeks after her surgery, Kelly went to her audiologist to have her hearing aids adjusted. The audiologist was amazed at how much she had improved in such a short period of time.
"It was such a defining moment for me. To have someone completely independent of NYEE call the surgery a success was so meaningful," explains Kelly.
Grateful for Dr. George Wanna at NYEE
As a token of her appreciation, Kelly sent a handmade quilt to Dr. Wanna. "I cannot begin to thank Dr. Wanna and the staff enough for the successful outcome of my ear surgery," she said. "All of his years of education and training have made a significant difference and improvement in my life."
Dr. Wanna is humbled by Kelly's kind words and by the gift of her lovely quilt. He is grateful for the opportunity to help patients restore their hearing. Dr. Wanna said, "Our patients are part of our extended family and their heartfelt appreciation keeps us going -- it's is a big part of why we do what we do."