Euphoric About Life after Trigeminal Schwannoma
James O'Shaughnessy's journey to Mount Sinai began with ear problems. He had a persistent sensation that his right ear was blocked with wax, but it did not get better. He went to Dr. Kevin Braat, ear, nose and throat doctor at ENT and Allergy Associates' Riverhead and Southampton Offices, who said it looked like there was fluid trapped behind his eardrum. Dr. Braat placed a tube through the eardrum to drain the fluid in order to give James some relief, but suggested he get a referral from his primary care physician to further explore the issue.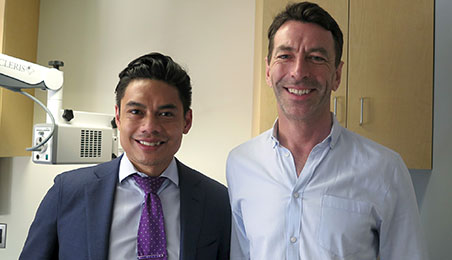 "A couple of weeks later, I got hit in head at the welding shop where I work," James explained.
"And I knew right away it was a concussion. It was a severe. The impact of the rod that hit me was so acute, it created swelling on my right temple. I went to the hospital where it was verified I had a concussion, but they also said I had a tumor located near the brain at the base of my skull. The radiologist handed me a CD of my scan and Dr. Braat contacted a hospital in NYC." After an extensive consultation with the surgical specialists, they told James he had two options:
Open intracranial surgery with a large incision that would cut into the forehead and face with a 2+ month recovery
Radiation therapy, which would be six days a week for six weeks
"The radiation was a red flag after reading about the long-term effects of it. I returned to do the biopsy, and the tumor turned out to be a benign, it was called a 'trigeminal schwannoma,' located at the base of my skull. But something wasn't right in my gut; I was having visions of a horror movie with physicians sawing my head and felt their technology was not up to date."
"I went on an extremely strict diet upon hearing the news in an effort to shrink the tumor, but in my case, it was not effective. It had been six months, so I tried to schedule my surgery around Christmas time and did not receive a callback, as they said they were expecting to clear the MRI with my insurance. My insurance company said they had not received the request for an MRI, and then I found out I was not covered there by my insurance. They had conducted an MRI, a biopsy, an EKG and two meetings with the surgeon and never told me I was not covered by my insurance. I went elsewhere for the MRI and called the hospital repeatedly for the surgeon to review it. I was told before I departed for a flight to Ireland that they would return my call before I left, but that did not transpire."
Sixteen days later, James returned and heard on his voicemail that there was no change in the tumor. "That was good enough for me to simply monitor the tumor every few months; I thought I might actually just live with it." He returned to his ENT doctor, who placed a more permanent stent in his ear. He then strongly suggested he visit Dr. Eric Genden, Chairman of the Department of Otolaryngology – Head and Neck Surgery and Co-Director of the Skull Base Surgery Center at Mount Sinai.
"Around the end of January, I met with Dr. Genden, who relayed to me that this type of tumor would never stop going. He said the tumor was funneling out of the brain and into my sinus cavity, but the risk was that it could actually expand inside my brain. He said if that happened, they would need to surgically cut my head open in order to remove it."
"Dr. Genden had a great demeanor and was so confident – it appeared to me he and his team had done numerous tumor removal surgeries. He then introduced me to skull base surgeon Dr. Alfred Marc Iloreta, who is incredible. He had just come out of surgery and was so easy to speak with. When I left, I was calm about having surgery at Mount Sinai and just needed some time to arrange my life in order to get this done. I also felt good about my treatment path, which was a lot less invasive than what the other hospital had proposed."
Highly Complex Skull Base Tumor Case with No External Incisions
"Mr. O'Shaughnessy's tumor was large – almost 8 centimeters – and was located in a complex and difficult-to-access space, surrounded by the blood vessels that supply the brain and nerves that innervate and control the eye, as well as the face," notes Dr. Alfred-Marc Iloreta, skull base surgeon at Mount Sinai's Skull Base Surgery Center. "Traditional approaches to remove this tumor include large incisions that would expose parts of the brain and even dismantling and removing the bones of the face and jaw. In his case, we were able to combine our experience removing tumors with cutting-edge technology using optical endoscopes, high-definition cameras and an intraoperative neuro-navigation to completely remove his tumor with a minimally-invasive approach."
During the procedure, Dr. Iloreta employed a novel technology called Surgical Theater to three-dimensionally reconstruct his tumor for preoperative planning, as well as for use during the surgery. He learned this technology operating with colleague, Dr. Joshua Bederson, Chairman of Neurosurgery at Mount Sinai, one of the pioneers of this type of surgical planning. Typically this innovative mapping of a tumor has been used by neurosurgeons or neurosurgeons with head and neck surgeons, but this case marked the first time it was used solely by head and neck surgeons in the operating room. "Before even meeting Mr. O'Shaughnessy, we were able to model and simulate the approach to the tumor. I felt completely prepared and very confident that we would remove the entirety of his tumor with minimal impact."
Because of where the tumor was located, Dr. Genden initially told James they would need to cut his gum line and outside the jaw. The surgery took place on April 29, 2016, and lasted about 8 1/2 hours total. "To my surprise, when I awoke, I had no external incision at all," James recalls. "I felt my face and said, 'I don't even feel the external incision.' That's because there wasn't one. They operated inside my mouth and alongside my jaw from the inside – without ever making the external incision." Drs. Genden and Iloreta kept in close contact with Dr. Braat to keep him abreast of James' treatment plan and progress. James' recovery in the hospital was just Friday night and Saturday, and then on Sunday, he was able to go home.
"The nurses in the recovery room – I have never met women like that in my life. They were both so incredible. To watch them and the help they gave me was amazing. They were so nice and always had a smile on their face. My insurance company, BlueCross BlueShield also assigned a nurse to follow-up with me, and she was fantastic as well."
"As for Drs. Genden and Iloreta, I don't even know where to begin. I never felt stress speaking with them because they were so confident and easygoing about the surgery. The fact that they can focus for that many hours and use this incredible technology is amazing."
Upon arriving home, James was fine and on some pain killers for three weeks afterward. "I had some bleeding for a few days, but I was talking and swallowing fine. The first days were filled with a lot of soup, shakes, and soft foods. It took about four weeks for me to return to my daily routines. Now I'm back working, exercising four days a week, and paddle boarding."
"This whole journey was a bit of a wakeup call because I was working long hours, six days a week. I certainly look at life differently; I don't sweat the small stuff anymore. My attitude toward working with stress is much better and traffic jams don't bother me. I am so much happier with life! I can't praise or recommend The Mount Sinai Hospital enough! The doctors, nurses, and friendly staff were all amazing! I have a feeling of euphoria and am absolutely grateful to Mount Sinai for it."
- James O'Shaughnessy