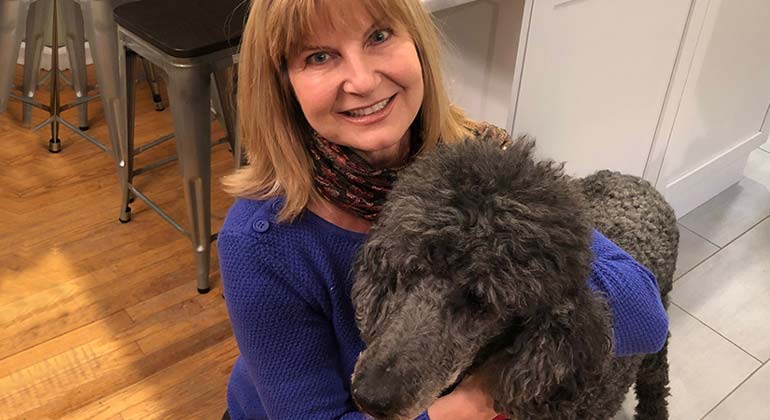 Draf III Procedure Ends Complex Sinus Struggles for Lorraine
January 3, 2020
My story begins in 2009. During that fall I became very sick with a respiratory condition that lasted through March of the following year. Doctors had a difficult time diagnosing what was causing my problem, but by spring it had been narrowed down to asthma and chronic rhinosinusitis. I had lost my ability to smell and taste. My sinuses always seemed full and my head had pressure. Various medications were tried along with specialists in ear nose and throat with no success. At one point, I underwent a balloon sinuplasty without relief.
By that time, I was having difficulty getting a good night's rest because of my congestion, which made daily living tiring. Periods of treatment with steroids helped some, but I knew I could not stay on this medication safely for long periods of time. I also became unable to take aspirin or NSAIDs. When I did, I had an acute asthma-like reaction.
I began research, which led me to the University of Connecticut Taste and Smell Clinic. They reviewed my CAT scan, which showed complete blockage of my sinuses from nasal polyps, and I was diagnosed with complete anosmia (loss of smell) and AERD (aspirin-exacerbated respiratory disease). I was advised to find a doctor who specialized in this condition; otherwise this is how life would be.
During this time period, I had become somewhat unhappy. I could no longer enjoy life's simple pleasures, such as the smell of fresh sheets or coffee brewing, and I felt tired all the time. I was even placed on an antidepressant by my primary care physician.
Care Coordination with Drs. Bosso and Govindaraj
Upon further research, I found John V. Bosso MD, formerly in Nyack, NY, and now Medical Director of the AERD Center and Director of the OTO-Allergy Clinic at Penn Medicine, who had been working with people like myself with this problem and had had some success. He advised aspirin desensitization, but I would first need surgery to open up my sinuses. He personally recommended Satish Govindaraj, MD, Chief of Rhinology at the Mount Sinai Health System for this procedure.
I followed his advice, made an appointment and started on what was to be a 2-1/2 year journey with Dr. Govindaraj. From the beginning, this amazing surgeon never gave up on me even when I was ready to do so. I was desensitized to aspirin by Dr. Bosso, but was unable to stay with the regime afterwards because of stomach problems. I did have a brief period of relief and could smell/taste a tiny bit. However, the polyps reoccurred, I became congested, and I was back where I started.
Dr. Govindaraj did not give up. He tried many approaches. He really wanted to help me! In January 2018, it was finally decided that I would undergo an extensive and technically challenging operation that he was able to perform called the Draf III (endoscopic modified Lothrop) procedure. It would be an involved sinus surgery to open the frontal sinuses and nasal cavities. This would also entail the removal of the polyps and reconstruction of my sinus cavities to open them. This would give my sinuses better drainage and allow for medication to reach areas that weren't possible prior to the procedure.
On the day of my surgery Dr. Govindaraj met with me prior to the operation. His optimism and professionalism were very reassuring. Three hours later I was in the recovery room. My husband spoke with Dr. Govindaraj following the procedure and was told all went well and a good outcome was expected.
Fast forward to today - I am now able to taste and smell. I no longer have sinus headaches. I can get a good night sleep. I enjoy so many things that others take for granted. I do follow a maintenance program that Dr. Govindaraj worked up for me to keep my sinuses healthy and clear. Without Dr. Govindaraj's skill and persistence I believe none of this would be possible for me today. His caring nature and desire to help is sincere. He is my hero!
If you recognize in yourself these symptoms don't wait. You don't have to live an uncomfortable life and always be looking for tissues!
My experience with Dr. Govindaraj and Mount Sinai has been exceptional, and I highly recommend this great surgeon and institution.
Sincerely Yours,
Lorraine Dibble