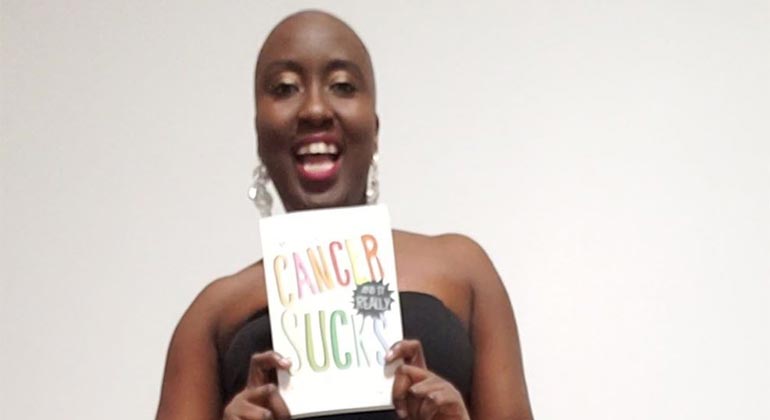 A Breast Cancer Patient Wants People to Prioritize Their Health
Typically, breast cancer is found in women ages 50 and older. However, according to the Centers for Disease Control and Prevention, 11 percent of all new cases affect women younger than 45.
Weslinne Adhemar Cespedes was 30 years old when she discovered a large lump in her left breast in February 2020. She delayed checking it out for a few weeks, but after she started to feel pain, she scheduled an appointment with her OB-GYN right away. "As women, we just get bogged down or we focus on the day-to-day, our careers, our families, and sometimes we put behind our self-care," the school guidance counselor, who lives in Brooklyn, told TODAY.com. "This is part of self-care." A sonogram, mammogram, and biopsy were scheduled for the next day. Her diagnosis was breast cancer.
In the meantime, Weslinne was in the midst of planning her wedding, scheduled for early May. But she was determined to fight cancer and get married. And to weather the COVID-19 storm.
Weslinne turned to the Dubin Breast Cancer Center of The Tisch Cancer Institute at Mount Sinai. Amy Tiersten, MD, breast oncologist at Mount Sinai, explained that Weslinne had aggressive cancer called triple negative breast cancer. The best course of treatment for this condition is chemotherapy, followed by surgery.
Weslinne began her first chemotherapy infusion on April 17. While she was worried about coronavirus, she understood that receiving treatment was vital. "I know how scary it is. We're all supposed to stay home and social distance ourselves," she said. "But I need this treatment. I need to care for myself. And I feel really safe."
As of early July, Weslinne was responding well to a series of 16 pre-operative chemotherapy treatments. "She's already had a very substantial decrease in the mass," Dr. Tiersten said. "The goal is to shrink it down to make surgery more feasible."
When Weslinne and her fiancé Emmanuel learned their wedding officiant was moving away, they settled on having a socially distanced ceremony on May 25, 2020. "This was the one thing we could control," she said. "We're making the best of what we have. We're just really focused on laughter, happiness, and joy in the midst of a pandemic and my cancer treatment."
While she still had a way to go with her breast cancer treatments, Weslinne wanted people to remember to stay diligent about their health. "I really do want to advocate that people take the time to care for themselves," she said. "Really make time for what matters."
Next steps
Learn more about the Dubin Breast Center