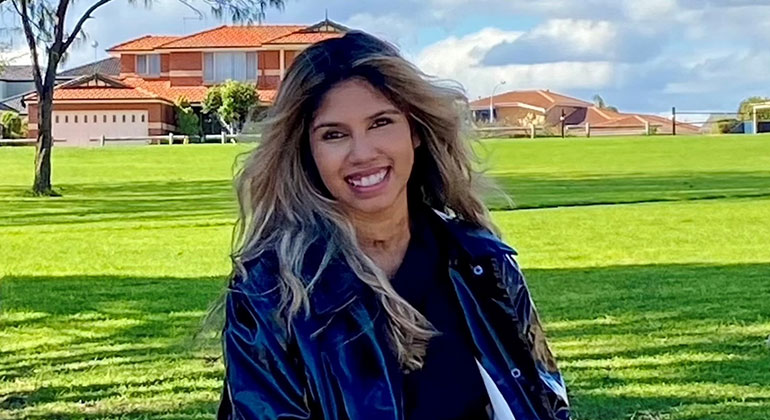 Aussie Architect Is on Road to Recovery After Months in the Neuro-ICU
Amelia Dass, a young architect from Australia, was living her dream living and working in New York City when a debilitating series of seizures led her to Mount Sinai.
The vibrant 26-year-old was diagnosed with "new-onset refractory status epilepticus" or "NORSE," a life-threatening condition in which a healthy person without a previous history of seizures begins to have seizures. Within days, the seizure activity progresses to status epilepticus (SE), a state in which the patient may experience clusters of seizures without recovery time in between, or one long seizure.
This life-threatening condition can lead to a comatose state, either directly due to the seizure activity or due to anesthesia therapy used to control the seizures. In Amelia's case, she spent three months in the Neurosciences Intensive Care Unit (Neuro-ICU) at The Mount Sinai Hospital, two of them in a coma. Her parents flew in from Perth, Australia, to be by her side every day.
"Every day, the team of doctors took time to explain her status to me as I sat there and waited anxiously for any little bit of information. When Amelia was in the ICU, I did not know whether she was ever going to wake up again," said her mom, Rozi.
Amelia's team of epilepsy specialists, including Madeline Fields, MD; Lara Marcuse, MD; Ji Yeoun Yoo, MD; and Nathalie Jette, MD; did a biopsy of her brain tissue, gave her numerous anti-seizure medications, steroids, and other immune therapies, and placed her on a ketogenic diet to control the seizures. However, the seizures continued. A decision was made to implant a vagus nerve stimulator, which prevents seizures by sending regular, mild pulses of electricity to the brain through the vagus nerve. The device is sometimes referred to as a "pacemaker for the brain."
Amelia's seizures finally stopped, and she was on the road to recovery. However, her recovery was slow, and she spent six months altogether at Mount Sinai. During that time, Amelia and her parents formed a special bond with the staff, including epilepsy fellows Bonnie Wong, MD, and Nisali Gunawardane, MD; EEG Technician Tsana Yu; and Neuro-ICU attendings.
"I was surrounded by so much kindness and strong women, a dream team for myself and my family," Amelia wrote. "A 'thank you' doesn't cut it—talking to me every day while I was just 'taking a long nap'" as she described her months in a coma. "Tsana would sit by my bedside through the night and whenever she was not on duty, and talk and sing to me while I was in the coma," Amelia recalled her mom telling her.
Now back in Perth, she and her family are working on her recovery with rehabilitation therapy, and she is "almost good as new," according to her mother, Rozi. But they continue to send messages of appreciation for the team at Mount Sinai. "They took care of not only Amelia the patient but also of me and my family," Rozi wrote. "Your patient care really does not stop at the patient only."