As the lights began to dim and the music started, Richard LoRubbio, his wife Laura, and their son Christopher took their seats and began to clap. Their daughters' dance recital was about to begin.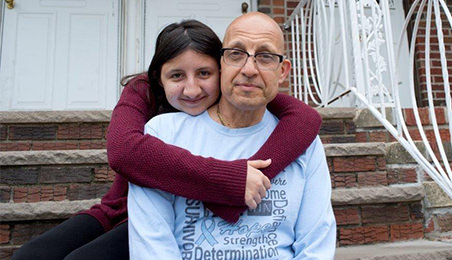 No one would have known that 24 hours earlier Richard had been in the hospital being treated for prostate cancer. That's because Dr. Ash Tewari, the Director of Urology at Mount Sinai, performed a radical robotic prostatectomy on him, a procedure that left Richard cancer free without the need for chemotherapy or radiation treatment and able to leave the hospital the next day.
Richard's journey to Dr. Tewari began in 2012. It was during his yearly physical that his GP saw a spike in Richard's PSA levels prior to the year before and decided that Richard should receive monthly PSA tests. When his PSA levels rose again the following month his GP immediately referred him to see a urologic-oncologist. But, when Richard's oncologist didn't perform a biopsy on him, despite seeing his PSA levels continue to rise every month, the LoRubbio family took matters into their own hands.
"Family comes first," Richard said, "so my wife marched right into his office and demanded he perform a biopsy on me - and there's no arguing with my wife. That's how we discovered I had Gleason 7 - an aggressive type of prostate cancer."
The first thing Richard's GP said after hearing the news was: "Go see my doctor, Dr. Tewari. He's the best. "
"The first time I met Dr. Tewari I immediately said that this is the man that's going to take care of me. He came in and calmed me down immediately. There was something warm and sensitive about him," expressed Richard, "He explained everything, answered all my concerns about robotic surgery and introduced me to his whole team."
Today Richard is almost five years cancer free. He remains a vigilant patient of Dr. Tewari and regards him now as both his doctor and his friend. "Richard has taken all the right steps post-surgery," says Dr. Tewari. "He has made regular check-ups and fitness a priority which are both key for enduring survivorship and overall health."
Their friendship has allowed the whole LoRubbio family to actively involve themselves in Dr. Tewari's work. Not only do the LoRubbio's participate in the annual walkathon each year but Richard also speaks with men recently diagnosed with prostate cancer, actively answering questions, offering support and sharing his story with others.
Richard's journey overcoming prostate cancer came full circle in 2017 when his daughter Sophia, whose dance recital he was able to attend thanks to Dr. Tewari, interned at Dr. Tewari's office.
"When Dad told Dr. Tewari that I wanted to become a Nurse Practitioner (NP) because of how much I learned from the ones that cared for my him," Sophia, now 16 years old said, "Dr. Tewari set up an internship just for me. He let me observe him operate in the OR, shadow other nurse practitioners and learn more about life as an NP. Dad says I will always be his special nurse but I can't wait to be one who can help others too."