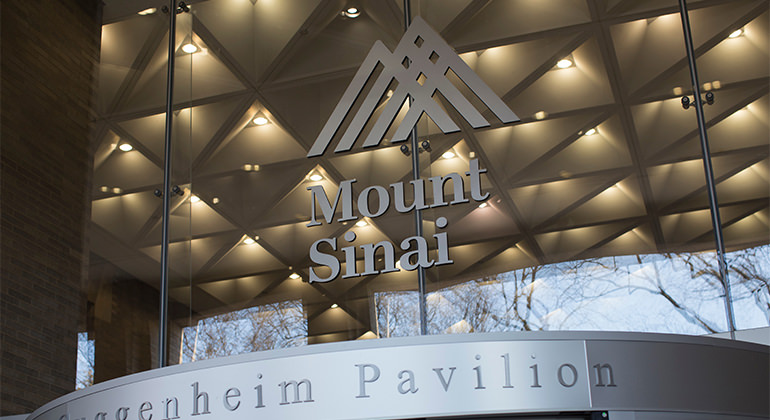 Ranked No. 9 for Neurology and Neurosurgery by U.S. News and World Report, The Mount Sinai Hospital has the largest volume of neurological surgeries in New York City. We offer multidisciplinary and collaborative approaches, including services boards and conferences and intense collaboration. We are known for embracing new technologies for diagnostics, surgical planning, patient education, and improving outcomes. Our services encompass:
Brain and Cranial Tumors Surgery: Recognized for surgical and innovative care in benign and malignant brain, skull, and cranial tumors, we are pioneers in the use of three-dimensional (3D) simulation and virtual and augmented reality for pre-surgical planning and use in the operating rooms. We also 3D simulations for printing.
Stroke and Cerebrovascular Services: The busiest cerebrovascular service in New York City, we are internationally recognized for clinical research as well as for cerebrovascular emergencies, including stroke, complex brain aneurysms, and arteriovenous malformations. We have specialized centers of excellent within each service.
Pediatric Cerebrovascular Surgery: Led by a pioneer in pediatric cerebrovascular vascular malformations, we provide expertise in treating hemangiomas, vascular birthmarks, and vein of Galen malformation. Patients come from all over the world.
Spine Disorders Surgery: We are highly skilled in performing minimally invasive surgical approaches for back and neck pain and tumors.
Pain Management: We are known for treatment in pain, including spinal pain and trigeminal neuralgia.
Neurocritical Care: Our dedicated neurosurgical intensive care unit lets us help you transition from complex neurosurgeries and life-threatening emergencies to meaningful recovery.
We see our role as more than just clinical care. To train the next generation of neurosurgeons, we offer fellowships in neuroendovascular surgery and neurocritical care. In addition, we are involved in the community, participating in runs for brain aneurysm awareness.
Our Doctors
Our internationally known neurosurgeons provide state-of-the-art care and research.
Joshua B. Bederson, MD
System Chair of Neurosurgery
Brain Tumors, Skull and Cranial Base Tumors, Pituitary Tumors, Open Cerebrovascular Surgery, Trigeminal Neuralgia
J Mocco, MD, MS
System Vice Chair for Education
Stroke, Cerebrovascular Disorders, Open Cerebrovascular Surgery