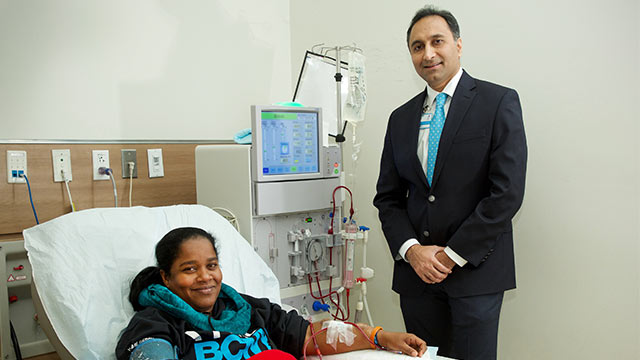 U.S. News & World Report ranks Mount Sinai among the top kidney programs nationally. We have one of the largest National Institutes of Health research budgets of any nephrology (kidney) division in the United States and one of the most comprehensive kidney disease centers in the world.
Our nephrology physicians are recognized leaders in diagnosing and treating all types of high blood pressure and kidney (renal) disorders at all stages, including chronic kidney disease, hypertensive renal disease, glomerular disease, polycystic kidney disease, kidney stones, and end-stage kidney disease. In addition to offering the latest diagnostic procedures and treatments, we also offer access to clinical trials for promising new therapies. Read More
About Mount Sinai Renal Services
Mount Sinai has been at the forefront in the treatment of kidney diseases since performing the first hemodialysis in the United States in the 1950s. (Hemodialysis is the removal of waste products from the blood when the kidneys no longer work.) Now, nearly 60 years later, we are one of largest, most comprehensive kidney disease treatment, research, and education centers in the world.
State-of-the-Art Diagnosis and Treatment
Ranked as one of the nation's top centers for the care of kidney disease by U.S. News & World Report, the Division of Nephrology at The Mount Sinai Hospital provides comprehensive evaluation and treatment programs for all types of adult and pediatric kidney diseases and disorders. Our nephrologists are highly skilled, nationally recognized experts in the diagnosis and management of both inherited and acquired kidney (renal) diseases. As a major worldwide referral center for kidney diseases, many nephrologists send us their complex cases. Whether you have a rare disorder or a common kidney disease, our mission is to provide you with the best care.
Among the specialized clinical services and programs we offer are:
Advanced diagnostic testing. We provide state-of-the art diagnostic testing, including specialized kidney imaging, advanced genetic testing, kidney (renal) biopsy testing, and expert biopsy evaluation.
Treating kidney disease. We offer highly specialized, interdisciplinary care for patients with chronic kidney disease, polycystic kidney disease, hypertensive renal disease, diabetic nephropathy, glomerulonephritis, kidney stones, urinary tract infection, electrolyte and acid-base disorders, and end-stage kidney disease.
Robust dialysis services. We are committed to working with patients to avoid dialysis, but when dialysis becomes necessary we provide convenient, state-of-the-art dialysis services and specialists who will help you manage your day-to-day life.

Kidney transplantation. In partnership with Mount Sinai's Recanati/Miller Transplantation Institute, we offer adult and pediatric transplantation. Patients benefit from the close coordination of care between nephrologists and transplant surgeons before and after surgery.
Geriatric kidney services. For older people with advanced kidney disease, we offer comprehensive care that integrates palliative and non-dialysis treatment options. Mount Sinai was the first hospital in the country to offer such a service.
Pediatric Kidney Diseases. Mount Sinai is one of the country's largest and most respected centers for pediatric kidney care.
HIV-associated renal disease (nephropathy). Mount Sinai is a leading treatment and research center for HIV-associated nephropathy (HIVAN), the third leading cause of renal failure in African-Americans.
Coordinated, Multidisciplinary Care
We offer a multidisciplinary team approach that brings together a team of specialists who provide personalized, compassionate care. This includes highly ranked physicians (both general nephrologists and those who specialize in different types of kidney disease), nurse practitioners, social workers, and registered dietitians. We understand how difficult it can be to cope with a kidney disease, and our entire team is dedicated to helping you maximize your quality of life.
As part of one of the nation's premier hospitals and a highly ranked medical school, we are able to draw on its vast resources, including researchers and specialists spanning many disciplines. For patients with advanced kidney disease, who may experience cardiovascular and other complications, this can be particularly advantageous. Since our researchers are continually working on improving treatments and outcomes, we are also able to provide our patients access to advanced clinical trials.