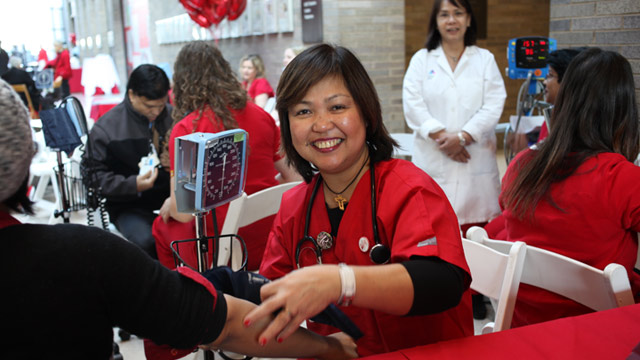 The Mount Sinai Hospital is dedicated to the health and well-being of its diverse communities. From free health screenings and counseling to exercise classes and home-based care, we offer a wealth of services and programs for people of all ages. We work closely with governing bodies, schools, religious organizations, and social service agencies to meet our community's needs. Our goal is to help you be your healthiest.
We maintain solid partnerships with community-based health organizations. These partnerships continue to provide us with countless opportunities to expand and increase your access to quality care and wellness education.
Our extensive work with community groups and city agencies to build programs such as Prescriptions for Good Health and Growing Up Healthy in East Harlem, a community-based study exploring environmental factors affecting the health of children, enables us to improve treatment approaches and allows us to help you to make better-informed decisions about your health.
Community Events Calendar
Ignoring an Emergency Creates a Bigger One
MyMountSinaiChart - How to Access Your Account and Use OpenNotes
We maintain long-standing connections to our local, national, and global communities. The following programs highlight some of the extraordinary outreach services we offer our community.
East Harlem Health Outreach Partnership (EHHOP): A student-run clinic at the Icahn School of Medicine at Mount Sinai provides affordable, high-quality, comprehensive care.
Jack Martin Fund Clinic: A New York State Department of Health-designated AIDS center which provides screening and treatment for infectious diseases including tuberculosis and hepatitis C co-infection.
Linkage House: A residence for the community's elderly, offering safe and affordable housing as well as access to quality health care and programs.
Martha Stewart Center for Living at Mount Sinai: Providing elderly adults with access to medical care, healthy living activities, educational programs, and resources to support specific needs and interest.
Mount Sinai Adolescent Health Center: Offering confidential, comprehensive medical, mental health, and prevention education services to young people between the ages of 10 and 22.
Mount Sinai Comprehensive Health Program—Downtown: A full-service clinic in Chelsea offering HIV/AIDS testing, quality health care, and counseling.
Mount Sinai Diabetes Center: The center designs personalized plans for treating and managing type 1, type 2, and pregnancy-associated diabetes.
Mount Sinai Health Home: This free service for Medicaid patients, funded by the New York Department of Health, which coordinates health care services for its members.
Mount Sinai Visiting Doctors Program: The largest academic home-visit program in the nation, providing superior home-based care to adults with complex and serious illnesses.
Sexual Assault and Violence Intervention Program (SAVI): Offers free and confidential counseling, referrals, and support to survivors of sexual or domestic violence.
The Department of Health Education: Works with schools and other community organizations to provide individuals and families, primarily in East Harlem, with the knowledge, skills, resources and support necessary to achieve excellent health and well-being.
World Trade Center (WTC) Health Program: Offers monitoring, physical and mental health treatment, and medication at no cost to eligible WTC first responders, workers, and volunteers.
The Mount Sinai Greenmarket is a partnership between The Mount Sinai Hospital and GrowNYC. Every Wednesday from 8 am to 5 pm, starting on June 24th through to November 25th, we invite shoppers to buy locally grown fresh fruits and vegetables and seasonal baked goods. Along with fresh produce, the Greenmarket offers:
Discount coupons and promotions
Healthy cooking demonstrations and recipe exchanges
Free medical screenings
Textile and rechargeable battery drop-off
Food scrap collection
The market accepts cash; Electronic Benefit Transfer (EBT); Senior Vouchers; New York City Health Bucks; Mount Sinai Greenmarket coupons; debit and credit cards; and Special Supplemental Nutrition Program for Women, Infants, and Children (WIC). For every $5 spent in food stamps, Greenmarket shoppers will receive $2 in New York City Health Bucks.
Greenmarket shoppers can sign up for our raffle. Winners receive a GrowNYC reusable shopping bag filled with fruits and vegetables, a $2 Mount Sinai Greenmarket coupon, and other prizes.
We maintain a network of affiliations, alliances, and partnerships with governing bodies, schools, religious institutions, social agencies, Chambers of Commerce, and, of course, our neighbors themselves. Our mission is to increase access to quality care for medically underserved populations.
We host a community roundtable every month to identify and address the needs of the East and Central Harlem communities. Approximately 80 community leaders, educators, elected officials, and community advisory board members attend these meetings.
Representatives from the The Mount Sinai Hospital also participate in regular community meetings with the following organizations:
Abyssinian Development Corporation
Boriken Neighborhood Health Center
Bronx Aids Services
Children's Aid Society
Community Board No. 11—Manhattan, Health & Human Services Committee
East Harlem Chamber of Commerce
East Harlem HIV Care Network
East Harlem Partnership for Cancer
Greater Harlem Chamber of Commerce
Jewish Home and Hospital
Little Sisters of the Assumption Family Health Services
New York Academy of Medicine
New York City Housing Authority—Carver Houses Tenants Association and Johnson Tenants Association
Settlement Health Association
Union Settlement Association
Yorkville Common Pantry