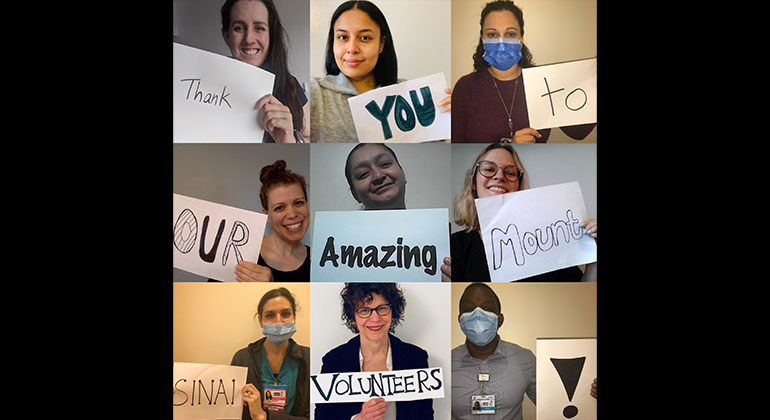 Volunteer Opportunities at The Mount Sinai Hospital
Message from our Director:
Thank you for your support of Mount Sinai over these past 20 months. We look forward to resuming our pre-COVID volunteer operations in the coming months, and invite you to stay tuned to this webpage in anticipation of our full re-opening. Our online volunteer application should be live after the New Year, so please check back for further information then.
As all Mount Sinai volunteers are required to be fully vaccinated against COVID-19 and the seasonal flu, we encourage you to get your shots now. And as always, we welcome you and your loved ones to access Mount Sinai COVID-19 resources here.
Welcome to the Mount Sinai Department of Volunteer Services. In a city as big and diverse as New York, we know you have choices. So thank you for considering Mount Sinai as your volunteer home. People come with a variety of reasons and goals. You may be looking for a way to give back or pay it forward. You may want to have your first experience in a health care setting or begin a new chapter of your life here. Or you may aspire to realize a long-held dream or nurture a passion. Regardless of where you come from, we welcome you. At Mount Sinai Hospital and the Icahn School of Medicine at Mount Sinai, volunteers are central to the mission "to assist its patients, families, and staff in enhancing patient experience, education, support of innovative research, dissemination of knowledge, good health of the community, and an environment conducive to equity, creativity, career development, and personal growth." Every volunteer has a unique voice, perspective, and gift to share. As medicine impacts patients' lives for the better, the human element has never been more important.