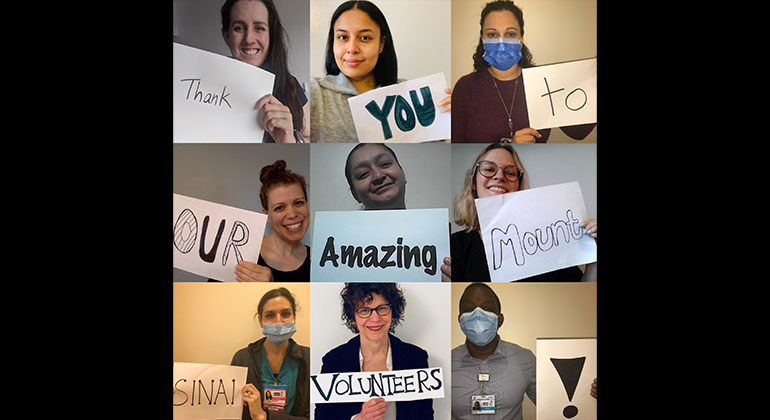 Volunteer Opportunities at The Mount Sinai Hospital
Message from our Director:
Thank you for your interest in volunteering for Mount Sinai. Although we are not yet able to re-open our operations to new volunteers, we are thrilled to be able to welcome back previously cleared Mount Sinai volunteers who were suspended due to COVID restrictions. This is our first phase of a carefully staged re-opening that we hope will lead into more expanded volunteer programming when it is safe to do so.
We wish you and yours good health and wellness, and welcome you to access Mount Sinai COVID-19 resources here. Please check back in with us in the fall when we hope to have more good news.
Welcome to the Mount Sinai Department of Volunteer Services. In a city as big and diverse as New York, we know you have choices. So thank you for considering Mount Sinai as your volunteer home. People come with a variety of reasons and goals. You may be looking for a way to give back or pay it forward. You may want to have your first experience in a health care setting or begin a new chapter of your life here. Or you may aspire to realize a long-held dream or nurture a passion. Regardless of where you come from, we welcome you. At Mount Sinai Hospital and the Icahn School of Medicine at Mount Sinai, volunteers are central to the mission "to provide compassionate patient care... and to advance medicine through unrivaled education, research, and outreach in the many diverse communities we serve." Every volunteer has a unique voice, perspective, and gift to share. As medicine impacts patients' lives for the better, the human element has never been more important.