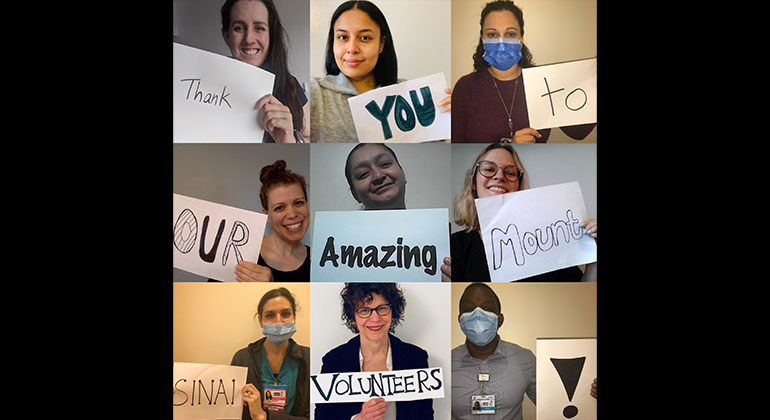 Volunteer Opportunities at The Mount Sinai Hospital
Message from our Senior Director of Volunteer Services, Mount Sinai Health System
Thank you for your support of Mount Sinai since the beginning of and throughout the COVID-19 pandemic. Together we did amazing things. And together we will thoughtfully rebuild volunteer programming to meet patient, hospital, and research needs.
As much as we value every applicant, there are limits to the number of programs and people we can accommodate at this time. Please pay special attention to application cycles so you are not disappointed. We review every application for programs that are actually open and will let you know if you are eligible for a particular assignment. Please be patient as we navigate a new time and space. We have transitioned to fully electronic volunteer clearance, but never forget the person behind the page. There are fewer of us to onboard more of you… but we strive to demonstrate the highest regard for your time and interest.

We sure have missed you, and welcome you back with open arms – wherever we have a placement. Thank you for choosing Mount Sinai as your volunteer home.
Welcome to the Mount Sinai Department of Volunteer Services.
In a city as big and diverse as New York, we know you have choices. So thank you for considering Mount Sinai as your volunteer home. People come with a variety of reasons and goals. You may be looking for a way to give back or pay it forward. You may want to have your first experience in a health care setting or begin a new chapter of your life here. Or you may aspire to realize a long-held dream or nurture a passion. Every volunteer has a unique voice, perspective, and gift to share. As medicine impacts patients' lives for the better, the human element has never been more important. Regardless of where you come from, we welcome you.
Mission Statement
At Mount Sinai Health System Hospitals and the Icahn School of Medicine at Mount Sinai, the Volunteer Mission Statement is:
"to assist its patients, families, and staff in enhancing patient experience, education, support of innovative research, dissemination of knowledge, good health of the community, and an environment conducive to equity, creativity, career development, and personal growth."